At the turn of the 21st century, Calgary experienced a cattle invasion. A colourful and wildly creative cattle invasion. One that saw brightly painted, true-to-size fiberglass cows distributed throughout the city. Coined the Udderly Art: Colourful Cows for Calgary project, this fundraising initiative ultimately raised $1.2 million and just generally brought a fun and unique experience to the city. A positive kind of herd mentality, if you will.
Photos of me with some of the Udderly Art Project cows. #yyc #udderlyart #cows Please RT. pic.twitter.com/bCyi6tHOlQ

— Spooner L. Fisher (@SpoonerL_Fisher) October 26, 2015
Background on the Udderly Art Project
While the concept of auctioning off fiberglass animals for charity concept was new to Calgary at the time, it was also being done in cities around the world. There was CowParade, which has since been dubbed the largest and most successful public art event in the world, which launched in Chicago in 1999 (and to date has involved 10,000 artists worldwide, and has raised $30 million). There was Lexington's Pigs in the City. There was Washington DC's Party Animals. There was New Mexico's Trail of the Painted Ponies. And many, many more.
The Udderly Art brainchild (braincalf?) was led by a group of arts-minded and philanthropic Calgarians. As it's (now archived) website states, Udderly Art was "a wild and moooving concept that will win for you, win for Alberta artists, and win for non-profit groups."
Organizations had the opportunity to purchase a fiberglass cow for $5,000 and work with a local artist to have it painted to meet their style and direction. All cows were then displayed throughout Calgary from May to October 2000, prior to being auctioned off, many to private buyers.
Richard White was part of the team that organized the Udderly Art project, and he reflects fondly back on the project.
"The Udderly Art project was perhaps the most successful public art project in Calgary's history, as it engaged the public like no other art project that I am aware of. The 100+ cows that invaded the city in the summer of 2000 attracted thousands of Calgarians of all ages and backgrounds to come downtown on the weekend to see the fun cows. During the week downtown workers loved to wander the streets, parks, and plazas smiling every time they encountered the cows. It seemed like everyone had a favourite cow."
Where's the Beef?
Meet a few of the Udderly Art cows.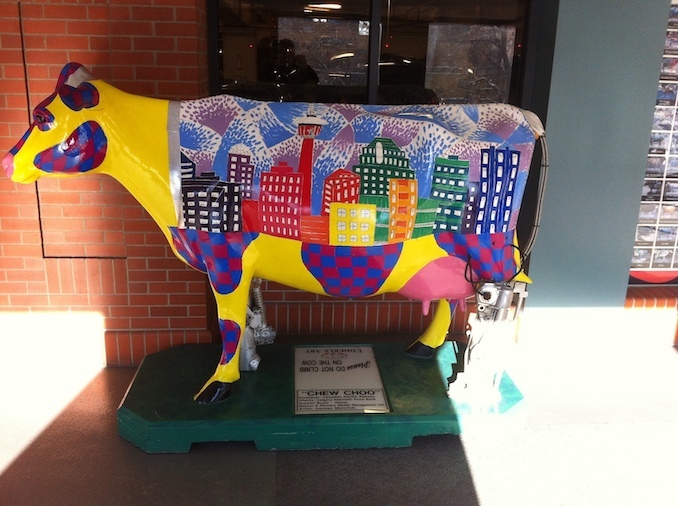 Name: Chew-Choo
Original Owner: Canadian Pacific Railway
Artist: Damian Manchuk
Original Location: Corner of 8th avenue and 2nd street SW
***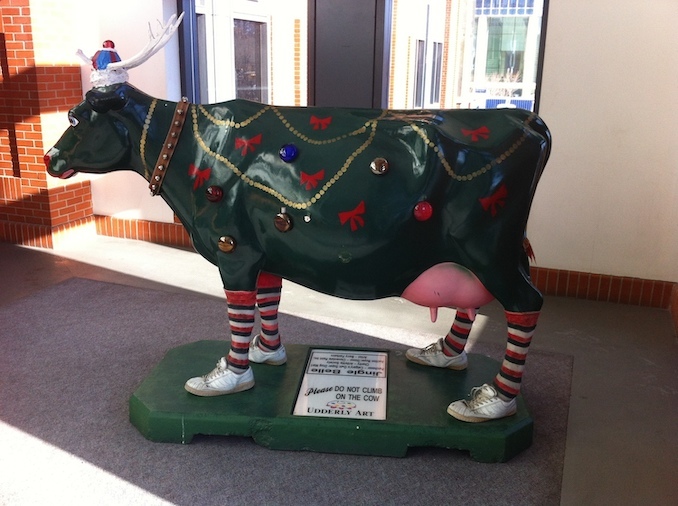 Name: Jingle Belle
Original Owner: Super Drug Mart
Artist: Barry W. Fairbairn
Charity: The Arthritis Society
Original Location: Eau Claire Market
***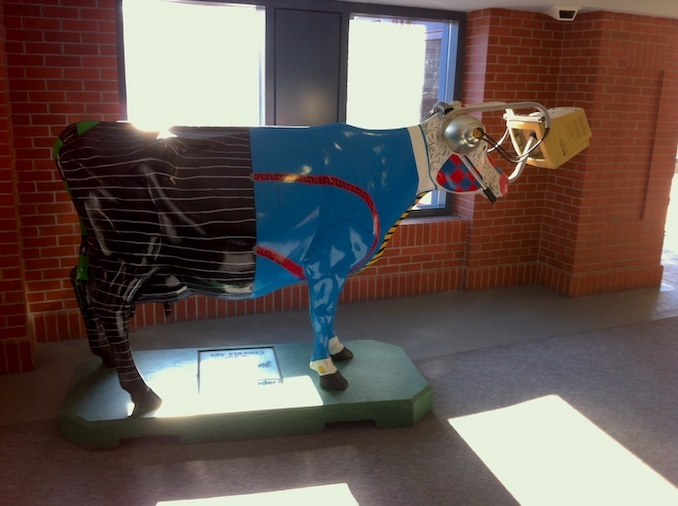 Name: Mooney Trader
Original Owner: Calgary Young People's Theatre
Artist: Damian Manchuk
Donated by: Hugh McGillivray/CIBC Wood Gundy
Original Location: Bankers Hall CIBC
***
A full list of the cows with their original owners and images is available at https://web.archive.org/web/20010805182309/http://udderlyart.com/herd.html.
Here are a few of the current pastures for our painted cow friends:
Alberta Children's Hospital
Centennial Parkade, Plus 15
Courthouse, downtown Calgary
Crescent Blvd SW, private property
Mount Royal neighbourhood, private property
Which cow was your moost-have favourite? Have you seen any of the cows kicking around? Let us know where in the comments!