Alloy Dining in Calgary is a restaurant with chefs who put their influence of Mediterranean and Latin heritages to Asian flavours and dishes to create their menus. It is located on 220 42 Avenue SE and offers special course meals for upcoming holidays such as Valentine's Day and Mother's Day. For our latest recipe from a local chef, the restaurant sent us their Watermelon & Prawn Salad recipe so our readers can try it at home. Try a new refreshing taste from the watermelon!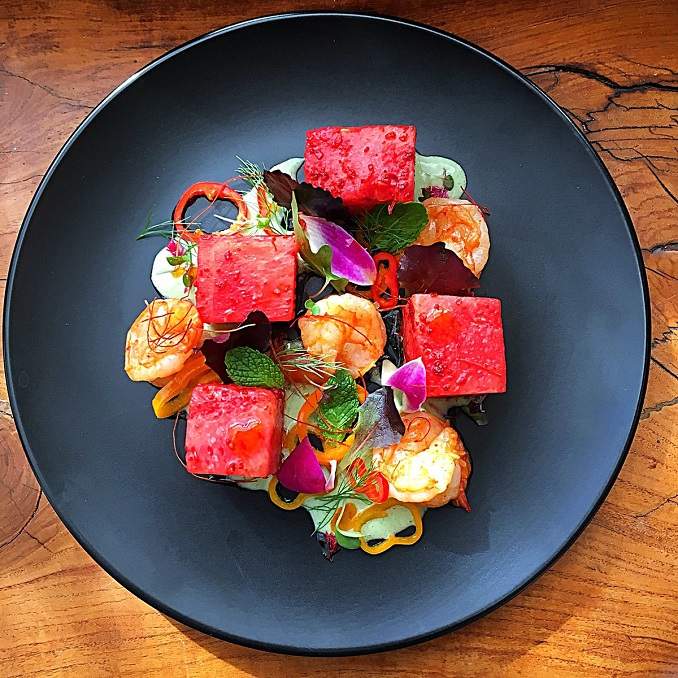 Watermelon & Prawn Salad Recipe
INGREDIENTS:
– 1 large watermelon
– ½ cup Balkan yogurt
– ¼ cup fresh mint chopped
– 1 tbs lime juice
– 1 tbs honey
– 1 lb 21/25 prawns peeled and deveined
– 1 tbs rocoto paste (or Harrisa paste)
– 1 cup mixed greens
– 1 tbs Korean chili peppers
– 3 baby bell peppers thinly sliced
– Salt and olive oil
Directions:
For the prawns:
Marinate the prawns with the rocoto pepper and reserve until need it, this can be made ahead of time.
For the dressing:
In a mixing bowl combine the yogurt, lime, honey and fresh mint, season with salt, mix well and reserve in the fridge until needed.
Making the salad:
1. Cut the watermelon onto 1" squares (reserve the trim for the caipiroska) in a mixing bowl toss the watermelon with the chili peppers & salt and reserve until need it.
2. In a frying pan at medium heat sauté the prawns with a bit of olive oil, cook them until they are done, remove from the heat and let them rest for a few minutes before plating them.
3. To plate the salads place some of the yogurt dressing on the bottom of the plate and put some of the watermelon squares and prawns on top of the dressing, garnish the salad with some oiled and seasoned mix greens, fresh mint and sliced baby bell peppers.
Enjoy with a watermelon caipiroska.
Watermelon caipiroska
Ingredients:
– ½ cup watermelon pieces
– 2 limes cut in quarters
– 1 teas yuzu
– 1 ½ oz vodka
– ½ oz melon liquor
– 1 tbs sugar
Directions:
1. In a mixing glass muddle the watermelon with the sugar and limes.
2. Add the vodka, yuzu and melon liquor. Add ice in a shaker and shake the mix, shake well. Strain on to a rock glass filled with ice. Garnish with some fresh mint and a lime wheel.
Find out more about Alloy Dining.