Velvette Organics develops all natural oils that benefits all of our body parts when applied, including face, hair, and body. We recently chatted with the co-founders of these 100% natural beauty products who told us the advantages and convenience of using these oils.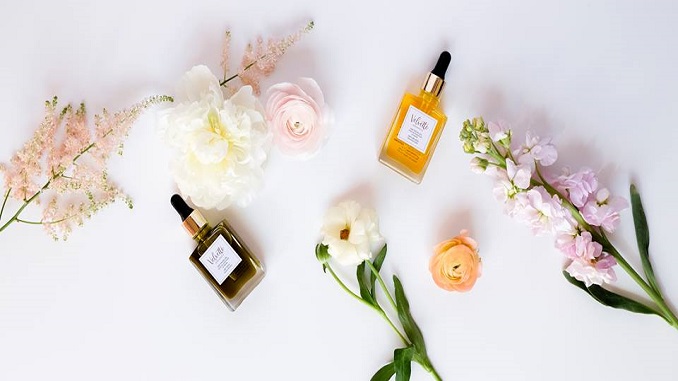 What is your business called and what does it do?
We, Joyce and Jenny Tse, are the Co-founders of Velvette Organics. We combined our backgrounds in Chemical Engineering and Accounting to create 100% natural facial, hair and body oils that eliminate a multi-step beauty routine by providing one step hydration!
Our facial oils can be used as a standalone moisturizer, beauty serum, added to other skincare products, used as a sleeping mask, or even as a makeup primer. The hair oil helps keep hair smooth, shiny and moisturized to prevent breakage and frizz. Lastly, our body oil effectively replaces body lotion, keeping your skin soft and supple.
What made you want to do this work?
The inspiration for Velvette Organics came unexpectedly when we were about to go on a three-month backpacking trip. Packing for this long trip was not easy, and attempting to follow our multi-step skincare routine was even tougher with strict airline liquid restrictions. With only a few hours left to pack, we threw together a blend of our favorite plant oils into a small container, and used just that for all our moisturizing needs. Throughout the trip we realized what a great product we had created, and our skin was absolutely loving it!
Utilizing Joyce's Chemical Engineering background, we did extensive research on other plant oils, focusing on the characteristics, textures and benefits of each oil. From there, we created specialized blends each to serve specific purposes, and that's how Velvette Organics began!
What problem does this solve?
Skin and hair care can be incredibly frustrating, with many beauty routines consisting of over ten steps! Much of these steps, for instance, serums, toners, primers and lotions, are composed of mostly filler ingredients. Did you know that creams and lotions are typically 60-80% water, with a very tiny portion of it being actual active ingredients? We believe in prioritizing only the ingredients that matter and cutting out filler ingredients, which is why our products contain only plant oils, extracts and vitamin E.
One tiny drop of our oils can hydrate just as effectively as one pump of cream, which means not only do you use a lot less product, there is less packaging waste. Our formulations are 100% natural, organic, cruelty-free, vegan, and contains no harmful chemicals or toxins, so you can be rest assured that they are good for your skin!
Beauty routines shouldn't be long and complicated. We believe you can still practice self care, while having time to prioritize the very things that inspire you – your passions, your dreams and your loved ones.
Who are your clientele/demographics?
We have seen a wide range of customers use our products, and were fortunate to meet many of them in person at the artisan markets that we participate in. Our primary demographic would be urban, clean-beauty conscious women who are looking to incorporate more organic and natural products into their everyday life.
How does your business make money? How does it work?
We sell both online and at artisan markets, and are also sold at 14 physical retail locations and two online stores.
Where in Calgary can we find your profession?
There are many emerging beauty companies that are based in Calgary. Some of these companies sell online, at markets, or can be found anywhere from small boutiques to large grocery stores.
What is the best question a prospective customer could ask a member of your profession when comparing services?
What makes your products/company different from your competitors?
What is the best part about what you do? What is the worst part?
It's empowering to see our business grow from an idea to a recognizable brand. We have met so many wonderful people on this journey, and have learned so much along the way. Entrepreneurship comes with extremely hard work, risks and uncertainty. It's a constant struggle to maintain work life balance as a business owner!
What are your favourite jokes about your own profession?
Support Alberta oil
PAY IT FORWARD: What is another Calgary business that you love?
We've met so many incredible business owners in Calgary – this is definitely a difficult decision! We would love to pay it forward to Outside The Shape, a charming boutique in Inglewood run by Francesca Her store curates an assortment of artisan products made all made by Calgarians, ranging from jewelry, skincare, clothing and more. She also organizes multiple workshops and fun events throughout the year, and also special ones for the makers featured in her store. We've met many other local makers through her, and we can't thank her enough for her support to Velvette Organics!
Where can we find you?