Hi there, I'm Trixie and I'm looking for the purrfect home to call my own. I'm looking for a calm, quiet retirement home with no small children nor other animals. I can be a bit shy at first, so I'm looking for a family that is willing to be patient and go slow with me until I can get to know you and feel comfortable. Then you'll see what a sweet girl I really am! I'm sure you've noticed my luxurious fur coat – it's so soft and fluffy, you'll love spending time petting me. Looking this good does take some work though, so I would love if you could help me with this! In my previous home I would spend time out in the backyard, enjoying the sights and smells and sunbathing. Could we try this out together? To keep me safe, it is important that I am on a harness and leash when outside the house. Now I can be a tad particular when it comes to my litterbox habits. I would love if my future family could provide me with a large litterbox that is cleaned daily and is in a low traffic zone where I can do my business in private. Well, that's what you need to know about me – so get here and adopt me now! A cute face like this won't last long.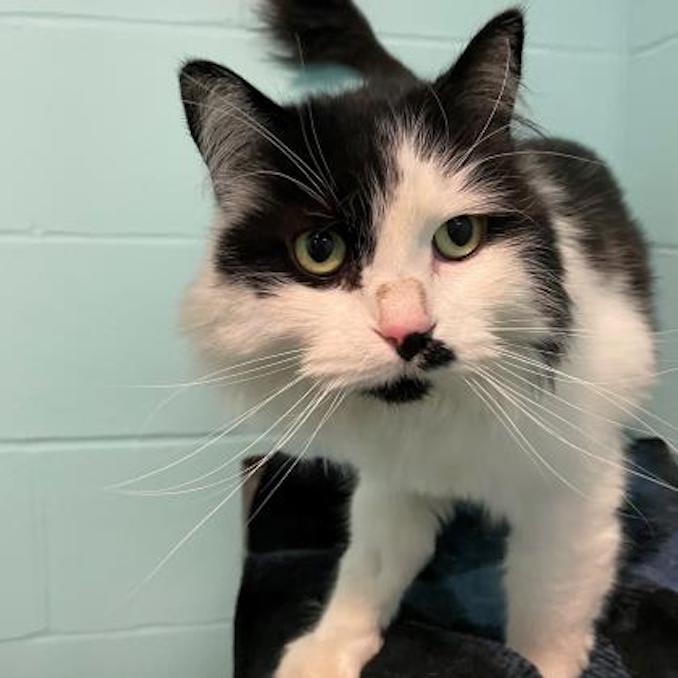 Trixie
Age: 11 years 1 month 2 days
Gender: Female
Size: Large
Colour: Black/White
Spayed/Neutered: Yes
In response to COVID-19, Calgary Humane Society is closed to the public. We are currently processing adoptions and animal intakes by appointment only. For more information about our modified adoption process, please click here.
In order to ensure a smooth and successful adoption, please remember to check all the basic requirements for adopting before coming in to the shelter.
About this column:
Each week we feature animals available for adoption from local shelters in the Calgary area with the hopes that our readers will assist in finding good homes for them. If you, or someone you know, has the resources to take care of one of these animals, please do get in touch with the appropriate shelter via the links provided.