SwizzleSticks SalonSpa is a Calgary, Alberta based hair salon and day spa located in Kensington in the Pointe Building on Kensington Crescent. We recently talked to the owner of the salon who told us about their focus, their passion for the business and the community, and what separates them from their competitors.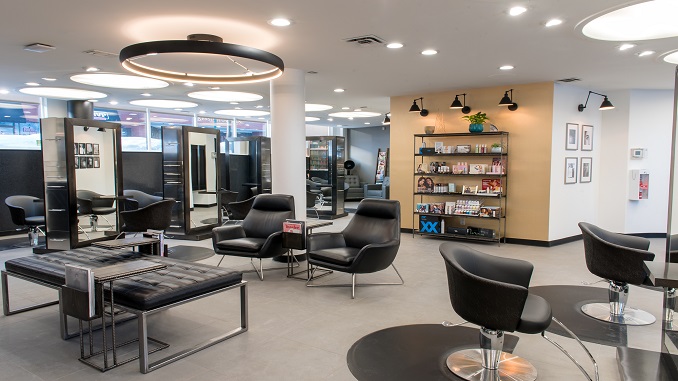 What is your business called and what does it do?
SwizzleSticks SalonSpa! We are a community and environmentally driven hair salon and day spa. We specialize in hair colour, colour change and extensions in the salon! Our spa is focussed on high touch and not high tech. We believe that the healing power of touch along side amazing product lines offers results and relaxation!
What made you want to do this work?
The hair industry was always going to part of my life! My barbies had the best hair! The people that you are honoured to meet and get to know make this work a joy!
What problem does this solve?
I believe a salon or spa visit can solve many problems! Be it a colour correction or a facial to correct the skin. More often it's helping our guests work out problems that they may have, like encouraging them to go to that interview, asking that person out, talking to their partners about how they feel. We help our guests feel confident to drive their lives!
Who are your clientele/demographics?
We have a wide range of guests! We run an Academy program in our salon at a savings, so naturally we find students and children in with our students. But truly or demographic is Albertans with hair and bodies who want more from their hair and spa services! They want to feel like rock stars!
How does your business make money? How does it work?
SwizzleSticks provides hair and spa services as well as a curated collection of retail products for take home! Our income is generated through the sale of services and retail!
Where in Calgary can we find your profession?
There are plenty of great salons and spas in the city! SwizzleSticks is located in the heart of Kensington in the Pointe Building on Kensington Crescent!
What is the best question a prospective customer could ask a member of your profession when comparing services?
Anything about our education! We believe that to stay on top of the industry constant upgrading is important! We attend many hair and spa shows each year to ensure we are ahead of the curve! We also meet every Wednesday to either learn a new technique, have guest speakers, or simply a team huddle!
What is the best part about what you do?
The wonderful people that fill my days! My team is amazing, and so are our guests!
What is the worst part?
Seeing our guests and team members go through challenging events and times.
PAY IT FORWARD: What is another Calgary business that you love?
Parker PR! Raw Eatery! Splash of Fashion!