With planning a wedding, comes a lot of stress. Local business, Something Special, creates subscriptions boxes to help destress the process. This week we spoke to them to learn more about how they're also helping de-stress "postponed" brides.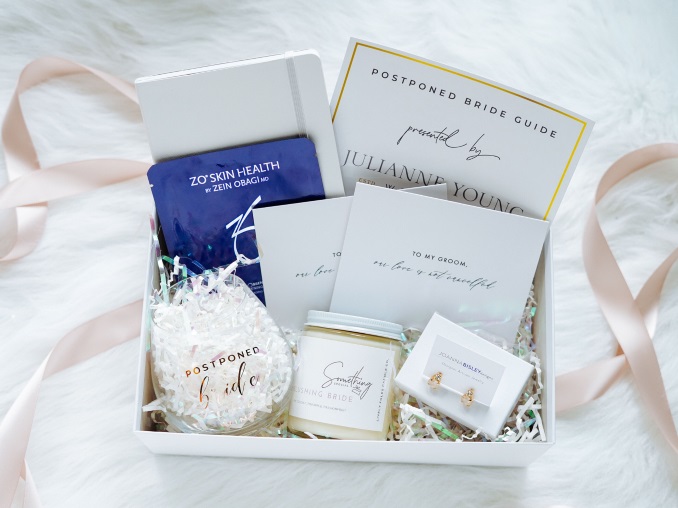 What is your business called and what does it do?
Something Special is focused on carefully curating locally sourced, thoughtful gifts in a bridal themed subscription box to cultivate excitement, joy, and help de-stress Calgary and area brides-to-be. The box also acts as a way to promote and support local vendors in YYC to inspire brides and help guide them in making choices in their wedding planning journey. Each beautifully packaged box includes 5-8 carefully curated items that are luxurious, on-trend, and of course, local.
We've also launched Something Special with a "Postponed Bride Box" as a way to help bring a smile to the faces of brides who have had to cancel or postpone their weddings due to COVID-19. The Postponed Bride Box allows loved ones, bridesmaids, or partners to surprise their brides with a special box delivered to her door featuring thoughtful gifts to pamper and get her excited for her postponed wedding. We'll also be donating 10% of all sales of this box to the YWCA's COVID-19 Relief fund so it acts as a way for us to give back during this time.
What made you want to do this work?
I think through my own experience being engaged, I had always been excited for all the typical "engaged" activities like going to bridal shows with my best friends, going wedding dress shopping with my Mum, hosting an engagement party with all our friends etc. However I quickly realized that your "engagement glow" can become quickly tarnished by lots of different things like financial stress, planning decisions or family drama.
I wanted to create a monthly reminder for brides to forget all the negativity and focus on what is important – that you are getting married to your person and to simply be excited and looking forward to a celebration of that love with all of your favourite people! I'm also a huge advocate for the Shop Local movement in Alberta so I knew I wanted to incorporate a way to promote my favourite local vendors, particularly within the wedding industry, as we have so many amazing local businesses to support during the wedding planning process. So I created Something Special as a way to cultivate that continued excitement and joy for brides-to-be, in the form of a monthly bridal subscription box packed with locally sourced gifts.
What problem does this solve?
I think Something Special fulfills a couple of key needs:
1. As I mentioned, an engagement period can quickly be filled with stress and anxiety and somewhere in between picking our florals and navigating the guest list, we can easily lose sight of the purpose of even being engaged! So when a Something Special Bride Box is delivered to a Bride's door each month, it's a reminder to take a deep breath, relax, and refocus your perspective on what is important and getting excited for a day filled with love.
2. There are so many amazing local businesses in Alberta filled with innovation and talent, particularly within the wedding industry. I think sometimes it's easy to head straight to Amazon, Etsy or those big name US brands for all your wedding needs but actually I believe we have even better products and services available locally right outside our front doors. So the Something Special bridal boxes are a way to showcase these Canadian-made brands in the hopes of directing more business to them and giving back to our local economy and community.
Who are your clientele/demographics?
Our boxes go to engaged women (brides-to-be) roughly between ages of 25-35.
How does your business make money? How does it work?
We sell our bridal boxes through our online store. We have 3-month subscription plans as well as one-time purchase boxes like the Postponed Bride Box. A lot of our sales are made by friends and family of the Bride gifting her a subscription as an engagement gift. We have developed three key boxes packed with luxury, locally sourced gifts and they get sent out on a monthly basis to our brides-to-be!
Where in Calgary can we find your profession?
You can find our boxes online through our website.
What is the best question a prospective customer could ask a member of your profession when comparing services?
I think the best questions are around how I choose which items go in the boxes and more about our partner brands! These local businesses are the superstars of Something Special and so I'm always really excited to talk about them and their products.
What is the best part about what you do? What is the worst part?
For me personally, giving gifts is definitely my love language, and so being able to channel that into putting a smile on someone's face and making their day with a box just for them is really exciting!
The worst part is probably having to pick and choose between my favourite local brands, the boxes are only so big but I wish I could have unlimited amazing local brands featured!
What is your favourite joke about your own profession?
I had one person, who is not currently a bride-to-be, ask about getting a box to prepare for a time when they will hopefully be engaged. I mean definitely a commitment to visualizing! It made me giggle, but seriously no judgement, if it makes you happy I'm all for it!
PAY IT FORWARD: What is another Calgary business that you love?
This one is so hard for me considering my whole business is basically founded on loving Calgary businesses! I have so many I can't just choose one so I'm going to choose all of the amazing brands featured in our Postponed Bride Box:
Lively Folks Candle Co
Emily-Rose Health
Joanna Bisley Designs
AllRush Print
Lovesky Design
Julianne Young Weddings