For children dealing with mobility issues, there are several situations in their daily life where they face more difficulty than others. This week we spoke to one of the co-founders of Accessible Renovations for Kids (ARK), Cindy Eberth, about her charity and how they're helping easing the problems facing children with mobility issues.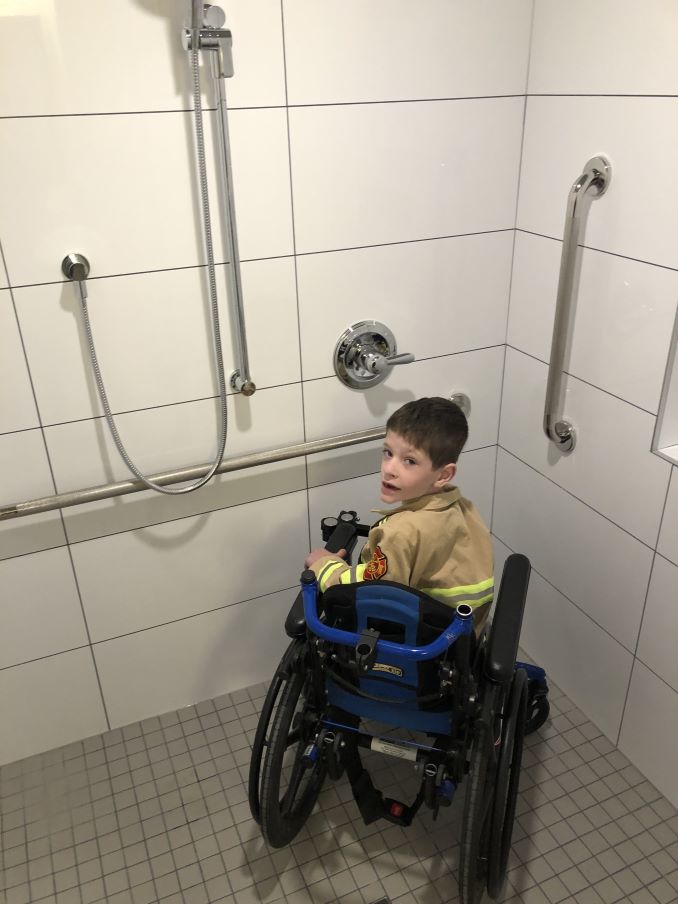 Describe your charity/non-profit in a few sentences.
ARK – Accessible Renovations for Kids is a local charity that provides home renovations for families who have children with mobility challenges. Many children suffer from a variety of illnesses or injuries that affect their mobility and which makes daily life challenging for them and their families. The high cost of home renovations or even smaller modifications are quite often out of reach for a family and this is where ARK can help.
Totally reliant on volunteers and the support of donors and sponsors, ARK is dedicated to easing the daily life of children with disabilities and reshaping their world. With each home renovation, the plan is to have at least 50% of the cost of the renovation donated in cash or 'in kind' donations of materials and labour. Our amazing donors, sponsors and volunteers all make this plan a reality!
What problem does it aim to solve?
According to Community Futures – Disability statistics for youth in Alberta there are over 9000 children and teens in Alberta who struggle with mobility due to illness or accidents. Many of these children and their families face challenges within their home in just completing the basics of daily life. Independence is something all children and teens strive for. However, a child with mobility challenges often must rely on others for help simply to move from room to room or go outside. Imagine the independence gained in their day to day life if renovations can allow a child to move with ease in their own home. This is where ARK can help.
"Accessibility renovations can have a huge impact on the quality of life for young people and their families. Young people gain independence when they can enter the home with the help of wheelchair ramps and lifts. Wheelchair accessible showers and sinks allow young people to shower and brush their teeth without assistance. Lifts and ceiling rails allow parents and caregivers to lift and move disabled children in the home rather than being cared for in a hospital or institution." Sue Trefry, ARK Co-Chair
Our dedicated team of volunteers consists of many who have experience working with accessibility design and renovations as well as a wealth of non-profit management. Our goal is to complete 1-2 renovations in each year. We hope to ease the daily life of children with mobility challenges and are asking Calgarians to help us reshape their world!
When did you start/join it?
ARK was an idea that Sue Trefry and I had and it started to come to life in the fall of 2016. Reaching out to friends and contacts, a core team was built that would be the foundation of ARK with plans to provide children and families with accessibility home renovations.
By 2018, ARK had become a registered charity with a growing and strong dedicated team. Funds were raised to complete our first project: an accessible bathroom for 8yr old Caleb and his family.
With one renovation complete, the goal was to spend the next year building the team further and looking to complete a second renovation. By the fall of 2019, ARK had grown to over 25 truly dedicated volunteers and was in the progress of a major three phase renovation for 5yr old Jaydon, which included an outdoor wheelchair ramp, an accessible bathroom and chair lift.
ARK continues to grow and to help children and their families, aiming to complete at least one to two accessibility home renovations per year.
What made you want to get involved?
Having been involved with many charities and non-profits over the years, Sue and I both recognized the need for helping parents and their children with this challenge they face every day at home. There is very little, if any support of this kind in Calgary so we know ARK can help.
What was the situation like when you started?
There is very little, if any support of this kind in Calgary so we knew ARK could help and that we could make a difference in the lives of children and their families.
How has it changed since?
ARK started with a core team of about 6-7 volunteers. In just a couple of years we are now a team of over 30 dedicated volunteers working to help these children. Awareness of ARK is growing constantly and we are always amazed at the dedication and support of our team members and donors and sponsors. Several trades so willingly donate their time and energy and many suppliers are very quick to help us out with some lumber or sink, etc. It is only with this amazing support that ARK has completed two home renovations and is now looking for our next ARK Kid.
What more needs to be done?
There are always more families to help so ARK will always be busy working on accessibility home renovations. Securing stable, consistent funding is a challenge for ARK as it is with any charity but we are optimistic that we will continue to grow and increase the number of renovations we can complete each year.
Our target currently is one to two accessibility home renovations per year with the view to increase that over time. We also aim to have at least 50% of each reno covered by in kind donations of materials and labour. With the support of trades and suppliers, that has been a reality for ARK and we couldn't thank our supporters enough!
How can our readers help?
As a 100% volunteer base organization, we are always looking for more volunteers and trades willing to help. Donations and support of any kind are always welcome and with very little overhead, we are thrilled to be able to put at least 95% donations directly to our renovation projects.
We are also currently looking for our next ARK Kid so if anyone knows of a child that struggles with mobility at home please nominate them on our website. We review each and every application carefully.
Do you have any events coming up?
We had events planned that unfortunately have been postponed due to the current Covid-19 situation but typically we host two events each year that are a fun evening to come out and support ARK and our current ARK family. Watch for our Scotch Tasting event at the Ranchman's Club when we are able to host events again.
A Speakers Series has also been in the works to provide community information on making homes accessible. We are currently reviewing how to make this a virtual experience until we can actually host them in person. Follow us on social media to stay up to date on when and how to join in on our events.
Where can we follow you?
PAY IT FORWARD: What is an awesome local charity that you love?
Cerebral Palsy Kids and Families is a charity that ARK is thrilled to partner with!