Hi, I'm Sheba! Boy, it can be a scary world out there, right? I haven't had the easiest life until now, so I got used to hissing first and asking questions later when I'm startled, if you know what I mean… But don't let that fool you – in fact, go ahead and ignore it completely. The truth is that I'm actually a BIG softie, and I'm a sucker for pets and being brushed. I love to sit on my foster mom's lap while she reads or watches TV, and I can stay there for hours, holding on to her arm while she pets me all over. Have I mentioned how much I L-O-V-E belly rubs? I'm super laid back and chill, so I'd prefer a calm home with people who would enjoy just letting me hang out with them. Oh, and my claws were also removed at some point so, as unnecessary as that was, you definitely won't have to worry about me scratching anything… Will you be the one who will help me create only happy memories from now on?
***Sheba is currently staying with a foster family, please contact the Adoption Department at adopt@calgaryhumane.ca to arrange a meet and greet. We work on a first come first serve basis, and will set up meet and greets with interested adopters in the order we receive them. Our team will be in contact with you as soon as possible to update you on where we are in the meet and greet process of the animal you are interested in. Please do NOT book an appointment using the online calendar as that is reserved for animals available for adoption on-site.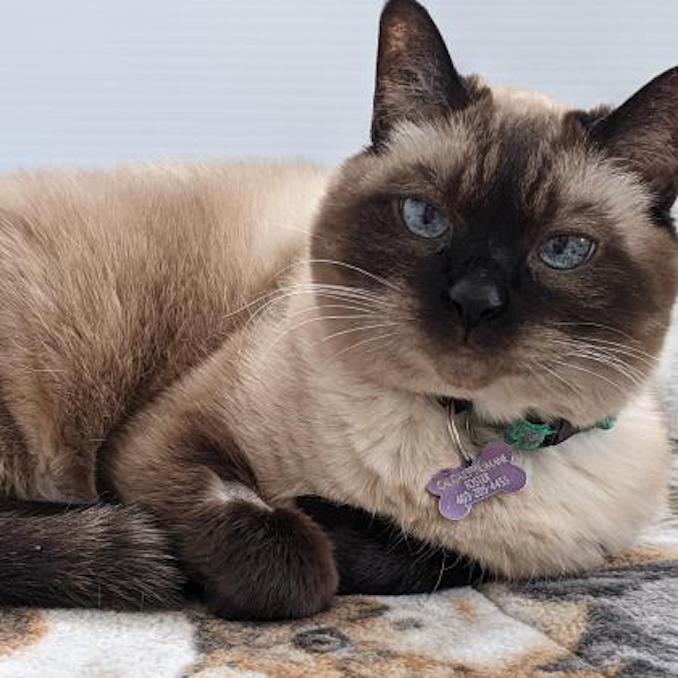 Sheba
Breed: Siamese
Age: 12 years 12 days
Gender: Female
Size: Medium
Colour: Black/Beige
Spayed/Neutered: Yes
In response to COVID-19, Calgary Humane Society is closed to the public. We are currently processing adoptions and animal intakes by appointment only. For more information about our modified adoption process, please click here.
In order to ensure a smooth and successful adoption, please remember to check all the basic requirements for adopting before coming in to the shelter.
About this column:
Each week we feature animals available for adoption from local shelters in the Calgary area with the hopes that our readers will assist in finding good homes for them. If you, or someone you know, has the resources to take care of one of these animals, please do get in touch with the appropriate shelter via the links provided.