Science is Fiction's debut EP "Don't Everybody Thank Me At Once" has been making appearances on the Canadian college charts this fall and made its debut on all streaming platforms on September 28th. Their sound has been described as "Elvis Costello on steroids" and "a bit Parquet Courts…a bit parent rock".
What's the recipe? We start with a guitar riff that you love, over the top lyrics recited with righteous melody, and vocals registering on the low end of baritone pushed to its limits. Add some backing high-end wailing for depth along with some frenetic rhythm guitar and it's time to dance.
The tracks were recorded at the National Music Centre and mixed by local Calgary legend Lorrie Matheson in 2018, but you'd be forgiven for mistaking it for 1978. It makes sense, since they had access to the NMC's amazing collection. Lead guitar player, vocalist and songwriter Pavan Singh was playing through a classic amp donated by Neil Young and drummer Matthew Anderson produced his rich, warm tone on a vintage Ludwig kit.
While Kirk Stensrud (guitar/vocals) and Pavan have been been playing and writing together in basements since their teenage years, they are new to the Calgary music scene after Pavan's return from years of living in Europe and India. Thankfully, they have the guidance of talented veteran bass player Blair Lipkind who previously performed with Calgary's Moyo Combo.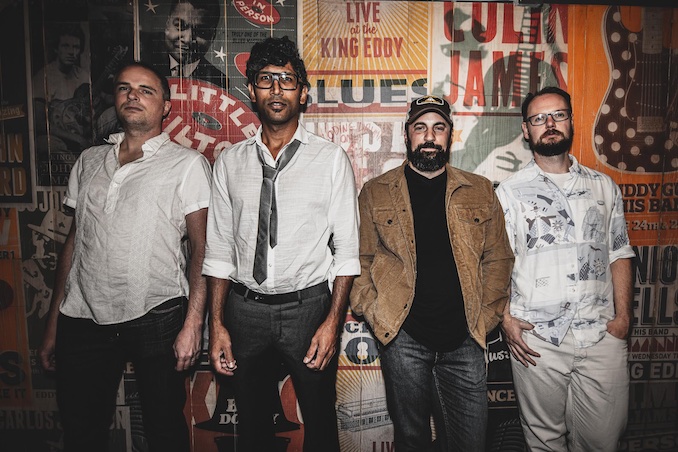 Name: Science is Fiction
Genre: Indie Rock, Power Pop
Founded: 2017
Latest Single: Awkward Girl
# of Albums: 1 EP
Latest Release: Don't Everybody Thank Me At Once
Latest Video:
Video for Awkward Girl will be coming soon!
Favourite Local Restaurant:
Il Centro
Favourite band as a teenager:
Jimi Hendrix, Pavement, Grateful Dead, Big Sugar
Favourite band now:
Jonathan Richman/Modern Lovers, Talking Heads, Black Keys, Lykke Li
Guilty Pleasure Song:
New Radicals – You Get What You Give, Len – Steal My Sunshine and anything by Shania.
Live Show Ritual:
Pick someone out of the room and stare at them while tuning.
Favourite local artist:
Scratch Buffalo, The Dudes, Liquor Mountain, Gone Cosmic, Twenty Centuries of Stony Sleep, Thomas Thomas, All Hands on Jane, The Shiverettes, Sergeant and Comrade, If I Look Strong You Look Strong, The Torchettes, Act Natural, The Hours, l'omellete, God Spilt the Milk, Copperhead, Wesley Wilson and the Ghosts uh we could keep going – there's so much talent here right now…
Nose Hill or Fish Creek??
Fish Creek
EP or LP?
LP
Early bird or night owl?
Rhythm section are early birds and the guitar players are night owls.
Road or studio?
Studio, so far, since we haven't really hit the road yet
Where can we follow you?
Instagram | Facebook | Twitter | Spotify | Bandcamp
What do you have coming up?
Shows in Calgary and around Alberta are currently being booked – there should be a show on December 6th at Vern's….and the full album should be out next year!
See updates on our Facebook page.