We teamed up with Green & Black's to come up with some delicious ways to show your love on this upcoming Mother's Day. Mike Greenberg shared with us this recipe for chocolate lava cake, perfect for any celebration dessert.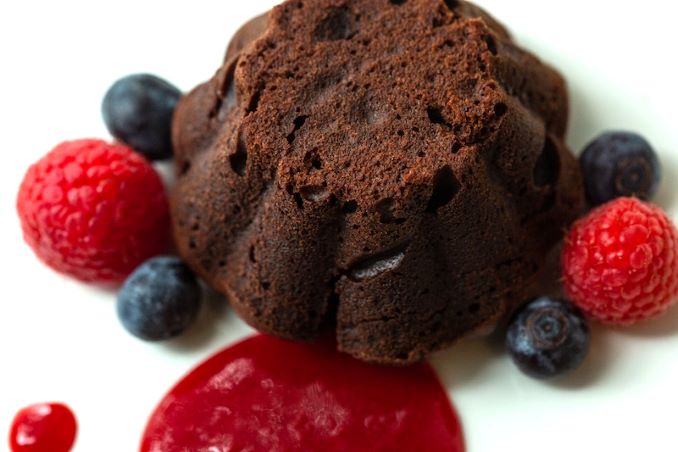 Chocolate Lava Cake
Makes approx. 8 cakes
Ingredients

:
250g Green & Black's 70% Cocoa Chocolate
100g unsalted butter
4 eggs
125g sugar
50g flour
1 pinch baking powder
Directions

:

1. Mix eggs with sugar in mixing bowl until creamy. Set aside

2. Melt the chocolate and butter in a mixing bowl over a pot of simmering water. Stir frequently, until the mixture is melted and smooth. Mix into the egg and sugar mixture.

3. Add flour and baking powder to the mixture and blend well.

4. Pour batter into greased muffin pan or into silicon baking mold. Approx. 1/3 cup of batter for each cake.

5. Bake at 400F for 6-9 mins until cake is set but still uncooked in the centre. Remove from oven, cool slightly, and serve with raspberry coulis.
Raspberry Coulis
Ingredients

:
150g frozen raspberries
50ml raspberry liqueur
50ml water
50g sugar
15g corn starch mixed with 30g water
Directions

:

1. Heat raspberries, raspberry liqueur, water, and sugar in a small sauce pan. Cook over low heat until the mixture boils and continue to simmer for a few minutes.

2. Make a slurry with the corn starch and water and add to the simmering berry mixture. Continue to cook until the mixture thickens and comes to the desired consistency. Remove from heat and strain the mixture through a fine sieve. Collect and cool the coulis and serve warm with the chocolate cake.

3. Garnish with berries, mint, nuts or Crushed/Chopped Green & Black's Chocolate.