Calgary has a certain kind of reputation in Canada and the world. The home of Stampede is often perceived as a largely white, conservative, wild west frontier town. While there are aspects of that reputation that hold true, we also have a tendency to white wash this frontier past. Then, as now, Calgary held stories of diversity.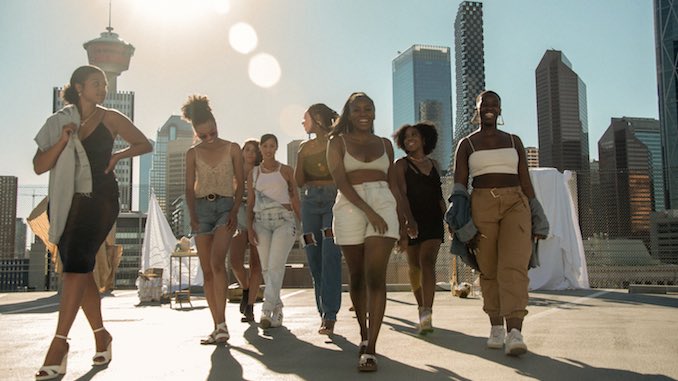 The population of Calgary has essentially doubled since the 1980s, and with that population growth has come new changes, and a new reality. Frontier towns have often been viewed as lands of great opportunity. Calgary is now home to the 4th largest black population in Canada, and our city's black artists have been busy seizing and creating opportunities to tell their stories.
Enter Queendemme, a 7-part experimental multimedia journal that offers a snapshot into the stunning energy of black millennial women in Calgary. What started as a spur-of-the-moment photo shoot on a summer afternoon in 2019, grew into a documentary film, a poem, a second photo series, and a song that debuted at an intimate yet inspiring event which showcased all the works. Queendemme has now culminated in a music video that captures this entire journey.
"The initial photo shoot started as a fun impromptu idea among friends", says Rheanna 'caedance' Lauren, founder & Executive Producer of Queendemme. "It quickly blossomed into something more." The original shoot issued an open invitation to whichever Black millennial women artists in the city were available that day. A follow up shoot was eventually planned, with  the original 11 subjects, but placing them in a different environment.
"Now that we had all these assets, we thought it was only right to display them somewhere for a community experience" says Lauren. "We had an activation at the Arts Commons, largely thanks to our friend & ally Josh Dalledonne. The feedback that we received at this event from the community was overwhelmingly beautiful. There were tears and hugs. People felt represented and seen. This is what we had set out to do."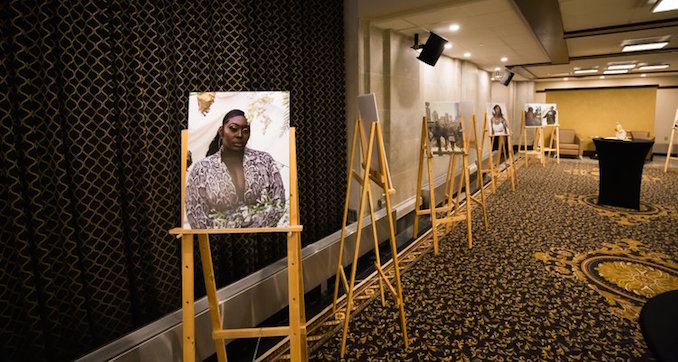 The project continued to grow and build, with a documentary film becoming the next step. "During the process of making the documentary, we realized we needed music, so we decided to write our own song." Lauren had just entered the songwriting industry and seized the opportunity to use those skills.
The song, an undeniable bop, is an ode to Calgary. The track features Rheanna 'caedance' Lauren herself, along with local artists BLSNG, Sinzere, and Lady Channing. Directed by Sabrina Naz Comanescu with cinematography by Wyatt Sawyer, the video encapsulates the multi-media journey of Queendemme as experienced by a young black girl, who is seen viewing the art of Queendemme in a museum. "I thought about what people see in museums, and how I would love for us to be what people see in museums one day" says Lauren. The video also features gorgeous views of the city, and highlights local Black-owned businesses.
60 Black Calgary-based female artists participated in the making of the video, which includes additional footage from Misha Maseka, Alia Aluma, Cassia Tayler & Gabriel Yee. Legendary Albertan playwright Cheryl Foggo also makes an appearance. A keen researcher known for her work highlighting the history of Black pioneers in Western Canada, her participation adds an element of reclaiming the black history of the Prairies. The message of the video is clear and affirming: Calgary is home to many black women, and black women are at home in Calgary.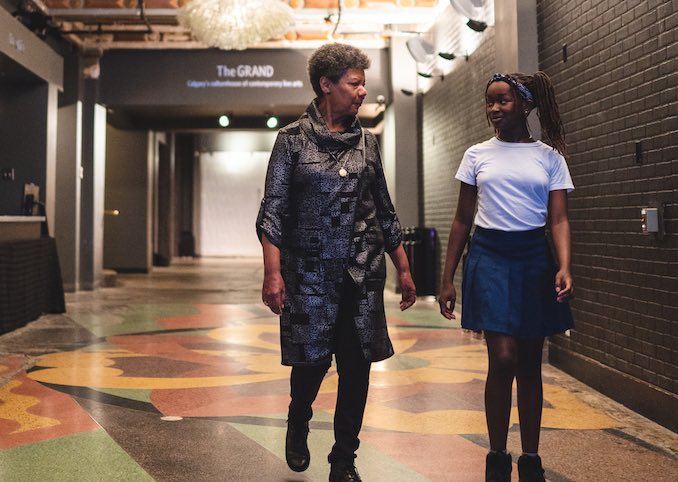 "Queendemme didn't necessarily set out to create anything new. We simply wanted to spotlight on a collective scale what this demographic is already doing, and has been doing in the city. We never would've imagined that a fun little photo shoot idea would turn into a seven-part multi-sensory experience with a team and articles writing about us even overseas, but we are grateful it came this far."
The entire Queendemme project can be viewed online at www.queendemme.com.