Hello there! My foster family decided to call me Pip. I am a beautiful and loving girl that loves chasing balls and strings almost as much as I love food (watch your food, seriously, if you leave a plate unattended or a delicious tuna salad on a counter… uncovered… I will help myself and you will only have yourself to blame).
I like to cuddle up to my foster mama and sister when they are working or doing homework. I usually go back and forth between them until I find a spot I like best. Have any guests visiting? That's fine by me! I will come say hello and be happy to receive some head and chin rubs from anyone willing to hand them out! I'm also not easily spooked. My foster home is a rowdy one, and I have two nine-year-old kiddos around that love to wrestle and play ninjas and make a lot of noise. I'll watch them and judge their technique, and when they settle down to play video games I'll cuddle up next to them. I would say I enjoy being around people and can feel a bit lonely and sad when no one's around. I'm a young girl yet, so I love to play! I have energy to burn, toys to chase and zoomies to express! Oh, and my own tail to catch. Sure toys are fun, but there's something about my own tail that I have to go after. You may laugh at this, but I think it's very important.
My foster mama and sister say I'm very good at using my litter box. They give me lots of praise and have tons of conversations with me, and thank goodness for this because I like to chat and chirp and chime in whenever possible! Sometimes I'll also rub up against your legs until you pet me and if you do it right I will flop on my back so that you can rub my chin and my chest! If I nip just a bit it's only because I get too excited! I should also tell you that though I have not been around dogs for long period of time, I seem to not mind them terribly. My neighbour is a tiny dog who loves cats and gets quite excited when she sees me (I don't blame her). She came over once to say hello, I was alert, but I didn't run away or tell her to go away.
Well, what are you waiting for!? Tell the nice people at CHS that you want to meet me! I promise that my silky soft fur and sweet nature will convince you to make me a part of your family!
– Pip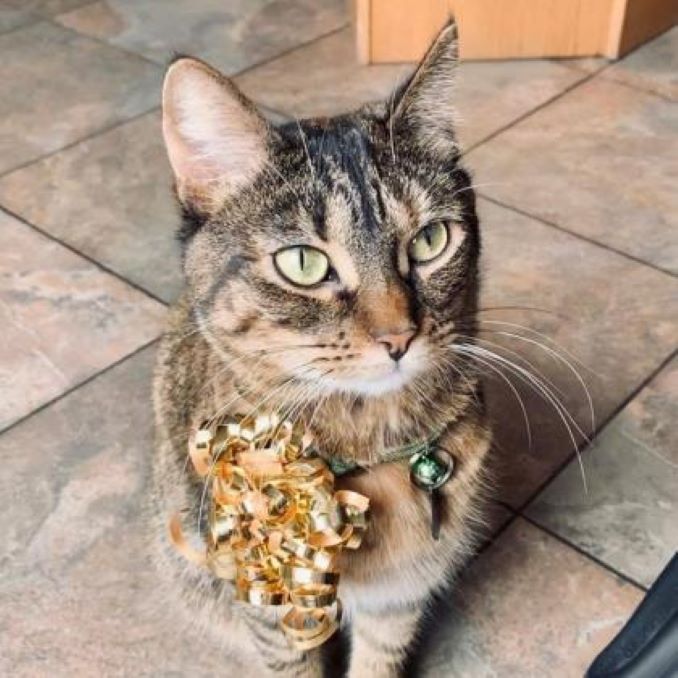 Pip
Breed: Domestic Shorthair/Mix
Age: 2 years 2 months 25 days
Gender: Female
Size: Medium
Colour: Brown/Black
Spayed/Neutered: Yes
NEW ADOPTION PROCESS: Please fill in the Cat Lifestyle Survey found on the How to Adopt page on www.calgaryhumane.ca (please include my name and animal reference number) if you are interested in adopting me! Serious inquiries only.
In order to ensure a smooth and successful adoption, please remember to check all the basic requirements for adopting before coming in to the shelter.
About this column:
Each week we feature animals available for adoption from local shelters in the Calgary area with the hopes that our readers will assist in finding good homes for them. If you, or someone you know, has the resources to take care of one of these animals, please do get in touch with the appropriate shelter via the links provided.