This week's recipe comes from nudemarket, who are known for their zero waste alternatives to every day products, and their fresh nudefood Peanut Butter! They provided us with this great Peanut Butter Hummus recipe using their Smooth Peanut Butter, which is a protein packed dip option!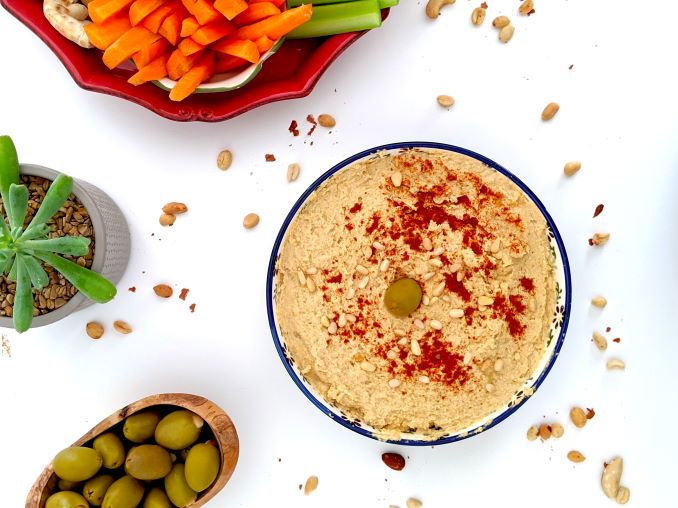 Ingredients
Makes 3 cups
– 30 ounces chickpeas (2 cans)
– 5 cloves garlic (peeled)
– 4 tablespoons olive oil or tahini
– 1/2 cup Smooth nudefood peanut butter (Crunchy if you like more texture)
– 3 tablespoons lemon juice (or more as needed)
– 2 teaspoons kosher salt (or 1 teaspoon pouring salt)
– 2 teaspoons ground cumin
– 1/3 cup plain/unsweetened coconut yogurt
– 2 tablespoons peanuts (finely chopped) or pine nuts (to serve)
-1 teaspoon smoked paprika (to serve)
– pita bread or gluten free crackers
– Sliced vegetables (Our recommendations: carrots, celery, mushrooms, cucumber, cherry tomatoes)
Directions
1. Drain and rinse the chickpeas. Put the garlic cloves, garbanzo beans, 3 tablespoons oil, peanut butter, lemon juice, salt and cumin into a food processor and blend well.
2. Add 4 tablespoons of the coconut yogurt and process again; if the hummus is still very thick add another 1–2 tablespoons yogurt and the same of oil. (This will often depend on the chickpeas, as different sorts make the hummus thicker or not.)
3. Taste for seasoning, adding more lemon juice and salt if you feel it needs it.
4. To Serve: mix the chopped peanuts or pine nuts with the paprika and sprinkle on top.
5. Enjoy as an addition to a vegan charcuterie platter while entertaining your guests!