Being good to Mother Earth is important. This week we spoke to local business, nudemarket, about their initiatives to educate and spread awareness of sustainable living as well as their very tasty Peanut Butter!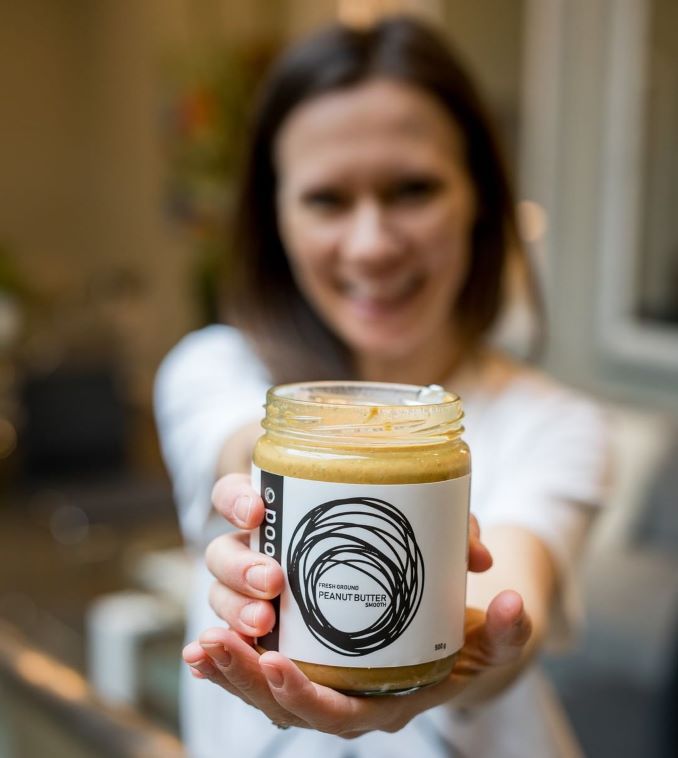 What is your business called and what does it do?
My business nudemarket: Zerowaste. While spreading awareness about sustainable living by selling reusable alternatives to single use products, I also specialize in a delicious line of what I call nudefood Peanut Butter. I fill the reusable glass jars myself, with all natural and healthy ingredients in a local co-working kitchen. Along with Crunchy and Smooth, I also make other fun and sustainably sourced variations like Dark Chocolate and Coconut Peanut Butter -all of which can be found on my website or at leading grocery stores like the Calgary Co-op and Blush Lane.
What made you want to do this work?
One of the three core values of nudemarket is sustainability. In the transition towards a less wasteful lifestyle for my family, I was in search of sustainable alternatives for over-packaged, preservative filled foods and home products and couldn't find what I was looking for. I envisioned a circular model which meant using a product or container that was meant for more than one life cycle so that after one use it wouldn't end up in our landfills. I realized I could create this vision myself by making my own sustainable peanut butter, which I eventually shared with my community through nudemarket.
What problem does this solve?
nudefood Peanut Butter is an approach to solve the current unsustainable manufacturing process of food that tends to utilize single use packaging, and unhealthy ingredients. My focus is on what is best for the environment, which also happens to be nourishing for our bodies too. By establishing a cycle of re-use for my peanut butter jars, and the other products at nudemarket, I try to avoid the problem of waste, while making it convenient for others to join me in a healthier lifestyle.
Who are your clientele/demographics?
My peanut butter attracts a lot of parents like me, who want the healthiest and most delicious option possible, and love to support their local community. I have customers that are loyal to saving the planet, and others who are in love with my one-ingredient peanut butter. nudefood is vegan, gluten free, keto, non-gmo and fair trade so it appeals to all diets. Even those who are not a fan of nut butter love the great package free alternatives on my online store!
How does your business make money? How does it work?
I am still a growing business, so any money from sales goes to building the company, and ensuring that nudemarket always offers quality products and ingredients!
Where in Calgary can we find your profession?
You can find nudefood Peanut Butter along with a variety of sustainable products for the home and body on our website. Alternatively you can also find my full line of nudefood Peanut Butters at many grocery stores around Calgary, including Calgary Co-op, Safeway, Sobeys, The Italian Market, Blush Lane and more!
What is the best question a prospective customer could ask a member of your profession when comparing services?
Asking a company's values is a really important question. It can say a lot about why they started their business, what standards they hold themselves to, and what their customers expect from them!
When supporting nudemarket by buying nudefood Peanut Butter, consumers are supporting a thriving local economy as well as helping to reduce their carbon footprint by investing in a business that is working hard to help make a healthier future for generations to come. Its not just peanut butter, its a movement.
What is the best part about what you do? What is the worst part?
The best part is the people and the community – hearing their feedback and knowing I made a difference in their lives means so much and keeps me doing what I love to do!
Like any industry, when you are proposing a different way of doing things, it is difficult to get some people on board. That's why one of my goals is to make reducing waste as convenient as possible, and I use my platform to educate and inspire those at any part of their journey!
What is your favourite joke about your own profession?
Wanna hear a peanut butter joke? Nah you'll just spread it around..and my puns are NUT for the faint of heart!
PAY IT FORWARD: What is another Calgary business that you love?
Peanut butter is nothing without jelly, so another local business I love is Worthy Jams! They are all natural and a delicious addition to a PB + J.