Hi there, I'm Max. I'm a large tabby fella looking for the puurfect home to call my own. The ideal family for me would be an adult only home with previous cat experience where I am your only feline companion. I would love if my future family was comfortable reading my body language and understanding when I'm feeling overstimulated and need a break. New situations and people can make me a bit nervous, so I would love if my humans would go slow with me at first. If you provide me with a safe space to call my own and let me come to you on my own terms at first, then I'm certain my charming personality will shine through. I've been spending some time with a foster family while recovering from some recent dental surgery. My foster mom describes me as lovely and affectionate. I absolutely love head rubs and pets and I even enjoy being brushed!! Oh I should probably mention that I'm a bit on the bigger side… this means I will require a bigger carrier and an x-large litter box. According to the wonderful vet team here at CHS, I need to lose a few pounds. I would love if my future family, alongside a veterinarian, could help me achieve my body goals. So if we sound like the puurrfect match, then please don't hesitate to contact CHS! I can't wait to come home with you!!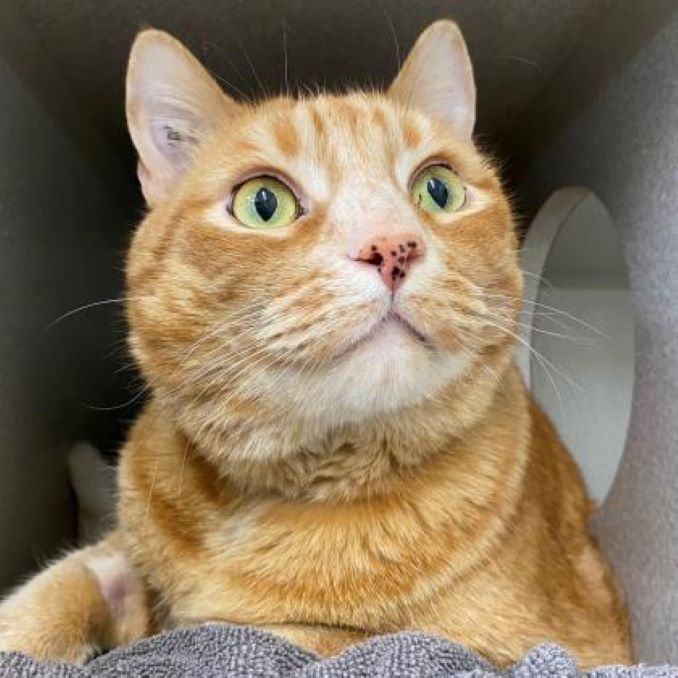 Max
Breed: Domestic Shorthair/Mix
Age: 7 years 6 months 6 days
Gender: Male
Size: Small
Colour: Orange
Spayed/Neutered: Yes
NEW ADOPTION PROCESS: Please fill in the Cat Lifestyle Survey found on the How to Adopt page on www.calgaryhumane.ca (please include my name and animal reference number) if you are interested in adopting me! Serious inquiries only.
In order to ensure a smooth and successful adoption, please remember to check all the basic requirements for adopting before coming in to the shelter.
About this column:
Each week we feature animals available for adoption from local shelters in the Calgary area with the hopes that our readers will assist in finding good homes for them. If you, or someone you know, has the resources to take care of one of these animals, please do get in touch with the appropriate shelter via the links provided.