Our "Five Minutes With" feature this week is on Bebe Buckskin!
The honeyed snarl of Metis/Cree artist Bebe Buckskin is a reckoning force. Somewhere between acid-laced vintage rock and the contemporary protest of her fearless roots, we find this powerful songstress cutting an impressive swath. Substantially experienced as a songwriter and performer, she now finds herself on a momentous upswing, and ready for the climb.
With multiple chart-successes on the Indigenous Music Countdown, Buckskin is no stranger to creating, releasing and working her unique music. Her sophomore EP, "Asiskiy" which means "Earth" in Cree, is a 5 track EP and was recorded at Dog in The Window Records in Calgary, engineered and produced by Derek Pulliam. To be released in February, Asisky is already highly awaited from the Western Canadian Music Community. But Buckskin has already narrowed in on her next, substantially bigger, project.
A recent recipient of the Canada Council for the Arts: Creating, Knowing & Sharing grant, Buckskin is headed to Fame Studios in Muscle Shoals, with her band to record her debut full length album. The album is described by Buckskin as an Inter-tribal collaborative album featuring The Medicine Tail Singers of the Choctaw Tribe in Alabama, and Derek Miller of the Mohawk from 6 nations, Quebec. Fusing blues/rock with traditional indigenous music, Buckskin is setting out to accomplish a blending of her eclectic inspirations with a powerful resonance.
Described by her contemporaries as a cultivated Joplin-St. Marie hybrid, Buckskin knows herself and her story well, and her songwriting depicts this confidence effortlessly. Taking up intentional space as an uncompromising and headstrong creator, she carefully weaves kaleidoscopic metaphor with the painfully astute.
Rooted in the honour of her unwavering, authentic spirit – Bebe Buckskin is a uniquely captivating artist, magnetic and uncompromising in her approach. This serendipitous blend of genuine passion and poetry is one that requires an insightful understanding of the world and herself, and one that will no doubt be noticed by many.
"Bebe Buckskin's forceful voice blasts the ear over classic rock-inspired blues tunes to devastating effect. It's no stretch to call her a timeless talent with a promising future.- Sled Island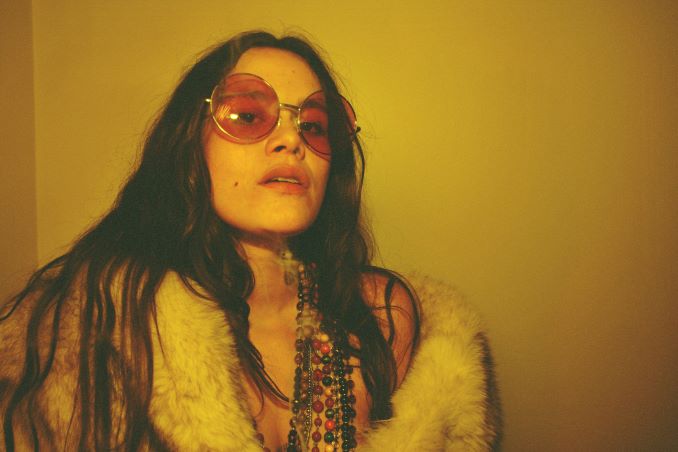 Name: Civilian name is Dani Ghostkeeper, otherwise you can call me Bebe Buckskin
Genre: Blues-Rock/Roots
Founded: 1988, unofficially… 2014 facebook official.
# of Albums: 2 EP's, and currently working on an LP (which will be recorded at Fame Studios in Muscle Shoals, Alabama, next month!)
Latest Release: Latest EP is set for a March 2020 release!
Latest Single: "Stockin Wood" 
Latest Video: Stay tuned for the release of "Stockin Wood" music video, premiering later this month!
Favourite Local Restaurant:
The Blackfoot Diner has my heart 4 eva.
Favourite band as a teenager:
CCR
Favourite band now:
CCR
Guilty Pleasure Song:
"Faded" by Soul Decision. 90's dance/pop is my happy place!
Live Show Ritual:
Pre-show shit, lol!
Favourite local artist:
Mike Mackenzie Band, The Torchettes, Amy Nelson, Mariel Buckley, Ellen McIlwaine, Laura Hickli, Knerd, Malcolm Camsell, Cold Little Crow, Damase Elis, Emre Cords, No More Moments, Timberfang, Drezus – too many to list!
Nose Hill or Fish Creek??
Fish Creek for Life! It's like stepping into Narnia.
EP or LP?
LP!
Early bird or night owl?
Even split for both. It depends on my mood or how much beer I drank the night before.
Road or studio?
Road 100% – adventure feeds creativity. As long as the farting is kept to a minimum and the enthusiasm at a maximum.
Where can we follow you?
You can follow me on Facebook, annd on Instagram.
Any shows or albums coming up?
I have some showcases in New Orleans for Folk Alliance Jan 22nd-26th, and a Nashville performance with my band on February 14th before hitting the studio in Alabama… I'm looking to play some local shows when I return so stay tuned! Also, my sophomore EP, "Asiskiy" (which means "earth" in Cree), is set for a March release!