SYRYN was founded by vocalist Sloan Voxx after seeing Amanda Kiernan of Into Eternity perform at Calgary Metalfest IV in 2015. After that performance, Sloan was inspired to set off on creating a band that would be able to enchant, captivate and trigger emotion, with shredding power metal and the Mythological folklore of the Siren with an added twist. Setting out on her search to find members, the lineup you see today is solidified by Paulo Rage (Guitar), Byron Gorieu (Guitar), Lyxx Rose (Bass) and Bryan Campbell (Drums). A Calgary based metal band combining the roots of Blues, the domination of Power Metal and the rapid shreds of Thrash. SYRYN will seduce and entice you with mysterious and menacing melodies, captivating vocals and swift drum attacks.
Since their inception in 2017, SYRYN has made lots of waves on the Western Canadian metal scene appearing on various festivals such as Decimate, Loud As Hell along with being scheduled to perform on 2020's Hyperspace Festival in Vancouver, BC on April 18th alongside Unleash The Archers, Silver Talon, Viathyn and more. SYRYN has also been recognized by Calgary's local music industry, nominated earlier this year for a YYC Music Award for "Metal Recording of the Year".
Debut album, "Beyond the Depths" is a conceptual album that takes you on a journey through the eyes of a Siren. Her menacing instincts enticing her to lure sailors in, torture them and kill them. This Siren, however, starts to develop humanity which causes an internal struggle with herself. The storyline allows you to be with her through this battle, it's tribulations and emotions. To imagine what one would feel when faced with these situations and what decisions they might make. Will she succumb to her natural impulses, or will she fight with benevolence to be what she is to believe she is not?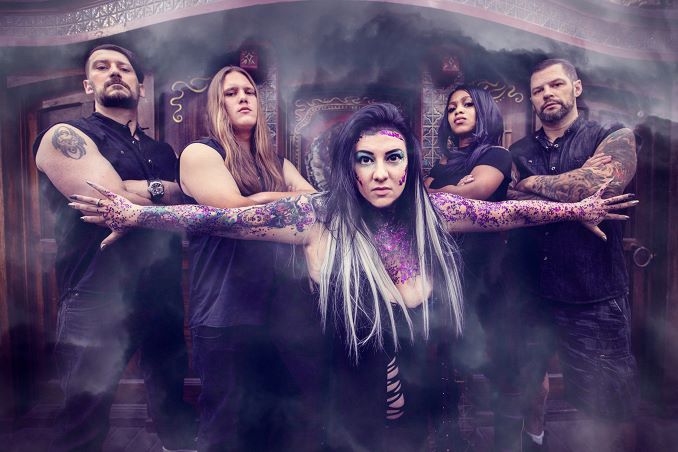 Name: Singer Sloan Voxx from SYRYN
Genre: Power Metal / Thrash / Blues
Founded: 2017
# of Albums: 1
Latest Release: Beyond the Depths
Latest Single: Dead Men Tell No Tales
Latest Video: Dead Men Tell No Tales (Lyric Video)
Favourite Local Restaurant: Tacos Mexico
Favourite band as a teenager: The Scorpions
Favourite band now: Battle Beast
Guilty Pleasure Song: More of an album, really – Jive Bunny and the Mastermixers!
Live Show Ritual: Shot of Jägermeister 5 mins before set, warmups & lots of hugs!
Favourite local artist: Illyrian
Nose Hill or Fish Creek? Nose Hill
EP or LP? LP
Early bird or night owl? Night Owl
Road or studio? Road
Where can we follow you?
Any shows or albums coming up?
Yes! We have some short stint mini-tours scheduled for our album release.
April 18 – Vancouver – Hyperspace Metal Festival 2020 (Rickshaw Theatre)