Independent Canadian performing artists Flint & Feather are a free-spirited husband and wife duo who are deeply passionate about connecting with people through folk/roots music, stories, and laughter. Based in Calgary, Alberta, co-members Joal and Lauren Kamps blend storytelling with songwriting to create charming "rocky mountain folk pop" songs inspired by Canadian history, rocky mountain folklore, and their own personal journeys. Their original songs are filled with vivid imagery accented by delicate harmonies, and their honest and engaging approach to performing connects with listeners of all ages and backgrounds.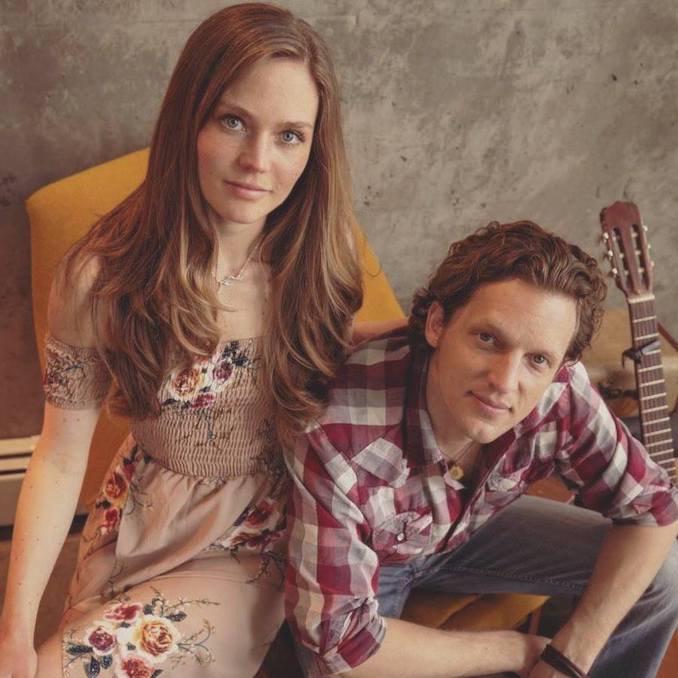 The Kamps first began exploring professional performance together after attending Canada's Music Incubator's Artist Entrepreneur Program in Toronto, as honored Bell Media Prize winners. Soon afterwards Joal and Lauren performed cross-Canada in partnership with VIA Rail's Artists On Board Program, quickly followed by an independently booked 27-performance European Tour. They have since completed another 32-performance European Tour and have performed well over 150 concerts throughout western Canada in the last two years, including a host of performances at music festivals, community events, summer concert series, and intimate house concerts.
'Top 3' finalist winners of the 2018 Prophets of Music's Emerging Artist Program, the Kamps have been able to record with JUNO Award-winning producer, Russell Broom. Lauren and Joal also attended the 2018 Hornby School for Emerging Artists during a successful four-week tour of western Canada last summer. There, at the Hornby School, the Kamps enjoyed artist mentorship from fellow JUNO Award-winning Member of the Order of Canada, Phil Dwyer, Canada's premier Jazz musician. Most recently, Joal and Lauren attended the prestigious Banff Centre'sEarly Fall Musicians in Residence program, where they spent five-weeks writing, refining, and rehearsing in preparation for recording and releasing their debut EP in 2019.
Group Name: Flint & Feather
Genre: Folk/Roots, Singer-Songwriter, Rocky Mountain Folk-Pop
Founded: 2017
# of Albums: To Be Released
Latest Release: Summer 2019
Latest Single: To Be Released
Latest Video:
Favourite Local Restaurant?
Pho Huong Viet Noodle House
Favourite band as a teenager?
Joal: Refused.
Lauren: Blink 182…
Favourite band now?
Joal: Jose Gonzalez.
Lauren: Probably The Civil Wars.
Guilty Pleasure Song?
Lauren: If You're Happy And You Know It.
Joal: Anything Sunlounger.
Live Show Ritual?
Arrive as early as possible, get set-up, and debrief/laugh before hitting the stage. And water – lots and lots of water.
Favourite local artist?
It's way too hard to choose just one. We're generally big fans of virtually everyone on the East Coulee Springfest line-up.
Nose Hill or Fish Creek?
Fish Creek baby!
EP or LP?
These days, the EP wins.
Early bird or night owl?
Lauren: Joal is a morning and evening guy, but I'm a mid-day gal myself.
Road or studio?
Joal: forever the road!
Lauren: can I pick both?
Where can we follow you?
Facebook | Instagram | Website
Any shows or albums coming up?
We spent the fall of 2018 songwriting at the Banff Centre and we're currently in the studio recording our debut EP. We perform throughout Alberta and British Columbia fairly often and upcoming dates can be found at: www.flintandfeather.com/shows.