Nova Scotiables are a high energy, Midwestern Maritime revue from all corners of Canada. Born in 2015 from late night whisky shots and chance busking encounters on the mean streets of Calgary, they've developed a reputation across southern Alberta for their original music and the contemporary hits they've been known to "Maritime-ize" when the mood strikes. With a wide reach of inspiration and plenty of Screech for perspiration these folks bring a party from the Right Coast that will have the whole family sippin' and jiggin' in no time.
Fearless leader Captain Hodgie steers the ship on lead vocals while bashing the bodhran and drums. AJ Baragar makes crowds swoon with sweet lead vocals and energetic guitar. Eric Minden's enthusiastic bass playing gets him dancing madly into the middle of audiences. Heidi Pittman's soulful fiddle and backing vocals invokes joy, sorrow and the East Coast spirit. Together this crew really brings the party!
In December 2019, these hard workers are hitting the studio again to bring you their latest original tunes on a fancy-shpancy new record "We're Gonna Need A Bigger Boat" set to be released early Spring of 2020.
Pick up your pint… Lift 'er high in the air – get 'er up, get 'er up, get 'er up there! Now count out loud;
One….
Two….
Three…..
Nnnnoooovvvaaaa Scccooottiiiables!!!!!!!!!!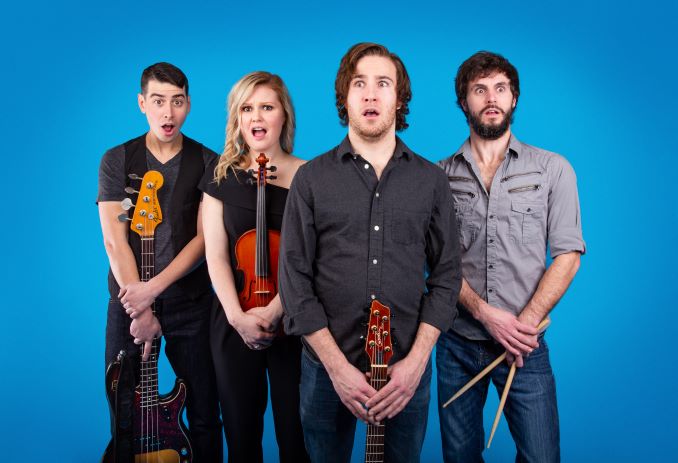 Name: Nova Scotiables
Genre: Folk Rock
Founded: 2015
# of Albums: 2
Latest Release: "We're Gonna Need a Bigger Boat" – Album – Released in April 2020
Latest Single: Never Going Home – Released in February 2019 – Single included on We're Gonna Need a Bigger Boat
Latest Video:
Favourite Local Restaurant:
Blowers & Grafton
Favourite band as a teenager:
Mumford and Sons
Favourite band now:
Nova Scotiables! (or Flogging Molly)
Guilty Pleasure Song:
Love Yourself by Justin Bieber
Live Show Ritual:
A round of whiskey for the band!
Favourite local artist:
Local to Edmonton, but still our favourite: Derina Harvey Band
Nose Hill or Fish Creek??
Fish Creek all the way!
EP or LP?
LP
Early bird or night owl?
Night owl. That's when the creativity flows!
Road or studio?
Can it be both?! If we had to choose one, it would be the road.
Where can we follow you?
Our website, Facebook, Instagram, Twitter, and Tik Tok! Search up @novascotiables and you'll find us!
Any shows or albums coming up?
We are doing a virtual set for the Cochrane & Area Events Society for a Canada Day show this year! Other than that, you can follow our Facebook Page for live streamed shows every weekend!