Ryland Moranz is coming into his own in these strange times. With his first album "Hello New Old World" (released in 2016) and years of international touring under his belt (both as a solo act and as a member of Leeroy Stagger and the Rebeltone Sound), Ryland has stepped into the great beyond, empathetically exploring his own stories and the stories of others. His sophomore release, "XO, 1945" (released on January 15th) takes a passionate look at the world we live in and the people whom inhabit it.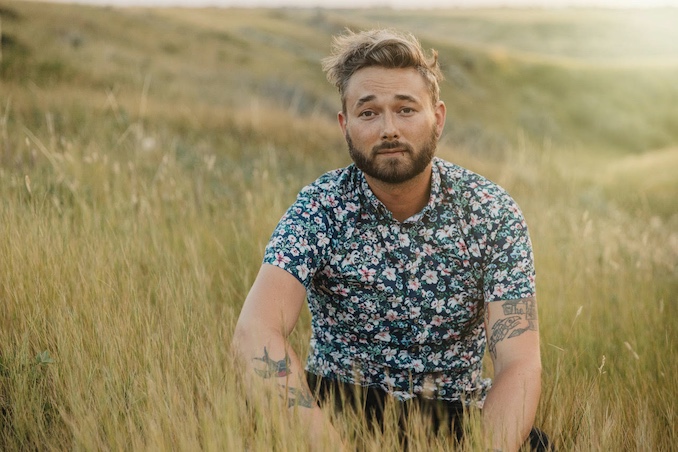 Name: Ryland Moranz
Genre: Folk, Singer-songwriter, Bluegrass, Canadiana, etc.
Founded: 1986 (natally), 2014 (officially).
# of Albums: 2
Latest Release: XO, 1945. Out on Jan 15, 2021.
Latest Single: 'Where Are My Blue Eyes'
Latest Video: 'Where Are My Blue Eyes' –
Favourite Local Restaurant:
The Owl in Lethbridge, AB. Great music, great food, great folks!
Favourite band as a teenager:
The Clash.
Favourite band now:
Still the Clash!
Guilty Pleasure Song:
Anything off the first Spice Girls record. That whole debut album is killer.
Live Show Ritual:
1) Being kind to myself, I can be really critical of my own playing and have to practice cutting myself some slack.
2) Warming up with this great old bluegrass run that Willie P. Bennet taught my dad one time.
3) I try to make someone smile before making a note of music. It sets the night up.
Favourite local artist:
Oh man, there are so many great artists in this town. Adequate!, John Wort Hannam, Starpainter, Mormon Girls, Junkman's Quire, Dave McCan, Shaela Miller, Skinny Dyck, Ghostwoman, Steven Foord, I've missed a bunch, this city is so rad.
Nose Hill or Fish Creek:
Nose Hill
EP or LP?
I like LP's. I feel like it's become so uncommon to sit down and just listen to a whole album these days. More LP's! Less playlists.
Early bird or night owl?
Night owl for sure. I'm pretty useless before 9PM.
Road or studio?
Road. I love the studio, but the road is in my bones.
Where can we follow you?
Website | Facebook | Instagram | Twitter
Any shows or albums coming up?
I have a couple things, nothing I can announce right now though I don't think. Something great in Calgary in a month or so though! Keep an eye out!