Now based in Calgary, Alberta and born and raised in Sudbury, Ontario, folk-pop singer, songwriter and designer Justine Giles – drawing inspiration from artists including Sheryl Crow, Alanis Morissette and Kacey Musgraves – has found her own voice. Her acclaimed newest single, "Save Myself," is her most powerful and personal effort to date. Justine Giles evolution has been a "wild ride"; she participated in Canada's Music Incubator (CMI) program in 2017, she was featured on CTV's Marilyn Denis Show in 2020 and was named Calgary's finalist in the 2020 Jim Beam Virtual National Talent Search (staged in conjunction with Canadian Music Week). Previously, she released her debut album titled 'Shine' in 2014, which generated singles, "We've Got a Light" (2014) and "Sparks" (2015), plus, she released a self-produced single "Unspoken' in 2016 (a first-place winner in northern Ontario for the 2017 CBC Music Searchlight Awards) and she released singles "I'm Done" and "I Got To Your Heart" in 2017, and "Poppy" in 2018.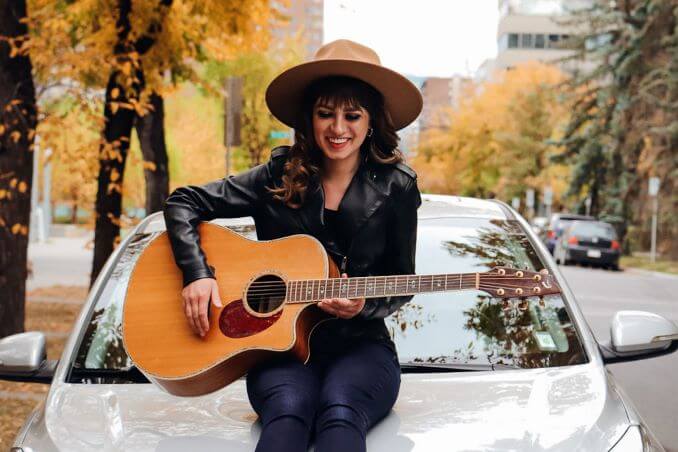 Name:
Justine Giles
Genre:
Folk-Pop/Adult Alternative.
Founded:
2012.
# of Albums:
One debut album, and seven singles (2015 to 2022).
Latest Album:
Debut album titled 'Shine' (2014).
Latest Single:
Save Myself
Latest Video:
Favourite musician growing up:
Alanis Morissette.
Favourite musician now:
Maren Morris.
Guilty pleasure song:
I Want You – by Savage Garden.
Live show ritual:
Time alone to breathe and get grounded backstage.
Favourite local musician:
Matt Blais.
EP or LP?
EP.
Early bird or night owl?
Night owl.
Road or studio?
Studio.
Any shows or albums coming up?
Upcoming Calgary shows:
June 5 – 4th Street Lilac Festival
June 17 – Skunkworks Distillery
July 17 – Inspire Fest
August 7 – The Nash
My next release is my new single "Another Chance" coming in summer or fall 2022 – made with support from ATCO Energy (grand prize winner of "Our Comeback" contest), OCL Studios, The Prophet's of Music and Worthington PR.
Where can we follow you?
Website | Instagram | Facebook | Twitter
***
Rapid Fire Calgary Qs
Favourite local restaurant:
So hard to pick just one. Vegan Street Tacos or Market (their Brussels sprouts are to die for).
Favourite street in your city:
9 Ave SE (Inglewood) – it's a vibrant part of the city with lots of local shops, cafes, and music venues. Also close to the river and makes for a beautiful place to walk.
Favourite park in your city:
Nose Hill Park – it's a great spot for photoshoots!
Favourite music venue in your city:
The King Eddy.
Favourite music store in your city:
Recordland.