Skipping Stone is an organization that provides support for trans and gender diverse youth, adults and families. It was founded in 2016 by Lindsay Peace and Amelia Marie Newbert who spoke with us for our latest Charitable Choices post.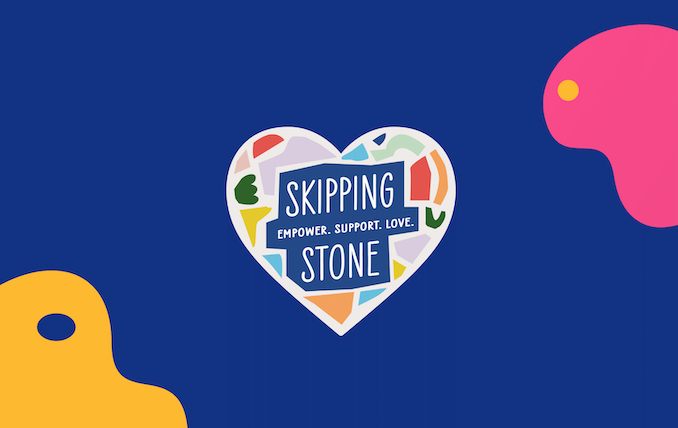 Describe your charity/non-profit in a few sentences.
Skipping Stone is a one of a kind, nationally recognized agency that connects trans and gender diverse youth, adults and families with the comprehensive and low barrier access to the support they need and deserve.
Skipping Stone is leading the way in Canada with their comprehensive community-run, community-focused model by supporting over 1000 families a year across Canada.
What problem does it aim to solve?
The original mission was providing trans and gender diverse youth positive and affirming opportunities surrounding their gender identity and expression through providing scholarships and community building events.
When did you start/join it?
Skipping Stone was founded in 2016 by Lindsay Peace and Amelia Marie Newbert.
What was the situation like when you started?
Seeing the significant gaps in the ability of youth and families to be able to access supports and navigate systems, including health care, education, and social services among others, the organization rapidly grew to fill this hole and act as a systems and services navigator. As Skipping Stone grew into this role, it continued to evolve and begun also acting as a direct service provider in 2017 and, ultimately, launched its unique and innovative, community-driven comprehensive care model in 2018 which it continues to provide to this day.
What made you want to get involved?
It started with Ace.
Ace is my eldest son and he is transgender.
For so many years, I was trying to figure out what was missing for Ace and then the more we figured out what he needed for himself, the scarier it got because it became clear it was so difficult for him to access the things he needed. Not only did I not know what to do but neither did the people or the places I was looking to get help.
I spend years researching and advocating and trying to help him navigate huge systems to get just the most basic of services.
Knowing that we had such a difficult time even when we were lucky and privileged enough to have the space and capacity to do so much of this heavy lifting ourselves, I just couldn't imagine how hard it was out there for folks who weren't as fortunate. It was heartbreaking to think of how much pain and harm all of those barriers were causing and I knew I had to help however I could.
How has it changed since?
As an example, I was speaking with a mom of a trans youth that came into Skipping Stone the other day in talking with her I realized that she just wanted to know the same thing I wanted to know all those years ago: that things were going to be okay and that her family was going to be okay.
And as opposed to me remembering myself being so scared and not knowing it was going to be alright, I could absolutely tell her it was going to be okay. I could tell her even more than that, that is was going to be so much better than okay.
That's because of the work that so many have and continue to do to increase awareness and visibility and to work with individuals, families, workplaces and communities to ensure that gender diversity is something that is normalized, respected, validated and celebrated.
What more needs to be done?
While we and other organizations and community groups have worked hard to increase the supports and services available to trans and gender diverse folks and to make them more accessible by removing stigma, shame and pathology attached to trans identities, most of those barriers that are created by the systems we live in for trans individuals: from health care, to employment, to education, still continue to persist, as does so much of the systemic transphobia that causes them.
That's why it is so important that we continue to work together to actively continue conversations in our homes, workplaces and communities that normalize, validate and celebrate trans and gender diverse folks. Spreading knowledge and awareness continues to the most important step to creating inclusive communities and is the only way we are going to break down those really ingrained cultural biases that continue to make things so challenging for trans and gender diverse folks to have the lives they deserve.
How can our readers help?
Donations from individuals are a key part of what allows us to keep our programming going.
In addition, though, there are so many ways to support us.
We're always looking for:
• Non perishable food and toiletries for our 'Community Cupboard' that provides these to those in need who are often experiencing homelessness or low income situations.
• Clothing, footwear and new/lightly used cosmetics for our 'Expressions' program which helps those often early in their transition be able to express themselves authentically, comfortably and confidently.
• Sign up for 'Skip the Depot' with Skipping Stone. This service will pick up your refundable containers directly from your home or work and gives 100% of the refund value to Skipping Stone. Save yourself the hassle and support trans folks in your communities all at the same time.
Check out all the ways you can support us here: https://www.skippingstone.ca/ways-to-give
Do you have any events coming up?
We are always launching new activities and events for folks to get involved with.
Keep an eye on our social media as well as our calendar page here: www.skippingstone.ca/calendar to stay on top of everything we have going on.
Where can we follow you?
Website | Facebook | Instagram | Twitter
PAY IT FORWARD: What is an awesome local charity that you love?