This week we spoke to Paul Meunier, The Board President of Calgary Outlink, to learn more about how they're working to provide support and other resources to the LGBTQ2IA+ and allied community in Calgary.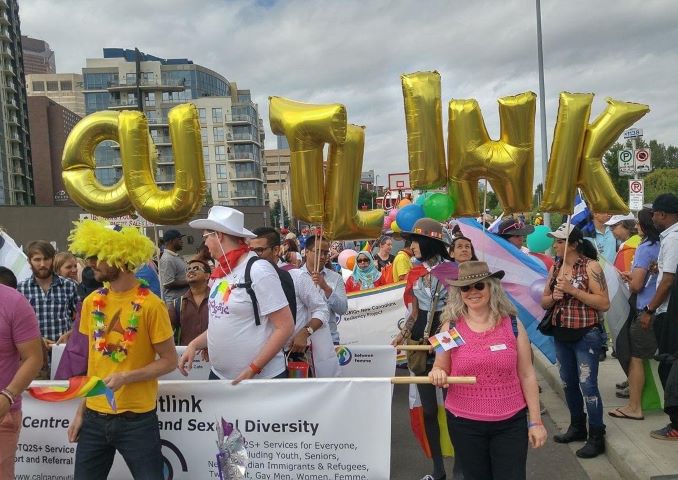 Describe your charity/non-profit in a few sentences
Calgary Outlink is a community-based, not-for-profit charity working to provide support, education, outreach, and referrals for the LGBTQ2IA+ and allied community in Calgary. We are often the first point of contact for individuals who need information, resources, or referrals on their path to self-discovery, community connectedness, or support in building resiliency. We have deep roots in the community – the earliest version of our organization began programming over 35 years ago – and throughout our history, we have serviced as a hub for gay, lesbian, trans, bisexual, and other sexually diverse people offering various forms of peer support, education, and community outreach.
What problem does it aim to solve?
Our mission is to be a hub that promotes support and community connectedness for all gender and sexually diverse people.
When did you start/join it?
My name is Paul Meunier – I'm currently the board President, but I first joined Outlink two years ago, volunteering as the board Secretary before continuing now in the President role.
What made you want to get involved?
I was born and raised in this city – I have always called Calgary my home. I came out to my friends and family here, and I learned about Outlink's work to support the LGBTQ2IA+ community at a truly vulnerable time in my life. We are located in the CommunityWise Resource Centre, and I have a strong connection to this space and place. 20 years ago, I began my first leadership gig as a (blue-haired!) day-camp leader at the Beltline Fitness Centre, next door. Outlink called to me, even then. I would sneak over to Outlink on work breaks to learn about programs, events, and find a sense of connection to the queer community. I have always wanted to give back.
What was the situation like when you started?
I have worked as a not-for-profit educator for the past decade, so when I approached Outlink two years ago and heard the organization was going through a process of self-reflection and growth, I was eager to get involved. I think that's a positive stage for an organization to be in – to pause and think about our role in the broader community, to keep building on the strengths we have, and to grow mindfully in a way that reflects our dynamic community needs. Outlink is 35-40 years old now – many people have long histories or strong connections to this organization – and that's been one of the blessings for me, working with passionate community members, volunteers, and staff who are dedicated to seeing us evolve.
How has it changed since?
I think all not-for-profits face common challenges from the natural ebbs and flows in the voluntary sector. That said, Outlink has really focused on building our team – recruiting board members, creating new employee positions, and hiring those staff – in an effort to be responsive and reflective at this stage in our relationship with the LGBTQ2IA+ community. For many years we've had great success with our programs and services (especially our peer support groups at the core of our work), however, we have also been reevaluating and putting in some necessary foundational pieces to help us provide a more reflective community practice.
What more needs to be done?
Members of the LGBTQ2IA+ community do not lead single-issue lives. Our community is filled with people of all ages, backgrounds, and intersectional needs, and we still have work to do in this area. Outlink's efforts to be more mindful and responsible requires continued self-reflection, open dialogue with the community, and an ongoing willingness to meaningfully grow and change. And change can often be uncomfortable, but I think we need to embrace that… especially for an organization that's 35-40 years old, as we continue to redefine our voice.
How can our readers help?
Outlink has been mindfully asking "how and where do we grow from here," and that certainly includes all the familiar asks: we need board members to set direction; we need program or committee volunteers who will help us on our continued path; and we need the generous support of willing donors – every dollar counts!
Do you have any events coming up?
Heaps! Outlink is currently running a series of workshops throughout August and September, as part of an incredible project on financial, economic, and socioeconomic resiliency. A launch event is also in the works around Pride Week (August 28 – September 6), so stay tuned! Topics include financial literacy, debt management, resume building, interview skills, investment and retirement – and many more. Please email Project Manager Emma Ladouceur at projectmanager@calgaryoutlink.ca for details, or check out our event postings online.
Where can we follow you?
PAY IT FORWARD: What is another Calgary charity that you love?