'Legacy of Graduates' was a show featuring a variety of indigenous artists and their works. Hosted at cSpace Calgary, this event encouraged the audience to learn, celebrate, and reflect upon the stories and adversity that the Indigenous face being captured in their pieces. Especially amidst the coming days of Truth and Reconciliation, this show encourages discussion, illustrating what defines indigenous works through their expression of culture, aesthetics, and utilization of
materials.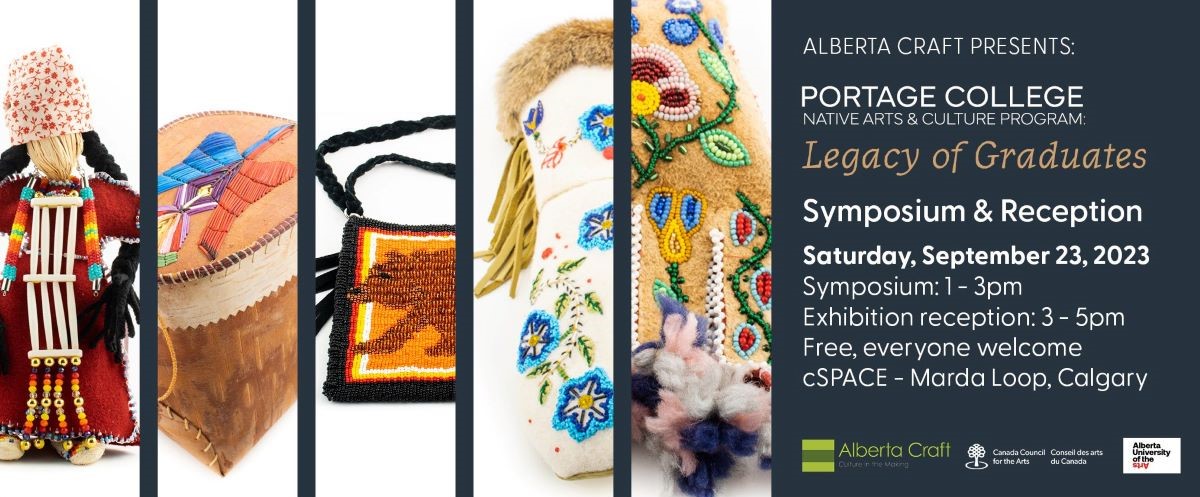 Overview
'Legacy of Graduates' was an exhibition delivered by Portage College featuring their Native Arts & Culture program. Graduates from the school showcased their works and displayed stories of what inspires them to create. The symposium featured artists Joseph Sánchez, Ruby Sweetman and Coral Madge. Each discusses what it means to them when sharing their creations and to show their experiences, values, and beliefs with the world.
Sánchez is a visionary in the First Nations art community, serving as a community leader, a political activist, and currently acting as artist in residence at Portage College. He was a founding member of the Professional Native Indian Artist Inc, or as some people know it, The Indigenous Group of Seven. In many of his pieces, Sánchez displays his experiences and struggles he had to face. During the panel, he discussed his days serving in the United States Marine Corps in 1968 while curating and refining what is now his signature surrealist style of work. Sánchez told the audience how he captured the adversity and events he faced into his pieces. He revealed how the days he had spent with the military were miserable even though he agreed that he acquired an abundance of new knowledge. However, Sánchez's work is not just about his experiences, but he also takes efforts to advocate for female rights, portraying and celebrating the female identity. Overall, Joseph Sánchez's work can be described as thought provoking, advocating for what he believes in while ensuring his indigenous roots and culture are always present within his artwork. As he described "Indigenous art has a unique aesthetic that is unlike that of the European art style."
Coral Madge was another guest speaker during the symposium, discussing her business Big Bear Moccasins and the figures that taught and inspired her creations. Her grandma and mother played a big part in passing on their skills to Madge. She discussed how during times of grieving over lost ones, immersing herself into her work and craft was a way of grounding herself. It was also a way for Madge to keep her family's memories alive, memories that shaped her identity and values to this day.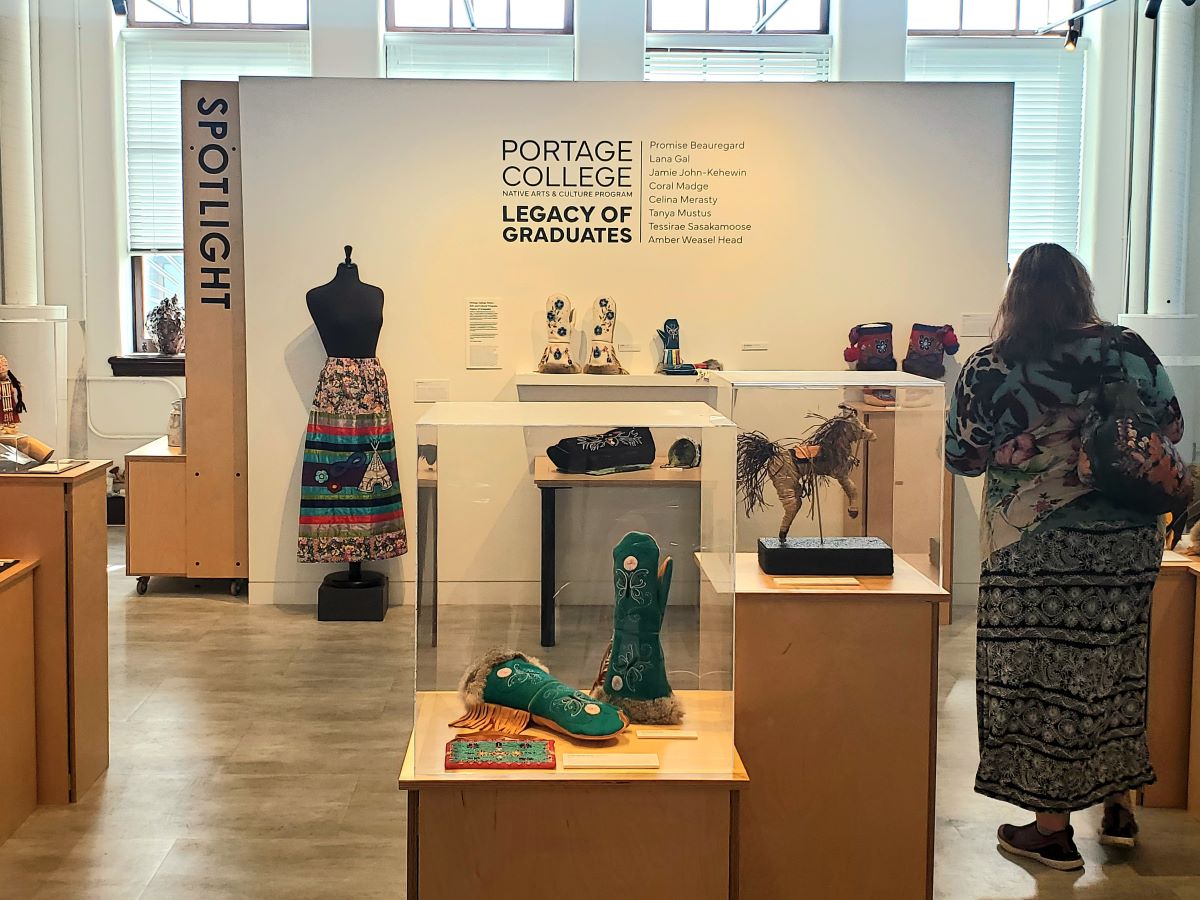 A Look Into the Art
The significance of the 'Legacy of Graduates' exhibition was brought to attention by the techniques and materials used and found in each piece. All the pieces featured in the show were hand crafted by students from Portage, displaying indigenous culture from every angle. The works ranged from hand sewn skirts and Moccasins to soapstone carvings and corn husk dolls. Every creation, sculpture, and articles of clothing were made from materials foraged from mother nature. Many works were influenced or impacted by family in one way or another. Some of the displayed pieces featured loss while others were made to empower or as an act of celebration and community. For instance, artist Lana Gal explained the making of corn husk dolls, what they would be traditionally used for, and what they symbolized. In their culture, a cornhusk doll is used in healing ceremonies or as a way to ward off evil dream spirits. They are a symbol of protection in a home. Other uses Gal described involved the doll's ability to act as a carrier of medicine and how the indigenous would sometimes place medicine within them.
What is incredibly significant about these works is how most, if not all, works are created completely from nature. Moccasins displayed were made from a variety of leathers, ranging from tanned deer, elk, moose, to buffalo. Many of the pieces are hand-dyed with natural pigments found in plants. Gal discussed how they would have to wait for the right season in order to harvest the plants they require. Some pieces were carved from stone while a lot of others were hand stitched or sewn.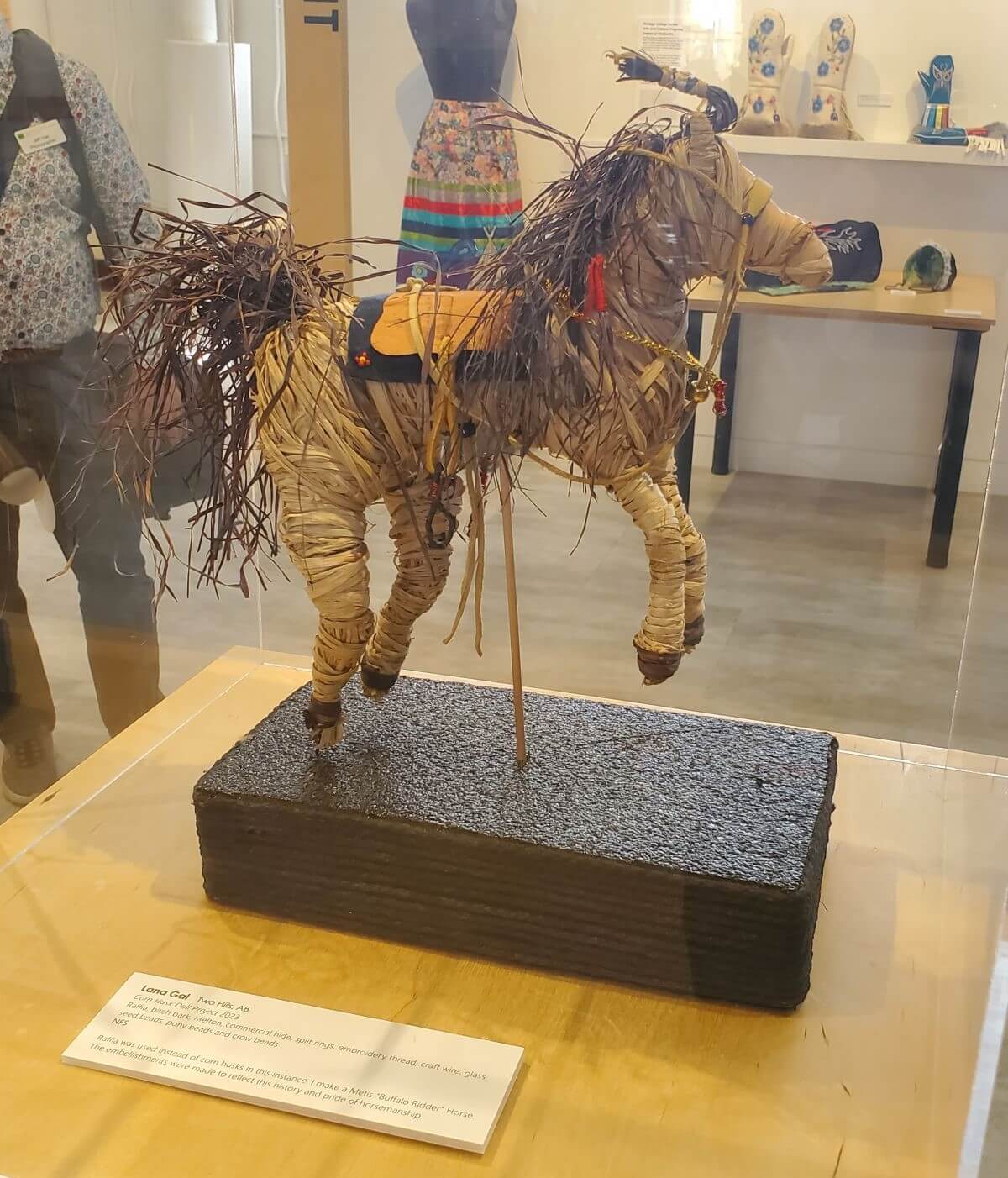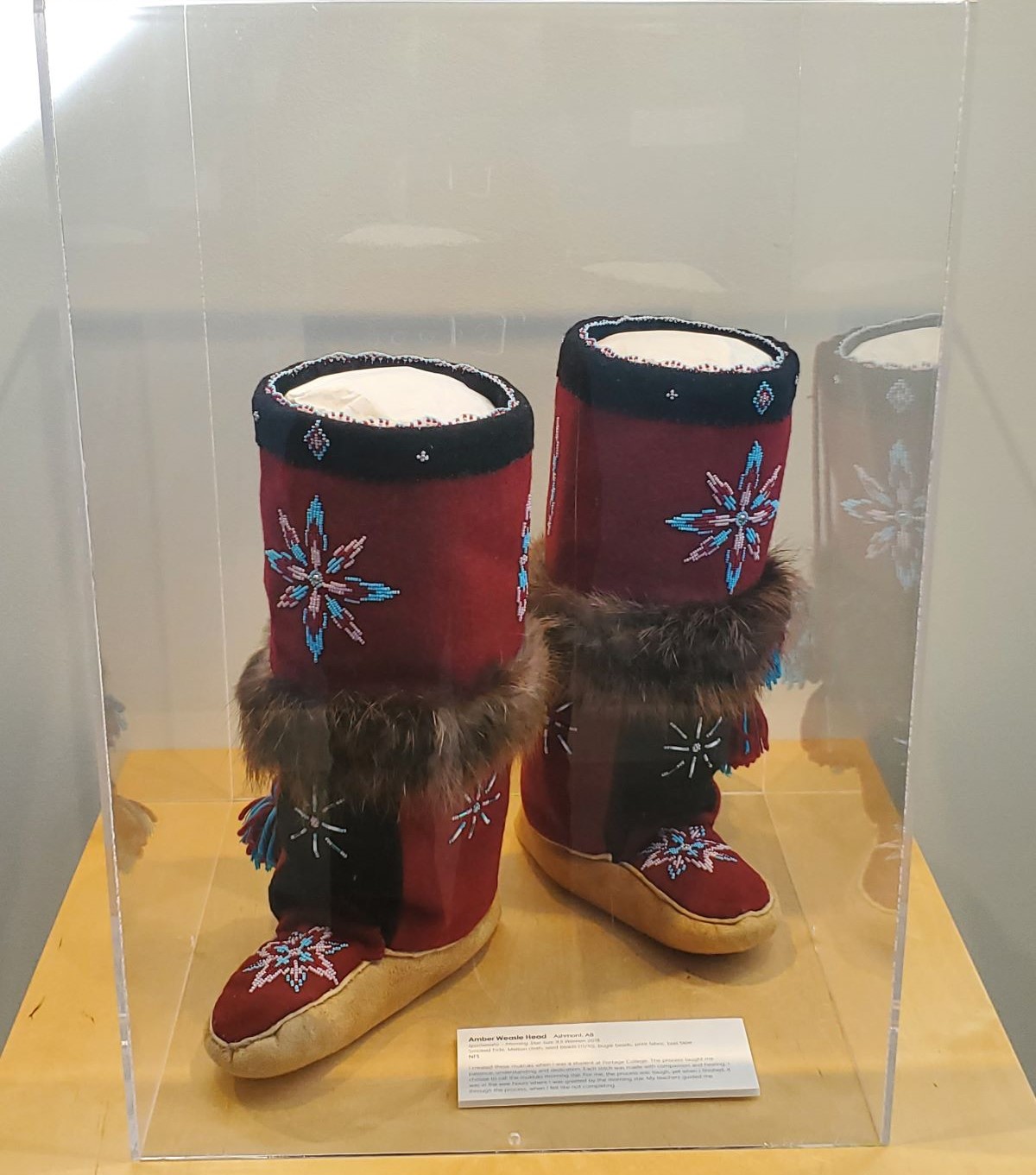 Importance of Acknowledgment
As mentioned before, all the artworks displayed told a story of family and community in some form. These elements are crucial to the indigenous culture and bring great significance to the upcoming day of Truth and Reconciliation (Sept. 30th). This Canadian holiday is to recognize and reflect upon Canada's history of residential schools. Where many children were forcibly separated from their families and some never reunited again. Today, we have indigenous art events such as this one to both celebrate their culture and to understand,  taking time to acknowledge and learn about their history in Canada.
You can visit the Portage College website and the National Centre for Truth and Reconciliation for more information regarding initiatives and further knowledge on indigenous histories and culture.