Established in 2016, In/Vertigo is known for delivering unforgettable performances that rival the thunderous roar of a Boeing 747's jet engines. The band lineup includes vocalist Reed Alton, guitarists Shaddy Elsaghir and Brandon Haddow, bassist Duncan McCartney, and drummer Carter Bews. They have already left a significant mark on the music scene through extensive touring and constant gigging across Western Canada. In/Vertigo has shared the stage with renowned international acts like Buckcherry, Bif Naked, Diamond Head, Age Of Electric, Pop Evil, The Wild!, and John Corabi, solidifying their reputation as young professionals with an insatiable appetite for larger stages and even larger audiences.
Their initial self-titled demo, produced by Ronnie Champagne (known for his work with Alice In Chains, Janes Addiction, and Social Distortion), was released in a limited run of 500 copies and quickly sold out. Their debut EP, "Sex Love & Chaos," featuring four powerful tracks, serves as a much-needed wake-up call in today's hard rock scene.
In/Vertigo embodies the essence of rock 'n' roll, unleashing a sonic Molotov cocktail of sound that caters to the unapologetic appetite of classic and hard rock enthusiasts in the music world.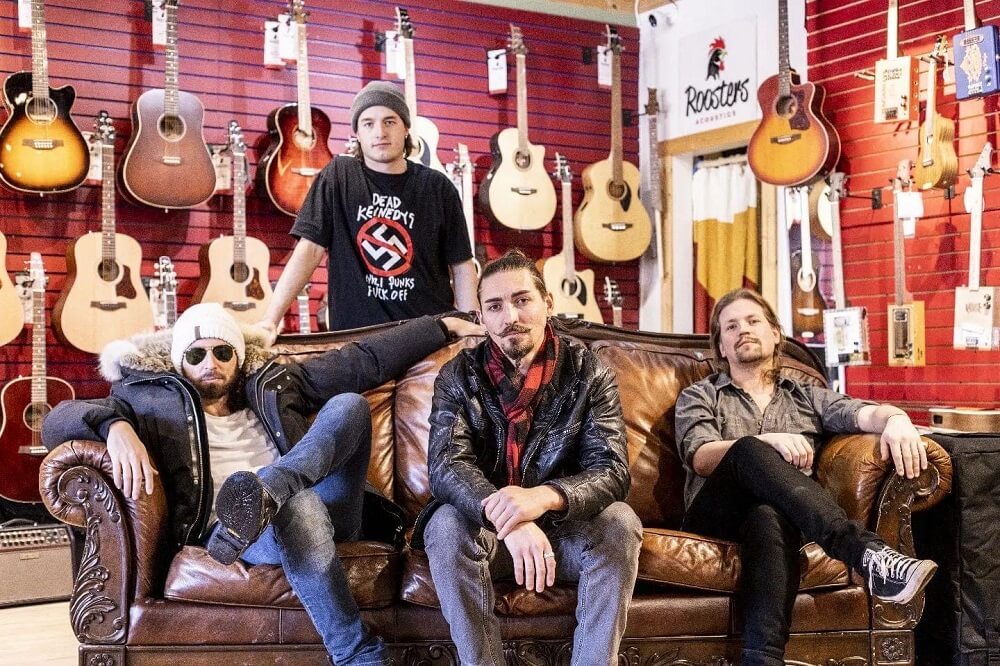 Name:
Carter Bews, In/Vertigo, Drummer
Genre:
Rock n Roll
Founded:
2017, I joined in 2021
# of Albums:
1
Latest Album:
Sex Love and Chaos
Latest Single:
Chains
Latest Video:
Favourite musician growing up:
My favourite bands growing up were Megadeth, the Ramones, Guns n Roses and tons of others, I'd say my favourite drummer growing up was Tre Cool from Green Day or Tommy Lee from Motley.
Favourite musician now:
I love Mario Duplantier from Gojira, Chad Smith, and Mike Portnoy, all drummers hahaha. Daniel Fang from Turnstile. I would say my fav guitar player is Zakk Wylde for sure.
Guilty pleasure song:
I have too many but probably I Want You Back by Nsync. I feel no guilt either.
Live show ritual:
Lots of stretching and getting loose, listening to some laid back R&B or old gangsta rap, Rudiments
Favourite local musician:
In modern times definitely the Hi Tops, I'd say all time beyond possession.
EP or LP?
LP all day
Early bird or night owl?
Night owl
Road or studio?
The road for sure.
Any shows or albums coming up?
Halloween shows in Canmore at the Drake are next up! we are hoping to release an EP in the near future. We just finished doing shows with Bret Michaels and Steel Panther and I'm about to go on vacation, much needed.
Where can we follow you?
Website | Youtube | Instagram | Facebook
***
Rapid Fire Local Questions:
What is your favourite local restaurant?
Chilitos on 17th Ave or Gyu Kaku.
What is your favourite street in your city and why?
Stephen Ave in the summer… you can always find some trouble to get into.
What is your favourite park in your city and why?
Can't go wrong with Nose Hill.
What is your favourite music venue in your city?
I'd say the Grey Eagle, Mac Hall, Palomino, anything but the Saddledome.
What is your favourite music store in your city?
Sloth or Cd Trader in Brentwood.