Meet Kyra
Hi! I'm Kyra, I'm the perfect dog citizen. The gals on the dog walk all think my foster parent is a wonderful person for raising such a polite young lady but he tells them, "that's just how I got her." I love people but strangers don't really interest me. I'm great with every dog I've met in foster so far. Reactive doggos? Ignores them. I have no time for that. I am a little bit shy of new people and situations, so I would do best in an adult-only home, or one with older kids 10+ who can understand and respect my body language. I'm quiet in the house when my people are home and love to be cared about. I would love to be able to bust out and RUN. If you take me to the river, I'll dig out massive boulders from the riverbed and bring them back to show you.
I am looking for a family who has had some dog experience so they are prepared to help me work on my manners, resource guarding (if you have resident dogs) and my separation anxiety. I am currently on two medications called Trazadone and Fluoxetine to manage my anxiety – these may need to be continued in the future to keep me happy and healthy. The team here at CHS recommends that my future family follows up with their regular veterinarian to discuss managing my unique needs in the long term. I'm also on a special diet Royal Canin Hypo and a medication called Apoquel for my allergies – I feel so much better than I did before! It's important that we continue with these treatments and monitor my skin.
Well, I think that's all you need to know about me – I just know as soon as you meet me we'll fall in love! Let the CHS crew know that you're interested in me today! Seriously. Best dog ever.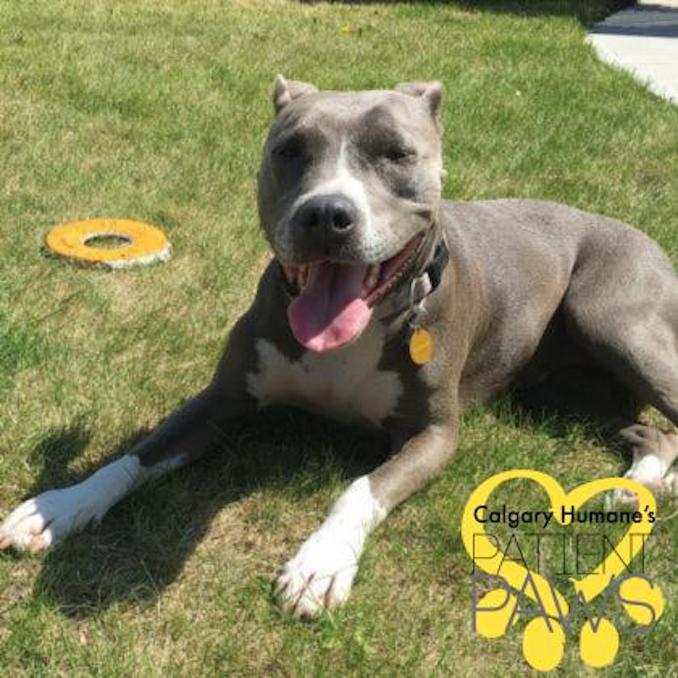 Animal ID 46879826
Species Dog
Breed Terrier, American Staffordshire/Mix
Age 7 years 3 months 14 days
Gender Female
Size Medium
Color Grey/White
Spayed/Neutered Yes
Site Calgary Humane Society
Intake Date 3/11/2021
Kyra is available for viewing at the Calgary Humane Society! Interested adopters are welcome to self-schedule for an adoption appointment using our online calendar here: https://chsadoptionappointments.as.me/schedule.php
Weight: 55 lbs
A little bit about Kyra:
– Compatible with select other dogs
– No cats or small animals due to prey drive
– May do well with children age 10+
– Currently on medications to manage her skin allergies and separation anxiety
In response to COVID-19, the Calgary Humane Society is closed to the public. We are currently processing adoptions and animal intakes by appointment only. For more information about our modified adoption process, please click here.
In order to ensure smooth and successful adoption, please remember to check all the basic requirements for adopting before coming into the shelter.
About this column:
Each week we feature animals available for adoption from local shelters in the Calgary area with the hopes that our readers will assist in finding good homes for them. If you, or someone you know, has the resources to take care of one of these animals, please do get in touch with the appropriate shelter via the links provided.