Highbanks Society's mission is to provide affordable housing and a nurturing community where young families can learn and grow. We got to speak with Krista Flint ,the Executive Director of Highbanks Society, to find out more about the organization and how she got involved.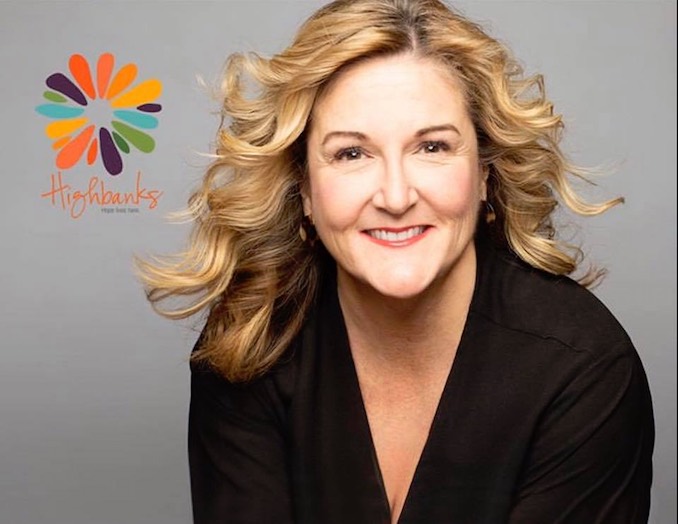 Describe your charity/non-profit in a few sentences.
Highbanks is an organization that provides affordable housing and other resources to pregnant or parenting mothers between 16-24 years old who have experienced poverty, trauma, and/or homelessness.
What problem does it aim to solve?
We aim to remove, or make better, barriers to success. We want our mother-led families to focus on their education and gain the important skills they need to be successful mothers and citizens.
When did you start/join it?
I have just completed my 3rd year as Executive Director at Highbanks Society. In the spring of 2018, I applied to a posting forwarded to me by a colleague. I soon met the Highbanks Board of Directors, the founder Bette Mitchell and the staff of this incredible organization. I knew right away that I had found a home at Highbanks. As our motto says "Hope lives here."
What made you want to get involved?
Highbanks Society had hired a really strong interim Executive Director while they conducted the search for their permanent leader. They knew they wanted to hire an Executive Director who understood the power of trauma-informed interventions and supports for young vulnerable Mothers and their children in Calgary. They knew they wanted to grow, to have a greater impact on this growing demographic, but did not want to lose the magic of the one-at-a-time philosophy that had facilitated an incredible 86% of the mother-led families they support going on to pay market rent or to own their own homes. All of Highbanks clients/residents must be enrolled in school full time and this suited my experience that education can be the magic bullet to interrupt the cyclical and intergenerational nature of poverty, violence, and homelessness.
What was the situation like when you started?
When I was hired in 2018 Highbanks had gone through a major transition, which allowed me the opportunity to spend some strategic and focused time exploring the significant successes this organization had experienced in its history. Through this process (and lots of research into best practices regarding brain science, the effect of trauma on young mothers, and the importance of education) I was challenged to create a new model for Highbanks. Our new Highbanks model "Moving the Fulcrum" marries the wisdom and warmth of our past with the strategy and science we need to serve more families in need in Calgary. I have had the great privilege of building a team of committed and talented professionals who live the values of this organization.
How has it changed since?
In the past challenging and unprecedented year of Covid-19 and the associated restrictions, Highbanks has increased our fund development base which has allowed us to increase the number of families serve by a full 50%. We have created a high-performing team of staff which positions us to be able to increase our services to an ever-greater extent over the next year. We have developed a keen understanding of the power and the compelling nature of the first-person narrative. We love nothing more than telling Calgary about our resilient, loving, and beautiful families whose experiences and contributions are imperative to an inclusive and equitable society. Highbanks has also just invested in the creation of an on-site therapy space which will allow our psychologists to provide therapeutic interventions to our Mamas and kiddos and will allow other organizations in our sector to access rapid entry counseling
What more needs to be done?
Highbanks does not receive any core funding from the Alberta Government or the Government of Canada. This means that our services rely solely on our social entrepreneurship model, and the generosity of our supporters, donors, and funders. We are so grateful for the support we receive in grants from various foundations in Calgary and from all over Canada. We continue to rely on the investment of our neighbours and organizations in Calgary in order to ensure the safety and service provision that is so deeply needed by vulnerable Mother-led families.
How can our readers help?
We are keen right now on growing local awareness in the community. We feel our program provides unique value to our young, struggling families. And because we are 100% financed through donations (we do not receive any government funding) we are always looking for financial donations. We were fortunate this year to be one of the chosen charities for the Shaw Classic Birdies For Kids. Donations are being matched up to 50%. Always happy to receive a donation, big or small!
Do you have any events coming up?
The pandemic has really cramped our style this past year, but we are going ahead with the planning stages of our annual signature fundraising event. A fun lawn bowling tournament being scheduled for early September. We also are planning a 20-year anniversary open house to celebrate our achievements, show off our new therapeutic space, and recognize our donors. Anyone can subscribe to our monthly newsletter to stay up to date on what we are up to over here! https://bit.ly/subscribe-highbanks
Where can we follow you?
Instagram: https://www.instagram.com/highbankssociety/
Facebook: https://www.facebook.com/HighbanksSociety
Twitter: https://twitter.com/HIGHBANKS_
Web: https://highbankssociety.ca/ (new site coming soon!)
PAY IT FORWARD: What is an awesome local charity that you love?
Pregnancy Care Centre and Children's Cottage