We spoke with Kimberly O'Blenes about her creative business called Kimberly Art to find out more about what she does and what our readers can expect from doing business with her.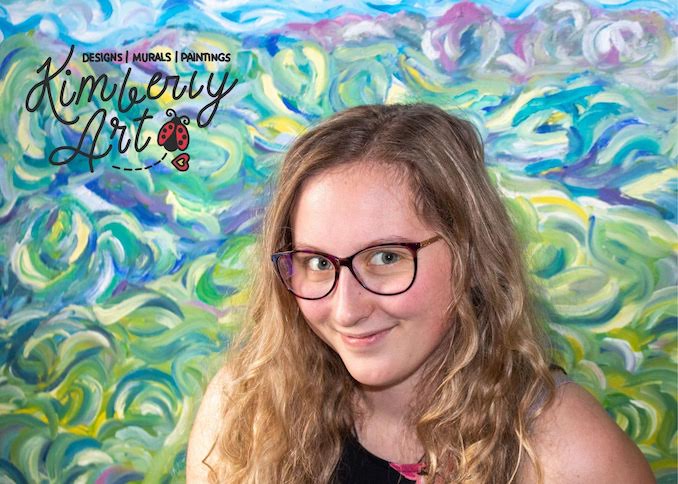 What is your business called and what does it do?
My business is called Kimberly Art and I offer many creative services including, but not limited to, murals, photography, commissioned fine art and graphic design. I love to get connected to and collaborate with other people and Calgary small businesses to create beautiful projects and spaces for their businesses, homes and workplaces. As Kimberly Art continues to grow, my dream is to forge community connections and create lasting impact in the Calgary area.
What made you want to do this work?
I have always been an artistic person, but I was always so scared of genuinely pursuing art as a career. I started this business in order to prove to myself and others that art can be a viable and rewarding career. I love to create and I love to make things and this seemed the natural next step in my artistic journey.
What problem did you want to solve with the business?
My business aims to bring creativity and beauty into people's homes and workplaces through easy communication and personalized services.
Who are your clientele/demographics?
My clientele varies quite widely depending on the project I am working on that week! For example, I love that I get the opportunity to work with other entrepreneurs when I do illustrations, graphic design work or photography for other small businesses! I also enjoy getting commissions through my social media networks as this brings a completely different demographic to my business.
How does your business make money? How does it work?
My business works through people approaching me for commissioned work. I offer services such as murals, photography, fine art, graphic design, social media template design and much more and after being approached to complete these projects, I bill the client accordingly. Within my work there is a lot of room for flexibility as many projects can be completed online and sent to the client, but I also love completing in-person projects such as murals to bring creativity and beauty to spaces throughout the city.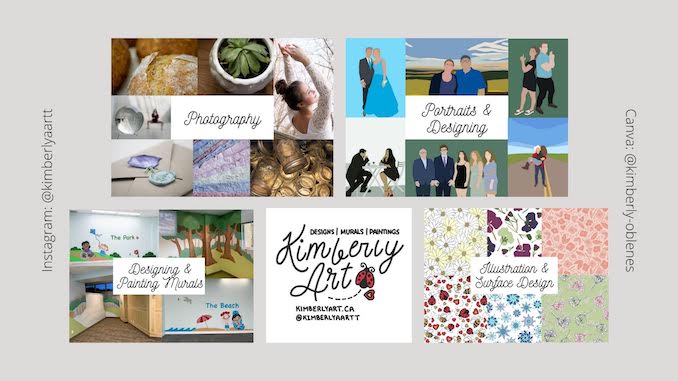 Where in Calgary can we find your profession?
I work on projects all throughout Calgary as well as online across the world but you can most easily find me on my website kimberlyart.ca or my Instagram @kimberlyaartt.
What is the best question a prospective customer could ask a member of your profession when comparing services? Give the answer as well.
In relation to murals, there are many important questions to ask. For example some important questions include:
What are your basic fees for designing and painting murals? The basic cost of a mural ranges from $10-$30 per square foot. The price changes based on the difficulty or intricacy of the design and the size of the wall. There is also a non-refundable $200 design fee to be paid before painting begins (this cost will be credited off the total amount due at the completion of the mural).
Are there any other fees? Pricing includes all materials such as paints and brushes, assistant fees as well as travel expenses within Calgary and the greater Calgary Area but does not include parking fees, renting of special equipment or travel outside of the greater Calgary area.
What will the painting timeline look like? This will range depending on the project, but both the painting and payment timelines will be discussed and agreed upon before the initial quote is given.
How do I need to prep my wall before the mural process begins? There are several things you can do to make the painting process go smoothly. Please move as much furniture as possible out of the room and complete all wall patching and preparation beforehand (If you need guidance on this or would rather I do this, we can discuss this).
If you are interested in getting a quote or discussing any of this information please email Kimberly at hello@kimberlyart.ca or you can submit a mural quote form on my website kimberlyart.ca under the mural section.
What is the best part about what you do? What is the worst part?
The best part of what I do is the creative part! I love to make things and to use my creative talent to bring beauty into work spaces, homes and lives. I particularly love to see my artwork and designs out in the real world! It is so fulfilling being able to point to a sign or a mural or to find a template I designed on Instagram and say 'hey, I did that!'
I think the worst part can sometimes be the physical demands that painting murals can have. I am always exhausted when I come home from painting, and although it is a rewarding process, it is also hard on the back if proper breaks are not taken.
What is your favourite joke about your own profession?
Everyone always jokes that artists need to have the classic 'starving artist' persona and I always think this is such a funny joke. Along similar lines, one of the main jokes at art school is how none of us will ever find jobs, but to me, this always seemed silly since I hoped to one day be my own boss anyways!
PAY IT FORWARD: What is another Calgary business that you love?
A few of my favourite Calgary businesses that I love include Hannigan's Paint & Decor, Image 360 Calgary North, Bowness Soapworks and RISE Bread!