John Ware Reclaimed is a 2020 documentary written and directed by Cheryl Foggo for the NFB. The film is just over one hour and "follows filmmaker Cheryl Foggo on her quest to re-examine the mythology surrounding John Ware."
Cheryl Foggo is Bowness born-and-raised author, playwright, and filmmaker. For the past 30 years her work has focused on the lives of Western Canadians of African descent, and this film is both a culmination of her work thus far, and a mission statement of her work to come.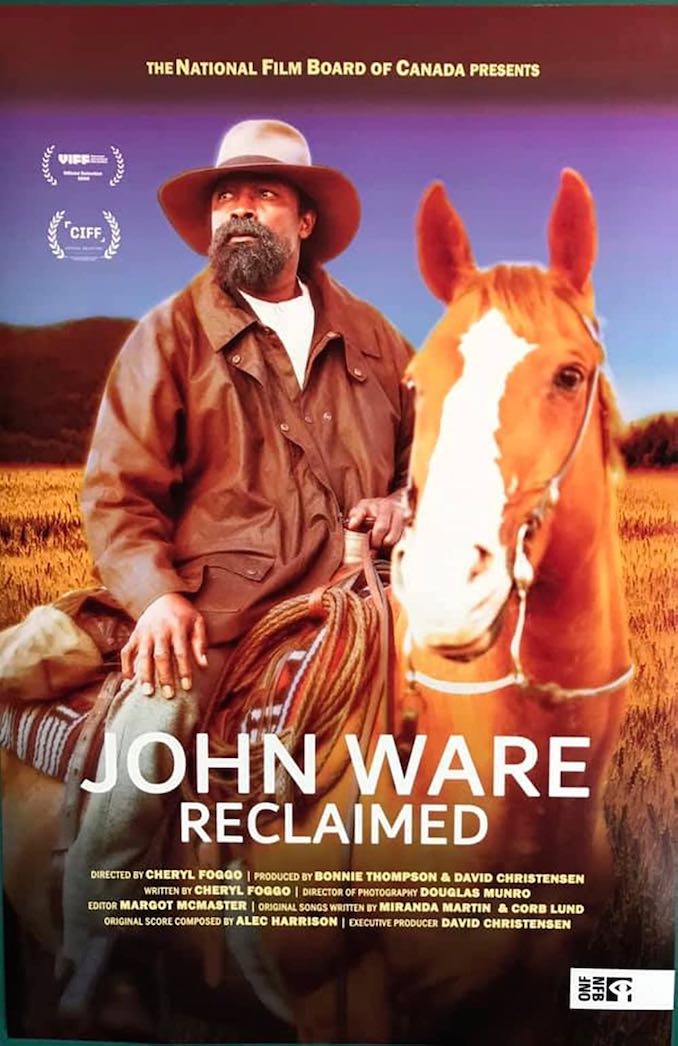 The film recounts how this journey actually began many years before, after a visit Foggo's brother makes to the Glenbow Museum, where he sees an exhibition featuring photos of John Ware, a Black cowboy who settled in Alberta in the 1880's. Although John Ware has left his mark on Alberta, with 2 creeks, 2 buildings, a hiking trail, and a ridge in the foothills carrying his name, the Foggo's are left wondering: why they had never heard of him before?
"That day is the genesis of this journey" Cheryl states in the film, outlining the steps of the journey she's taken so far: a presentation for 100th Anniversary of Stampede, a play, and a music project, all of which served as building blocks to this film.
Albertans are most likely to have heard of John Ware from Grant MacEwan's 1960 book, John Ware's Cow Country. This documentary, as the title states, hopes to reclaim John Ware's story and challenge MacEwan's portrayal of a man "All alone in his blackness".
As the neo-western rises again, and shows like Yellowstone dominate the airwaves, writers and creators looking for a blueprint for a new sort of Western should turn to documentaries such as this. John Ware Reclaimed is a well plotted film from both a scholarly and artistic point of view. It makes use of primary source material, historical writings, personal interviews and animation, to create a Narrative Documentary: something that provides us an academic, evidenced-based look at the history of black settlers in Southern Alberta, but is also a deeply personal journey, and a story about growing up black in Alberta.
Mixing animation, live action historical reenactments, NFB archival footage (such as the 1964 doc Chuckwagon), interviews, footage of museum displays, it also makes use of primary source personal material, such as home videos, photos, and newspaper clippings.
This multimedia approach to story-telling, and how the materials are incorporated visually, help to reinforce the themes of the film. We aren't just being told the story of John Ware, this documentary is laying out for us how the story of John Ware has been told thus far, and how it can be told in the future.
A key scene in the beginning highlights Foggo's critical methodology. She and her brother are looking at a photo of them with their other siblings as children. The children all look very serious. "We're trying not to smile" they remember, explaining these actions as a protest against previous disciplinary actions by their mother. This scene highlights an inherent tension in using even primary source documents: sometimes, without an interpreter, motivations can be lost. The inclusion of interviews with a member of the Blackfoot Confederacy can also be read as a nod to the idea that documents can only ever offer us a fragment of history; so much is lost without an oral component.
Foggo is still a dedicated researcher, and the film traces her work to uncover who this iconic figure might have been. She also weaves in personal stories about growing up in "the self proclaimed wild west capital of the universe": falling in love with cowboy culture as a child, learning to rope and ride, watching all the westerns available, only to fall away due to a lack of role models. The film constantly challenges our perception of the Whiteness of Cowboy Culture. "As kids there were no black cowboys but in truth Black Cowboys were ubiquitous".
The film also contains a very poignant and interesting conversation about the use of the N-word in art and academia, which also manages to highlight with great intensity the feelings of extreme isolation that can accompany the experience of being black on the prairies. This film is a remarkable work which does exactly what it says it will do: Reclaims John Ware and explores what his legacy means in terms of anti-Black racism, both past and present.
John Ware Reclaimed can be viewed for free anytime online at nfb.ca