Currently based in Calgary, Alberta, Jeanie Keebler started writing her own songs in 2010, self-releasing them in 2012, and began performing them live with her metal band, Ye Goat-Herd Gods, in 2014. With Gord Olson (Divinity, Demisery) on vocals, the music is extreme, but also draws heavily from the rich traditions of heavy, thrash, black and death metal. Bands such as Amon Amarth, Lord Belial, Immortal and Necrophobic are strong influences. The demo, Becoming Flesh, was re-released as an album in 2015, and a second effort, Ashes Shall Be Made of Them, came out October 31st, 2018. Bassist Matt Riley and drummer Matt Telgen toured the songs around regionally in clubs and festivals, with Jeanie and Gord. Jeanie Keebler is busy promoting the latest album, but is also beginning to carve out the next slab of genre-bending metal.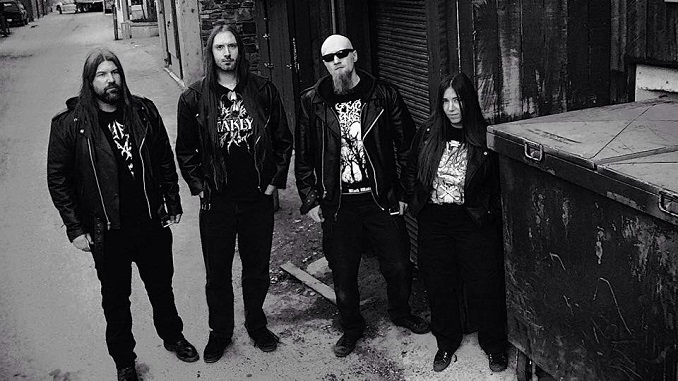 Name: Jeanie Keebler
Genre: Metal
Founded:
2010 (began writing demo songs to attract band members)
December 2014 (began performing with live band)
# of Albums: 2
Latest Release: Ashes Shall Be Made of Them
Latest Video: Helldiver
Latest Single: Skål!
Favourite Local Restaurant: A&W
Favourite band as a teenager: Iron Maiden
Favourite band now: Necrophobic
Guilty Pleasure Song:
"I was Made for Loving You"
Live Show Ritual:
Bumping fists with the audience
Favourite local artist: Dethgod
Nose Hill or Fish Creek? Fish Creek
EP or LP?
LP; great albums can take you on an epic journey
Early bird or night owl?
Nocturnal beast
Road or studio?
The road has moments I will always treasure, but the studio is where I can best express myself
Where can we follow you?
Any shows or albums coming up?
We're in the radio promotion stage, so call your favourite station and request a song!