Celogen is the solo project of Calgarian musician Dominic Demierre. As a university student, Demierre cut his teeth playing in a number of local post-punk and emo bands but quickly found himself feeling stifled – not by the sound, but by the entire ethos.
Calgary, culturally, is a melting pot of influences without a rich musical heritage of its own. While this should be deeply inspiring, Demierre felt that all too often it was the opposite; that people too easily get drawn into their corners and married to their niches. As such, Celogen represented a decisive break – the fruit of a labour to cut loose from so many readymade aesthetics and seek out something original, something Demierre could call his own.
In this search, Demierre looks not only to the present – taking influence from contemporary experimenters like St. Vincent – but also to the past, remembering great pop inventors like Brian Wilson and Kate Bush. Yet despite this longing for experimentation, Celogen was never intended to be numbingly avant-garde; at its core, Celogen is and will always be a reaching to touch others via the magic of pop songwriting. After all, no matter one's wanderlust, the gift of human connection remains paramount.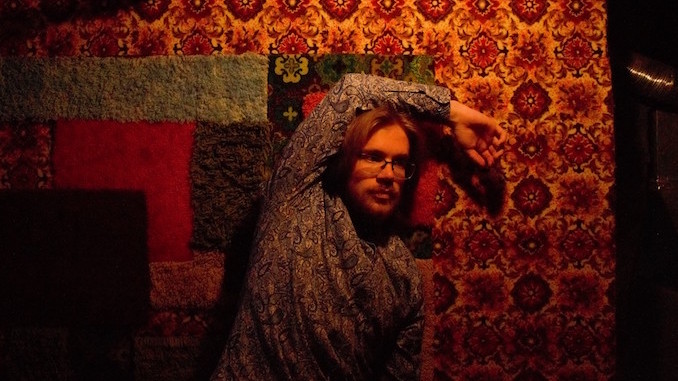 Name: Dominic Demierre
Genre: Art Pop
Founded: January 1, 2018
# of Albums: 3
Latest Release: Wingwinder
Latest Single: (Give Yourself) Ropeburns
Latest Video:
Favourite Local Restaurant:
Himalayan on 17th – unreal curry, and in such a humble location. And how often do you find Nepalese cuisine around here??
Favourite band as a teenager:
Deerhoof. Completely rewired my brain when I was 16 – every move they made, I had no idea you could make. They opened me up to all the possibilities of pop music, showed me that it could be so much more than just cynical manipulation written by 40-something record executives. I actually got to meet Greg Saunier – a hero of mine – at Sled Island 2018. I told him I had stolen all his drumming techniques and he replied, "that's okay, I stole them all too". Wonderful guy.
Favourite band now:
Are the Beach Boys to cliche? I listen to them constantly. What Brian Wilson was doing within the pop song format – it's still stunning today – all the more because he was the first. If I wanted to say something more modern, though, I would go for Tropical Fuck Storm. Gareth Liddiard's lyrics are blinding.
Guilty Pleasure Song: Let It Rock by Kevin Rudolf. It's such a weird chimera of a song, and the melody consists of a single note, and yet I can't help but get this overwhelming wave of nostalgia each time those synth arpeggios roll in.
Live Show Ritual: If we're talking about my own – I used to always soundcheck by reciting Award Tour by A Tribe Called Quest. If we're talking about other people's – arrive early and get as close as possible to the front.
Favourite local artist:
I'm a big fan of Melted Mirror. I've met the singer, Chris, before, and he's a lovely guy.
Nose Hill or Fish Creek?
Nose Hill – for one thing, I live really far away and can't drive – for another thing, I adore the vista you get when you reach the summit.
EP or LP?
LP, definitely. You get so much more room to experiment in the LP format. EPs feel more like quick studies.
Early bird or night owl?
Work and having roommates forces me to be an early bird. I could never really be a night owl anyways – I get so guilty if I'm not out of bed by 11 am.
Road or studio?
Studio for sure. I just love holing myself up and dreaming out loud into my recording software. I love the rush of playing live, don't get me wrong, but there's something about meticulously putting sounds together, working out how each note rubs against each other, that just makes me so giddy.
Where can we follow you?
I have a Facebook page at https://www.facebook.com/celogen.official
Any shows or albums coming up?
Well, shows are obviously hard to predict right now. I have a couple of live projects I really can't wait to get off the ground. But I do have a new album I'm working on – the goal is to be done before December.