Homes For Heroes Foundation is a registered charity that builds tiny home communities across Canada with a goal to end homelessness amongst Canadian military veterans. We got a chance to speak with David Howard to learn more about how we can help.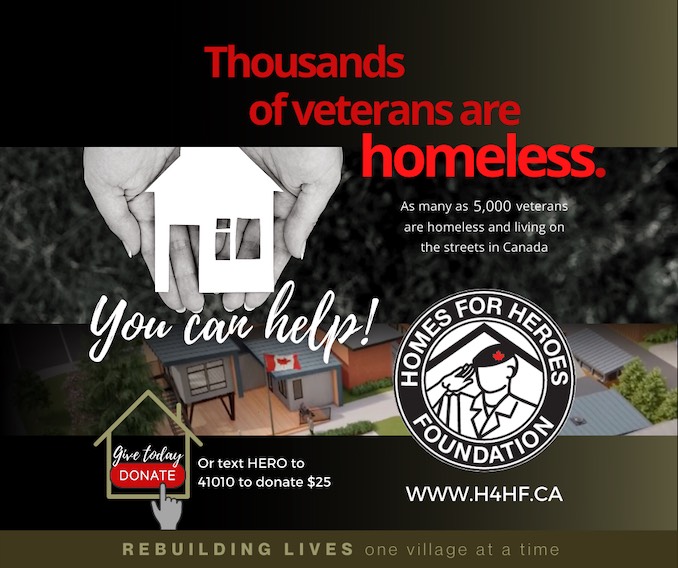 Describe your charity/non-profit in a few sentences.
Homes For Heroes Foundation was developed in response to the growing number of military Veterans who are facing a crisis as they return to civilian life and find themselves on a path to homelessness. Homes For Heroes Foundation is a registered charity building tiny home communities with full wrap-around social services for our veterans experiencing homelessness across Canada.
What problem does it aim to solve?
The Homes For Heroes mandate is to end the issue of Veteran homelessness.
When did you start/join it?
I am co-founder of the Home For Heroes and we started the charity in 2018
What made you want to get involved?
I have been involved in supporting those that have stood on guard for our country for the last 15 years. Over that time, I have seen firsthand a dramatic increase in the number of Veterans experiencing homelessness across Canada. In building the charity we met with over 200 Veterans to get their input on how best to develop the program and support those Veterans who are having a difficult time transitioning to civilian life. Our program is designed by Veterans for their Veteran brothers and sisters.
What was the situation like when you started?
It is estimated that there are over 5,000 Veterans experience homeless on the streets of Canada.
How has it changed since?
20 months ago, we opened our first village in Calgary and since that time have had 8 graduates and 8 new tenants move in. Our Veterans want to come into a program, get the support they need, get back on their feet, secure employment, secure permanent housing and make room for the next Veterans in crisis.
We are opening our second Village in Edmonton this fall, have a village in the planning stages for Kingston, and will be announcing two more villages by the end of the year.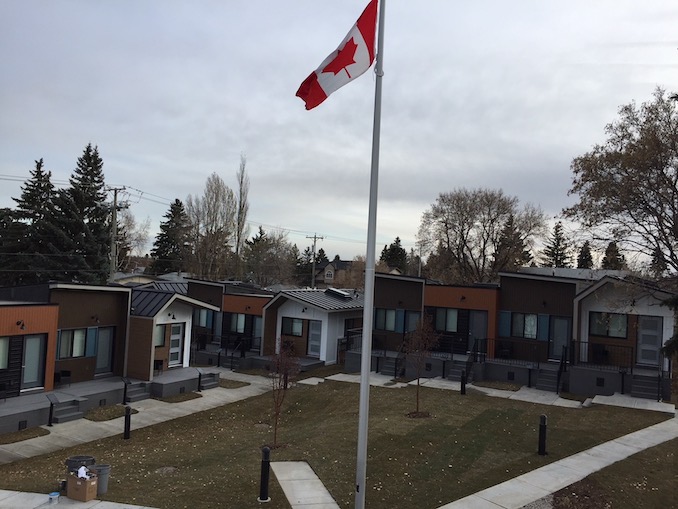 What more needs to be done?
We have the opportunity to end homelessness among our Veteran population. Men and women who stood on guard for our country are now suffering. Now it's our turn to step up to help in their time of need. The Homes For Heroes program is like no other being offered around the globe. Canada can be a world leader in caring for our veterans in need.
How can our readers help?
We are fortunate to have some amazing Canadian companies and individuals support our charity across Canada, including support from CHMC and Veterans Affairs. That said, we are always looking for land across Canada and funding sources for our builds. You can learn more about our charity at www.h4hf.ca.
Do you have any events coming up?
Spin for a Veteran November 9 and 10. This is a 24-hour stationary bike race presented by our partner CP Rail. Teams come together and race in support of Home For Heroes. Team registration is now open.
Where can we follow you?
Website | Facebook | Instagram | LinkedIn
PAY IT FORWARD: What is an awesome local charity that you love?
Canadian Legacy Project's Business Boot Camp. Business Boot Camp is a free 6-week practical interactive online learning program designed for Canadian Veterans to develop the skills and strategies necessary to be a successful entrepreneur.