Are you feeling as though it's getting harder to entertain your little ones while they're at home? Thankfully, Quest Theatre has announced their beginning of Digital Drama Camps, where kids under the age of 17 will be able to join in online with other children and instructors to engage in storytelling, and drama activities. This week we spoke to Quest Theatre to learn more!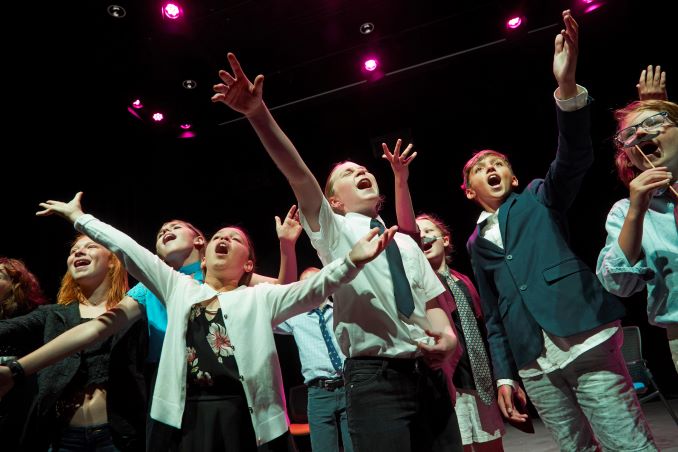 What is your business called and what does it do?
Quest Theatre nurtures young people through exceptional adventures in theatre
What made you want to do this work?
Quest Theatre creates intelligent and whimsical theatre experiences that encourage young people to explore who they are, discover what is important, and build the kind of world they want to live in. We do this work because we are creative, meaningful and responsible community builders who are passionate about theatre and inspired by the benefits it brings to young people.
What problem does this solve?
Theatre has the ability to provide a safe place to explore the complex aspects of what it is to be human. We can create, through theatre, an engaging context for conversation, personal reflection, information, and change.
How do we help a child understand that sometimes personal success is outweighed by the success of everyone? How do you teach a child that a little act of kindness can really make difference? How can we demonstrate that love, even though it isn't perfect, shouldn't be thrown away? Or that giving someone an advantage can make things fair. How can we convey how much courage is necessary to stand up for what you believe in? If a child is in a dark place, how can we support their journey to the light? How can we fill childhood with wonder and whimsy, discovery and empowerment and ensure equal opportunities for all?
We pursue answers to these questions, and others like them, every day.
Who are your clientele/demographics?
Quest Theatre creates theatrical adventures for audiences of all ages with a special commitment to young audiences ages 3 – 17.
How does your business make money? How does it work?
Quest Theatre develops a combination of two or three touring or in-house productions annually depending on programming priorities. Our Artists in School Residency program provides schools with an interactive theatrical experience that brings parents, teachers and students together as a community to create their own tailor-made production. Summer Camps are held annually, and we conduct other seasonal camps and drop in classes as the yearly calendar and our capacity allows. Quest also receives support from all three levels of government, foundations, supporters and donors.
Where in Calgary can we find your profession?
You may think theatre is only situated in the downtown core. But it is not! Quest travels all over Calgary in a van, bringing performances and theatre-making to schools everywhere. Our home offices and rehearsal space are in the beautiful cSPACE King Edward Arts hub where we conduct our drama camps and much of our community engagements.
What is the best question a prospective customer could ask a member of your profession when comparing services?
Why doesn't Quest do musicals in the theatre district downtown? Surely that would make money.
Quest is not in the business of making money. Quest is in the people and community making business.
Theatre has exceptional benefits for young people. We recognize, and our research tells, us that arts education programs like ours positively and significantly affect students' engagement levels at school, their ability to empathize and be tolerant of others, and to think creatively and see alternate solutions. Programs like ours are even shown to stir post-secondary aspirations. Across all our programming, we inspire children to play and create, to question and explore, to discover and understand, and to imagine new possibilities.
Engaging with Quest Theatre is not an elite activity; our access to all young people is significant. We tour in a van and play in various community spaces; schools, venues, shelters, libraries, sports facilities, malls, hospitals and theatres. We access the child who has never seen theatre before, who is in bed at the children's hospital, who doesn't speak English, but understands the language of play. Regardless of economic, cultural, linguistic, or physical barriers, we are able to access and expose all children to theatre.
When working with young people we literally direct to our teams to celebrate the organic, ridiculous and brilliant notions of every child in order to create something together that we are all proud of. These attributes support strong character and community-building traits in all children that will serve them and their community their whole life.
What is the best part about what you do?
I wish I could show you a picture I have in my mind that I have experienced many times of a child when they throw their spirit behind a creative choice; when they blossom into confidence; when they begin to understand how they can make a difference. This is why we do what we do.
What is the worst part?
Trying to explain why we are important over and over and over again.
What is your favourite joke about your own profession?
How many theatre directors does it take to change in a lightbulb? Just one, but she keeps changing it and changing it and changing it.
PAY IT FORWARD: What is another Calgary business that you love?
Roadwest Pictures.