For this edition of our Homegrown Business series we spoke with Rosette Ramos about her business Love Canada Immigration Consultancy to find out more about what she does.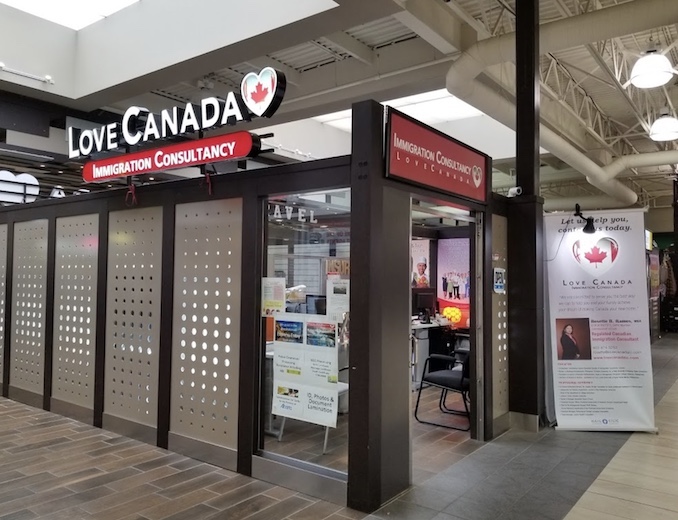 What is your business called and what does it do?
Love Canada Immigration Consultancy is a Canadian Immigration Consultancy which has served hundreds of families and individuals in making Canada their new home.  Our satisfied clients can testify to our professional yet personalized service. As a result, it has provided us with the best marketing through word of mouth.  Our clients come from all walks of life, with different professional backgrounds, nationalities, and culture.
What made you want to do this work?
As I am a migrant myself, I had gone through the rigorous process of getting it right the first time, I felt the need for support in the area of immigration assistance from someone who will consider an application as valuable as life itself.  I know how important the role of a consultant is to the lives of people that we assist and I value my client's trust; hence, I make sure to give them the best opportunity based on their situation.  Seeing my clients happily achieving their dreams makes me love to do my job even more.
What problem did you want to solve with the business?
Unauthorized representatives had always been an issue in the immigration consulting business.  As they are not regulated and not properly trained, they can make irreparable damage to people's lives in terms of their immigration application. They also make our profession look bad as for those who doesn't know, they are unable to distinguish between a licensed consultant and someone who is not.
Who are your clientele/demographics?
Our business caters all walks of life but majority of our clients are Filipinos.  We have clients from all continents.
How does your business make money? How does it work?
Professional fees we collect from clients.
Where in Calgary can we find your profession?
Our marketing office is location at 999 36 Street NE, Calgary, AB T2A 7X6.  We are at the heart of the Pacific Place Mall.
What is the best question a prospective customer could ask a member of your profession when comparing services? Give the answer as well. 
Q: Why hire us?
A: While it is true that most of the information and application forms are available online and people can do their process alone directly with the government, hiring us can bring substantial benefits for lots of reasons:
Competency. As an RCIC, I must continuously fulfil many requirements to obtain and maintain a professional title. I am also are kept abreast with changes to the Canadian Immigration Program. Further, I am bound to abide by the Code of Professional Ethics.
Extensive Knowledge & Wide Experience – I know what to avoid, what can help your application, and how best to present your case. Submissions are professionally prepared and perfected, deadlines are observed, and often save the applicant time and money. Some people can even put their whole immigration application at stake even with just one mistake.
The Confidence of Submitting a Well Presented and Complete Application. Just looking at the checklist of documents is most often not enough. Each requirement have to be presented carefully and with close attention to the most minute details.
Individualized Attention. Each personalities and situations are different, and circumstances during the processing of an application do change. Having me work for your best interest assures you that continuous attention is given to your application.
Preventing & Handling Refusals. Refusals can normally be prevented since I meticulously consider all the aspects of the application. In case of a refusal of an application, I will be able to tell you all the other options available with the end goal of turning a no into a yes.
Overall Support. I will not limit to helping you with the desired visa, but will also provide you information about your other options. I also provide tools that will help you settle more quickly and smoothly such as finding a job, a home, registering your kids at school, learning about life in Canada, and other things you may need as a newcomer.
To Save Time. Not everyone has hours available to learn the Canadian Immigration System and to prepare everything that is needed in an application. By retaining my services, you won't have to worry about learning everything anymore, I will be your guide and partner all throughout.
Communicating With the Government Becomes Easier. You don't have to worry anymore about communicating with the government directly as I will be your representative. I will be there in responding to all requests for explanations and further submissions. I can also open communication channels, not because of special privileges, but because I know the correct process and strategies on how this can be achieved.
Prepare You for the Interview. Having a complete application still does not guarantee an approval. If called upon for an interview and you are so nervous and had been unable to answer well, there is a high chance that all efforts will be for nothing. I will prepare you for your interview so that come that day, you know exactly how to answer and be confident in doing so.
Your Rights are Protected. The Canadian legal system is considered as one of the bests in the world, but there still exists situations where a candidate's rights are not fully respected such as a breach of natural justice, wrongly assessed qualifications, and where the office responsible for the mistake refuses to review it, and other situations. Fortunately, these situations are not too common, but they may still happen. Being represented will help you through this kind of situation.
Decide Wisely. Get a Regulated Canadian Immigration Consultant to represent you. Trust that we can help you in your application, in your future in Canada. Beware: Hiring unauthorized representatives (also called ghost consultants) is illegal. It may be cheaper initially, but this may greatly affect your future in Canada.
What is the best part about what you do? What is the worst part?
The best part is being able to help clients achieve their dreams to sponsor, migrate, work, study or visit Canada.  The worst part is that sometimes despite putting in the best possible application based on an applicant's situation, we do not have control over government decisions.
What is your favourite joke about your own profession? 
Cannot think of any but one below might work…
Immigration is a serious business. This is why consultants look old.
PAY IT FORWARD: What is another Calgary business that you love? 
I love Istilo Filipino.