Veghammer is a Calgary business that hand makes vegan wheat meats, donuts and pies. We spoke with Jill Mikkelson to find out more about them.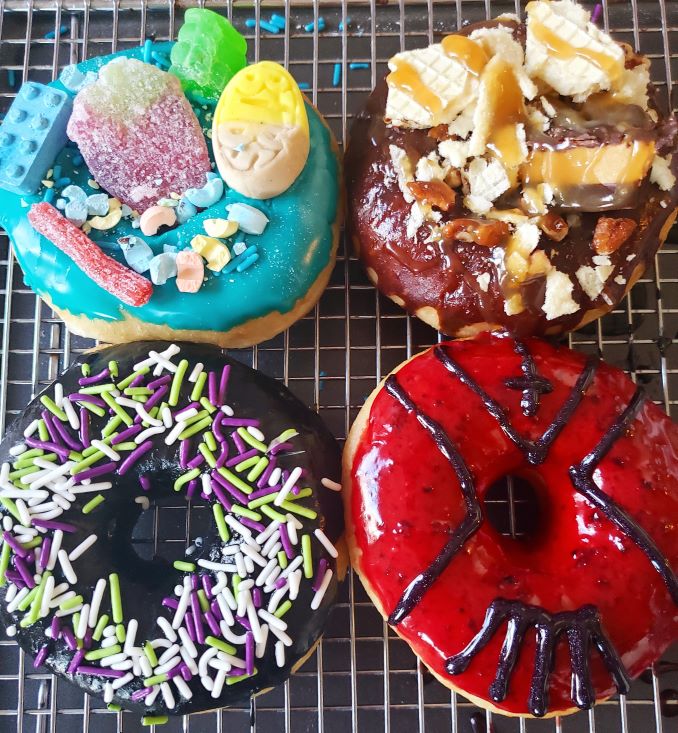 What is your business called and what does it do?
We are Veghammer and we hand make vegan wheat meats, donuts and pies!
What made you want to do this work?
When I moved to Calgary 4 years ago from the UK there were very few vegan options. I had been making all of our products for myself basically and decided to try it out at the Farmer and Makers Market at cSpace. I knew it was only a matter of time before the movement grew here as more and more people are waking up to the horrors of capitalist industrial agriculture. I believe food is more than just eating something tasty – making it is an act of sharing love and compassion for all living creatures!
What problem did you want to solve with the business?
The lack of vegan options in the comfort food department.
Who are your clientele/demographics?
Upper millennial and younger folks who are socially conscious and interested in finding a better way to organize our society.
How does your business make money? How does it work?
We retail, wholesale and do farmer's markets currently.
Where in Calgary can we find your profession?
Everywhere!
What is the best question a prospective customer could ask a member of your profession when comparing services? Give the answer as well.
What are you doing to improve the lives of the people in your community that you serve?
Donating time, money and food to grassroots organizations, amplifying the voices of marginalized community members, participating in broader political movements aimed at radically opening the hearts and minds of the people of Alberta.
What is the best part about what you do? What is the worst part?
The best part is getting to meet and connect with all sorts of people, share our love for food, human/non-human animals and the planet! The worst part is the dry hands and dishes.
What is your favourite joke about your own profession?
Something about baker's hours.
PAY IT FORWARD: What is another local business that you love?
Too many! But if I have to pick, our friends Canela started at the same market as us and they're about to move into a beautiful new space in Inglewood so you should go visit them!