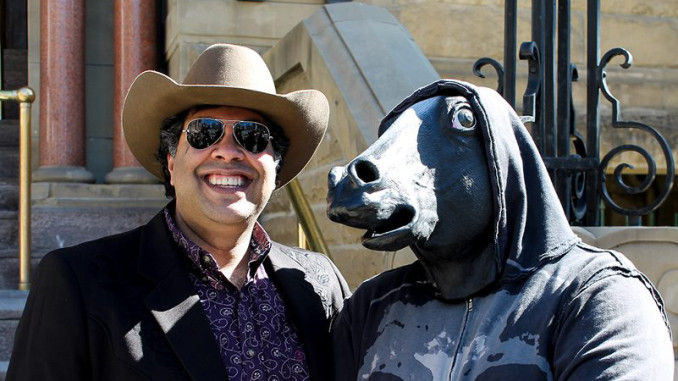 If you have spent any time on social media, and have not heard of Crackmacs, its time you did. The husband and wife team behind the social media account has become a popular alternative source news, event listing and miscellaneous shenanigans in Calgary, with over 16,000 followers on Twitter.
The name Crackmacs comes from the infamous Calgary landmark, the Mac's convenient store on the corner of 8th Street and 7th Avenue SW with the same moniker. Their apartment overlooks this area and sharing the happenings they see and hear was how their social media first started in 2009. Even their avatar is a parody of the Mac's owl logo.
What is perhaps one of the most interesting things about Crackmacs is that despite their popularity, most people have no idea who they are. They estimate only 1% of their followers have met them in person once or know them on a personal basis, and they plan to keep it that way as they build their social media empire.
I contacted Mr. and Mrs. Crackmacs to find out more. Note the following Q&A was done entirely via email, so I have not joined that privileged 1% yet.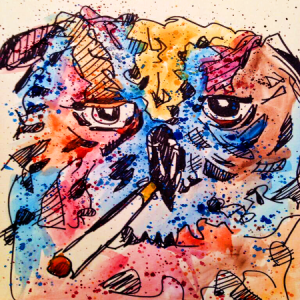 Why is it important to remain anonymous? Is it something you would recommend to others?
Due to the nature of the items we were recording, and reporting, we were bringing a criminal element into our lives. To try and keep our child as safe as we can, and to protect ourselves from possible retaliation, we decided to keep our identities concealed. We don't see the need to recommend it to others unless their concerns are safety based, as ours are.
How do you decide about what details you do share about your life?
We try and keep it to vague details, with occasional specifics when they are relevant. As we have gotten more exposure over the years, we've had to make some sacrifices in order to keep our anonymity. This has included turning down interviews, declining our photography being featured in magazines and newspapers, and opting out of judging various local competitions. Unfortunately, sometimes a mask and a moniker just don't cut it for people. We accept that happily as we thank people for thinking of us in the first place!
Do you ever reveal yourself to anyone, whether directly when you meet someone or if someone figures it out?
We try not to as much as we can. It's fun to be anonymous. That being said, we will sometimes introduce ourselves to certain accounts we interact with a lot, or people we trust.
Crackmacs has become this a popular alternative source of information and news in Calgary, how do you get your information and what kind of things do you share?
Mr is a moderator of the r/Calgary community on Reddit so he sees a lot of information come through there. We search hashtags on various platforms, we have people directly contact us via email or twitter messages to share information, and there's a few trusted "sources" that give us the inside scoops from time to time.
We share content we think is interesting, local events, news, photos, contests, etc. Every day is something different!
Do you feel you ever have to censor certain information, events or opinions? If so, example?
Occasionally we receive content that we feel doesn't need to be shared with the public. We make judgement calls all the time and we are very aware of our audience and the perceived weight of our opinion.
Do follower numbers or who follows you important to you?
We'd be lying if we said it didn't matter. Who sets out to achieve nothing, or have no one view the content they are putting online? It's not the ultimate measure though. It's really cool to have people we admire follow us, or interact with us. At the end of the day, if we're enjoying ourselves and people are interacting and find our stuff interesting, we're a happy Crackmacs.
What do you feel like you have learned about social media?
ALL THE THINGS! We kid, we kid. We have no formal experience or training, we're just doing what we love and what's fun and thoroughly enjoying everything social media means to living in Calgary.  In the last 6 years we've tried to learn how each platform is used, what content people want to see, and how they find that content. We've paid close attention to how businesses and organizations interact with their users, and we're always looking for what makes them successful. Occasionally we get the honor of sharing our insights with others, and seeing their reactions totally makes our day.
Is there somewhere where you would like to see Crackmacs go? Any follower or other goals?
We want to do this for a living! The Crackmacs identity has been a blast and we hope to continue learning and growing as we pursue a career in marketing, social media, and PR.  We are currently working on blogging more on our website and, next week we are launching a new website called YYCForum.ca which will be a content rich forum catered to life in Calgary.
You can find Crackmacs on Youtube, Facebook, Instagram, Reddit, Voat, Pinterest, Google+, and Crackmacs.ca