This week, our Charitable Choices feature is on the Community Therapy Dogs Society (CTDS)! CTDS works in the communities of Calgary to bring in therapy dogs that will improve the lives of locals! We spoke to their founder, Steve King, to learn more about how we can change people's lives, one dog at a time.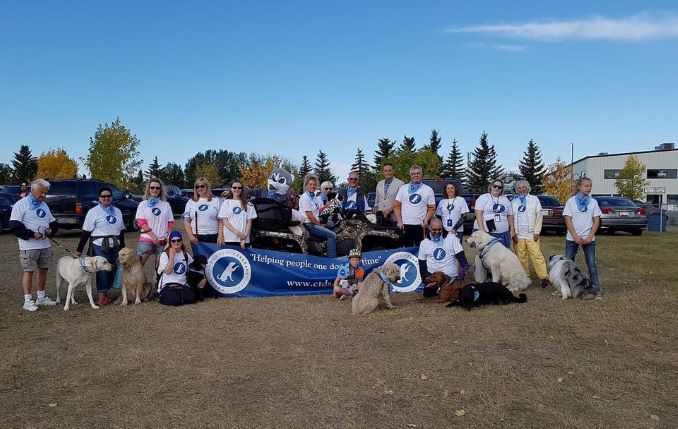 Describe your charity/non-profit in a few sentences.
Community Therapy Dogs Society (CTDS) was started in early 2014 with the sole intention of adding value to people's lives through a positive interaction with therapy dogs. Starting as a Society, CTDS is now a Registered Charity with the Canada Revenue Agency. It is 100% volunteer run and, rapidly growing, has just shy of 100 certified therapy dogs helping in 3 different programs.
What problem does it aim to solve?
Program 1: Listening Tails, which helps kids improve their confidence in reading out loud by reading to the dogs.
Program 2: Visiting Tails, where dogs visit seniors' homes, hospitals and hospices to help combat loneliness, anxiety and suffering by visiting seniors, patients and staff
Program 3: Caring Tails, which allows people of all ages to de-stress by being with the dogs. This program has been particularly popular in the school environment.
What made you want to get involved?
I founded the charity because similar charities in North America and in Europe had shown a significant positive impact on the lives of those who had been touched by therapy dogs. Although PALS had operated in Calgary for a number of years, there was no organization offering such a service in the communities/ counties around Calgary.
What was the situation like when you started?
Our focus initially was on the reading program (Listening Tails) which started with 2 dogs in the Chestermere Public Library.
Once word got around about this different approach to helping kids' reading, schools started to contact me and the growth began.
It wasn't long before Visiting Tails began at a local seniors' home in Rocky View County and hospital visits in Calgary began in 2018.
So from starting in Chestermere with 1 program in 2014, we are now north to Carstairs, west to Bragg Creek, east to Strathmore and south to Okotoks, with 3 programs, helping 45 schools, 12 seniors' homes, 5 hospitals, 2 libraries, 1 hospice and 1 women's crisis shelter.
How has it changed since?
The most reassuring thing to have happened in the last 6 years is the awareness that has grown of the positive influence that dogs can have on our lives. Communities are now embracing the concept of therapy dogs and want to get involved to help further the cause.
What more needs to be done?
There are still many situations where therapy dogs can help which we plan on addressing over the coming years.
We have also extended our goal to not only help people through our therapy dogs but to help educate people of the different roles that dogs can play in society.
How can our readers help?
We are experiencing significant growth currently so we need more dogs and also volunteers without dogs who can help us with fundraising, liaison with schools and administration.
And of course donations are always welcome which can be made via our website.
Do you have any events coming up?
We will be at the 2020 Cochrane Trade Show on May 2nd and 3rd at the Spray Lake Sawmills Recreation Centre.
Where can we follow you?
Please follow us on our website, , our Facebook page, Twitter and Instagram.