Egg Farmers of Canada, has partnered with Food Banks Canada on a pretty special campaign centered around giving back this holiday season. The campaign is called #RecipesThatGive, which is a social media movement centered around sharing holiday recipes and generating awareness of hunger in Canada.
The organizations have assembled notable chefs and culinary influencers across the country, including Chef Lynn Crawford, Chef Craig Flinn and Chef Trevor Bird who have all created holiday recipes for the occasion, which we'd love to share with you to spread the news! Emerging chefs all over Canada, all to inspire giving back this holiday season.
More than 860,000 Canadians turn to food banks each month, with children and youth accounting for one-third of the total number, and we can make a difference by raising awareness and supporting this initiative.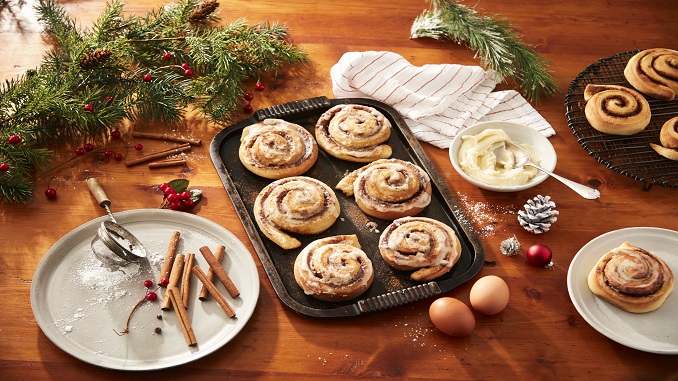 Chef Lynn's Holiday Cinnamon Buns
Who can resist the smell of cinnamon baking in the oven? These Holiday Cinnamon Buns are the ultimate indulgence, and will have you sneaking a bite morning, noon and night. Chances are this sweet, soft and sticky treat is at the top of everyone's wish list.
Serves: 24
Prep Time: 35 mins + 2.5 hours rising time
Cook Time: 15-20 mins
Cinnamon Roll Dough
4 ¼ cups all-purpose flour + extra for kneading
2 eggs
½ cup melted butter
2 teaspoons salt
½ cup sugar
1 cup warm milk
2¼ teaspoons (1 packet) yeast
Cinnamon Roll Filling
2½ tablespoons cinnamon
½ cup butter
1 cup packed brown sugar
Cinnamon Roll Icing
½ cup butter, softened
1½ cup confectioners sugar
¼ cup cream cheese
⅛ teaspoon salt
½ tablespoon vanilla
Instructions:
Cinnamon Roll Dough:
Step 1:Add yeast and sugar to warm milk in a large bowl.
Step 2:Stir gently to combine and allow the yeast to foam to proof.
Step 3: Once the yeast has proofed, stir in melted butter, salt, eggs, and flour into yeast mixture.
Step 4:Gently mix until well-combined.
Step 5: Turn dough onto a lightly floured surface and knead for 10-12 minutes.
Step 6: Form the dough into a large ball and place into a large buttered glass bowl.
Step 7: Cover lightly with plastic or with a tea towel and place in a warm location free of any drafts.
Step 8: Allow to rise so that the dough is doubled in size.
Cinnamon Roll Filling:
Step 1: Place dough on a large lightly floured surface and roll to a ¼ inch thick rectangle, approx 20" x 15"
Step 2: Spread softened butter over the top of the dough.
Step 3: Stir together the brown sugar and cinnamon and sprinkle generously all over the buttered dough.
Step 4: Tightly roll the dough, beginning at the long edge, until a log of dough has been formed.
Step 5: Cut the dough into ¾-inch to 1-inch slices and place onto a lightly buttered sheet pan.
Baking and Icing:
Step 1: Preheat oven to 400ºF (200ºC).
Step 2: Allow rolls to rise for 30 minutes on sheet pan.
Step 3: Place rolls into oven and allow to cook until lightly browned and cooked through, but not overcooked, about 15-20 minutes.
Step 4: While cinnamon rolls are baking, prepare cream cheese frosting by creaming together butter, confectioner's sugar, cream cheese, vanilla and salt.
Step 5: Remove cinnamon rolls from the oven and allow to cool slightly.
Step 6: Spread frosting generously over rolls while they are warm.