For this edition of our Homegrown Business feature, we spoke with Judy Riege founder of Connected Leaders. Connected leaders create possibility, helping people see the potential in themselves and others.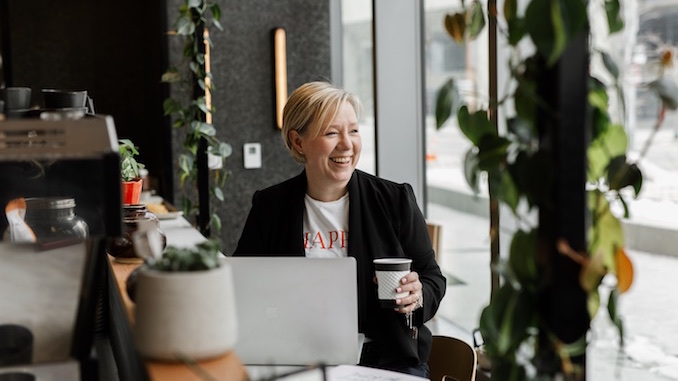 What is your business called and what does it do?
My business is called Connected Leaders and I am in the business of elevating leadership thinking and learning, from the classroom to the boardroom.
I simplify emotional intelligence, neuroscience, leadership, and learning theory to make it accessible to all and help people realize that leadership is a mindset, not a position. Leadership is a way of being, not an act of doing. Connected leaders create possibility, helping people see the potential in themselves and others. Connected leaders enable performance and deliver results. Connected leaders are learners. They are all of us – parents, teachers, coaches, business owners, and business leaders. Our leadership learning starts young and is shaped by the positive, and not so positive, examples of role models in all parts of our lives.
What made you want to do this work?
I have been fascinated with human connection and relationships for as long as I can remember – what makes them, breaks them and what happens when we are in conflict or under stress. We are born in relationships, learn and lead in relationships. I spent the first 15 years of my career working in large corporations going through large-scale change. I saw the good, bad, and ugly of leadership. I want to share best practices, better behaviour, and healthy leadership and learning habits to create a lifelong focus of being and becoming the best version of ourselves we can be – to create schools, sports, communities, and workplaces that people want to belong to.
What problem did you want to solve with the business?
At a macro level – I want to be part of the solution to connecting schools, sports, and workplaces to heal the epidemic of loneliness, worsening mental health, burnout, and bias by elevating the mindset, skills, and behaviours of leaders everywhere. I elevate leaders' ability to set direction, take others with them, do the right thing, and realize great results through relationships. In simple terms, every day I work with a diverse group of leaders to allow them to make healthy choices that enable them to think, feel, be, do, live and lead better in all parts of their lives.
In education, I offer a program online and in-person called Role Model Academy. Its focus is to build personal leadership and social-emotional learning growth mindset and skills in all youth. There is a wraparound Role Model Academy (Emotionally Intelligent Educators) program for all school staff – as they have a significant impact on students. Helping them build and become their best in the classroom (including looking after themselves) ensures that our classrooms are safe, healthy learning environments.
Who are your clientele/demographics?
I work with youth (K-12), educators, Olympic and Paralympic athletes and coaches and entrepreneurs, and executives across Canada.
How does your business make money? How does it work?
I am engaged as a speaker, coach, trainer, facilitator, and program designer. My coaching clients engage me for a minimum of three months around an area they want to develop to grow their leadership, the ownership/leadership team, and/or staff or their business.
Where in Calgary can we find your profession?
Right now, I can be found online at www.connected-leaders.com and on social media at @weareconnectedleaders. I'm looking forward to finding a balance between online delivery and in-person delivery again across North America.
What is the best question a prospective customer could ask a member of your profession when comparing services? Give the answer as well.
The best question is "How will you help me grow and improve (insert: skill, mindset, or leadership challenge)?"
Answer: The most important thing to listen for is how many questions the individual asks you before they start offering their process, practice, or wisdom? Creative coaches, trainers, and facilitators are learners first – if they spend more time exploring and unpacking your issue, challenge, and opportunity to gain an understanding of your starting place before selling or, worse, giving advice – then you know you are working with a good one.
What is the best part about what you do? What is the most challenging part?
Building long-term relationships with clients and watching them evolve, transform and realize great results for themselves and their organization by shifting their leadership mindset and growing their leadership know-how. The most challenging part is always making sure that I refuel – holding safe spaces for learning and growth is heart work – and requires a commitment and practice to self-care
What is your favourite joke about your own profession?
A common misconception is that I teach "soft skills" or that I fix people. First thing – leadership is simple, but not easy to do – it would be easy if people's behaviour was predictable, and not so complex. I build "People Strong Skills". I also make sure people know that I don't fix them – they aren't broken. I am a learning guide and partner, I'm not here to judge.
PAY IT FORWARD: What is another Calgary business that you love?
One of my favorite people and speakers who is doing amazing work to connect workplaces and people every is Tina Varughese. Tina Varughese is a Calgary-based virtual keynote speaker, diversity, inclusion, and Unconscious Bias Keynote Speaker specialist. She is real and she makes new and difficult conversations relevant, relatable, and brings awareness to the things that keep us disconnected. https://www.tworksforyou.ca/