Evive Nutrition shared with us this delicious recipe for Cozy Vegan Chili Soup and Tortilla Chips. This hearty soup features the rich flavours of Evive Bam Chili wheels and roasted diced tomatoes, garnished with creamy vegan sour cream, fresh cilantro, and zesty jalapeno, all served alongside crispy homemade tortilla chips for the perfect cozy meal.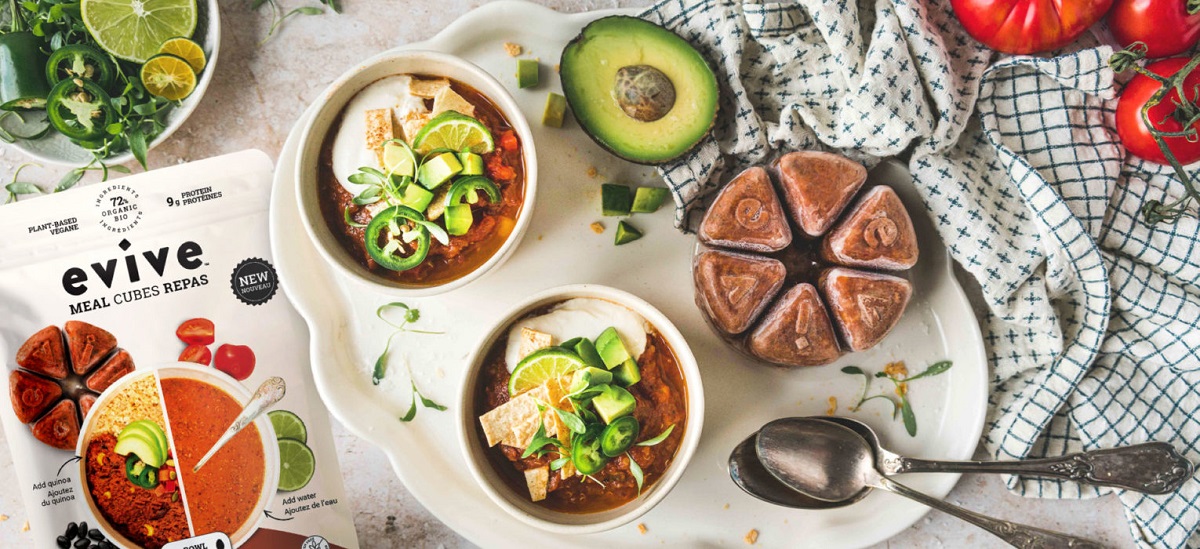 Cozy Vegan Chili Soup and Tortilla Chips
Serves: 3
Ingredients:
For the Soup
400 ml of roasted diced tomatoes
¼ to ½ cup of vegetable broth (depending on desired texture, more liquid or thicker)
For the Garnishes:
Vegan sour cream
½ avocado, diced
Fresh cilantro
1 small jalapeno, thinly sliced
Lime wedges
Tortilla chips (optional)
Directions:
1. In a small saucepan, melt the Bam Chili cubes over low heat with the broth (to prevent the cubes from sticking to the bottom).
2. When the cubes are melted, add the tomatoes.
3. Top with the garnishes of your choice.
For the Tortilla Chips:
1. Preheat oven to 350°F.
2. Lightly brush 2-3 wheat tortillas with a thin layer of oil: stack them on top of each other and cut them into thin strips lengthwise, then into 2 or 3 pieces perpendicularly.
3. Spread the rectangular pieces on a baking sheet. Sprinkle with salt and pepper to taste and, if desired, any other spice of choice (here: 1 tsp. of smoked paprika).
4. Place in the oven and bake for 10 to 15 minutes, until the tortilla chips begin to colour slightly.
5. Once cooled, store in an airtight container.