Canadian MSC Ambassador Chef Charlotte Langley shared with us this recipe for Rice Paper Dumplings with Coldwater Shrimp, Cabbage, Kimchi and Seaweed. A lighter and still satisfying option for comfort food, these shrimp dumplings require zero special folding or pinching skills; simply fill, fold, and you're done. Crispy, chewy and oh-so sustainable, they can be pan-fried or cooked in the air fryer – your choice!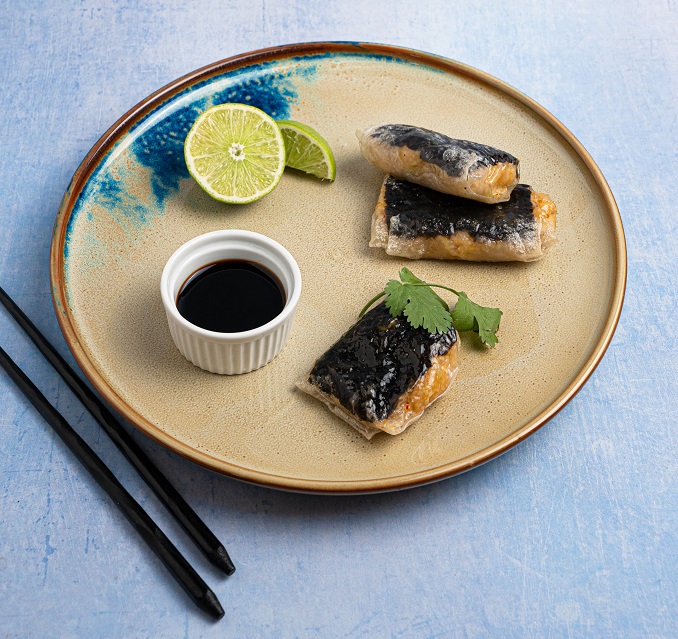 Rice Paper Dumplings with Coldwater Shrimp, Cabbage, Kimchi and Seaweed
Prep: 15 minutes
Cook Time: 10- 15 minutes
Serving size: 4 as a main course for lunch or dinner, also great as an appetizer
Experience level: Beginner
Ingredients:
1 package (340 g) frozen MSC certified sustainable coldwater shrimp
1 cup (127 g) day-old sticky rice
2 cups (145 g) Napa cabbage, roughly chopped
½ cup (120 g) kimchi
1 tbsp (15 g) ginger, minced
1 tbsp (15 g) garlic, minced
2 green onions, roughly chopped
1 egg
Splash of soy sauce
1 pack of 12 rice papers, large rounds
Nori cut into small rectangles
Neutral oil like vegetable or canola
Directions:
1. In a food processor, add the shrimp, Napa cabbage, kimchi, ginger and garlic, and pulse until combined but not paste-like (you still want some texture).
2. Add the green onion, egg, sticky rice and splash of soy. Pulse a few times until you get a consistent texture. Set aside.
3. In a large bowl with room temperature water, soak one sheet of rice paper at a time, just for a few seconds to loosen it up.
4. Place on a cutting board and centre one piece of nori on the rice paper. Top with a generous amount of filling, about 2 tbsp. Roll and fold into a "pillow", or the shape of your choice. Prepare 12 dumplings.
5. In a large frying pan on medium-high heat, add in enough cooking oil to fully coat the pan and fry the dumplings on both sides until crispy, around 5 minutes.
6. Alternatively, you can cook these in an air fryer at 375° for 3-5 minutes.
Note: Pre-make your filling and keep it in the fridge up to 3 days or in the freezer for up to 4 weeks so you can whip up a batch of these anytime you need a snack.