Little Witch Tattoo is a tattoo studio founded by Lead Senior Artist Raven Wrathmore in 2016. Raven has been in the industry for 6 years now and her shop offers a variety of styles from fine line and blackwork to stickers and portraiture. We spoke with her to learn more about what they do.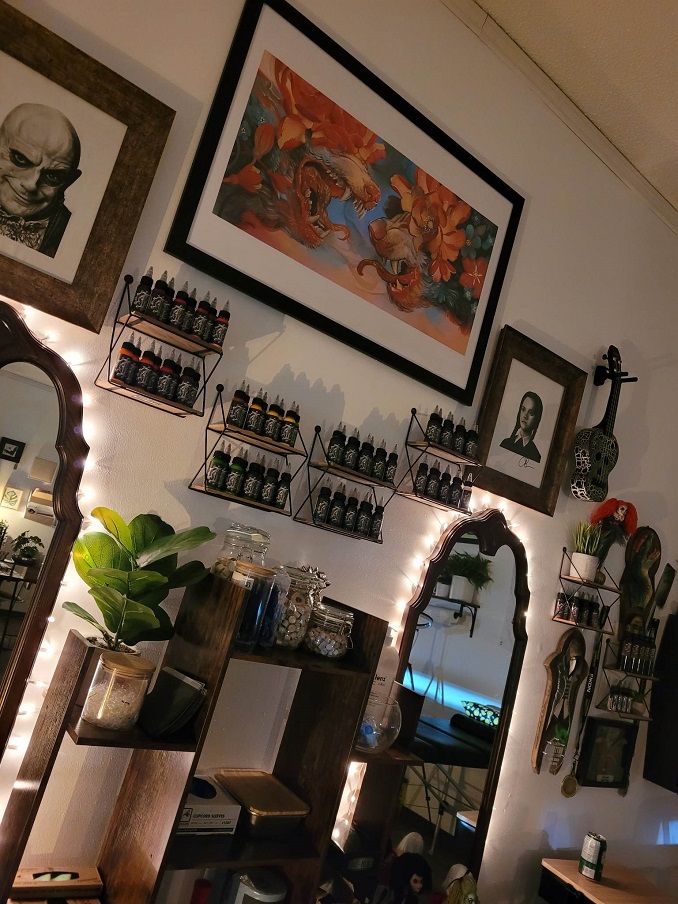 What is your business called and what does it do?
Our business is Little Witch Tattoo and we are a modern high end and fun tattoo studio that offers snacks and great music, plus unique and custom tattoos! Little Witch Tattoo was founded by Lead Senior Artist Raven Wrathmore in 2016 and has grown from an individual private studio to a full artist-run collective shop. We strive to produce high-quality work and products for our clientele in a range of various styles from fine line and blackwork to stickers and portraiture + much more…
We are a strong, creative, and welcoming team that is dedicated to providing an atmosphere that makes our clients and guests feel welcome and comfortable. We aim to provide the highest standard of professionalism and industry education at each appointment.
At Little Witch Tattoo we carry a multitude of different brands that feature various blends of biodegradable and vegan-friendly products ranging from our basic setup supplies to our inks, ointments, and aftercare products.
What made you want to do this work?
Funny enough, I didn't have the typical… "Oh! I've wanted to be a tattoo artist since I was 6, and knocked on every door till I finally got it." I kind of just got lucky, but over time realized I actually really enjoyed the industry as well as the people involved in it! I felt way more comfortable than in other places, especially when realizing how big of a world tattooing is. I myself am highly competitive, so when I found out at my first convention that they had competitions, I knew I found the right fit for me because I could not only have an outlet for my artistic side, but I could also fuel my competitive nature paired with not being much of a morning person, so starting not so early is nice! My love for tattooing grew for me more and more when I realized that through tattooing I could make a lot of people just genuinely happy and make some really cool friends. Tattooing can also be a great sense of therapy and relief for others, and a sense of healing can be very helpful and make others strong again.
What problem did you want to solve with the business?
We want to create a studio where clients feel comfortable with not only being themselves and allowing their vision to come to life, but they are doing so in a judgmental-free space, that is fun and cares about you as a person. Our clients are super important to us, but so are our artists! With that we strive to make sure they work in a stress-free, friendly, health-positive, and family-orientated workspace, that pays its artists fairly and does not benefit the owner, but rather works to build itself up to make the shop that much better to work at and in for everyone! Some example are monthly shop team-building events that are taken care of and organized by the shop.
Who are your clientele/demographics?
Our clientele is anyone who loves art and/ or body art and wants to showcase their love for their artistic style and express themselves freely. We tattoo those who are over the age of 18, and unlike Lego (c) we don't have an age limit!
How does your business make money? How does it work?
Our business relies on the clientele that comes through the door and that usually starts with our online community and supporters! We make sure to do tons of giveaways, promotions like Tiny Tattooesday for only $85, and free events to show our appreciation for them like a scavenger hunt to win free tattoos for a year!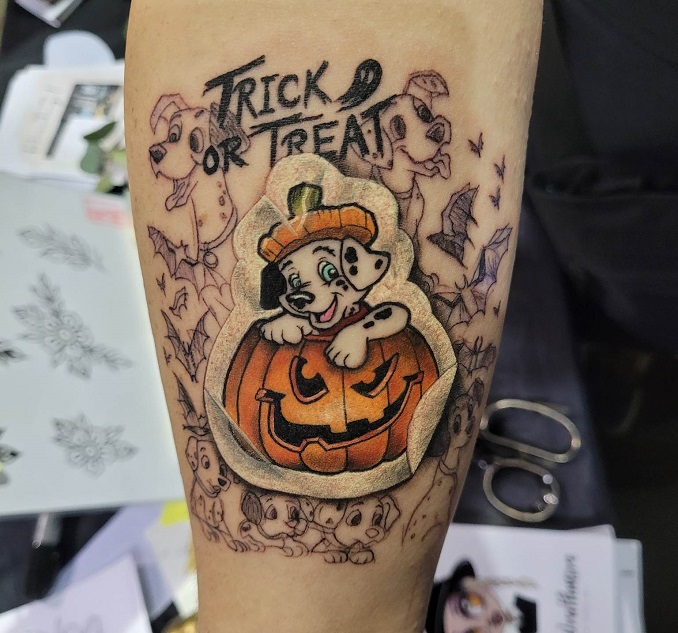 Where in the city can we find your profession?
We are located in the Cambrian Heights NW area of the city, and is a beautiful and quiet environment which further aids the overall experience of being tattooed at our studio, by our artists! Our address is 1031 40th AVE NW
What is the best question a prospective customer could ask a member of your profession when comparing services? Give the answer as well.
Usually, the most asked question we receive is either when is our next availability or what are our rates?! It's much too hard to choose which is more asked as they are at times asked together! Our response is simple! We will ask our group of artists about their next availability, usually the following week depending on the artist, as well as when you choose or have an artist found for you, their rate can vary from $100-$180 per hour depending on their experience!
What is the best part about what you do?
The best part is truly getting to connect with like-minded artists and people, and getting to know them on a deeper level. As well as, getting to really touch and strengthen the souls of some clients through a new tattoo, which could be bringing them healing, a fresh start, or simply just some self-love and care that helps them love their body that much more!
What is your favourite joke about your own profession?
That I myself am a needle-phobic. Though my personal favourite joke to make is…. "I'll stab ya later!"
Where can we follow you?
Each of our artists has their own social media accounts, though most of us use Instagram to display our work. Our founder's is @ravenwrathmore, and you can also visit our website.
PAY IT FORWARD: What is another local business that you love?
Oh man… can we list more than one?!?! If not too bad cause we need to share the love to way more than just one!! (Instagram accounts of other businesses trying to do good) @goodneighbouryyc, @tigerstedtandfriends, @yamnuskawdsanct, and finally @elevatelifecalgary.