Somewhat surprisingly, the fish taco appears to be a twentieth-century innovation, probably originating on the Pacific Coast side of the Baja Peninsula in the fishing towns south of Tijuana and owing some of its flavours to the local Japanese population. In the classic Baja version, the fish is deep fried, but Earls have opted for pan-frying in the recipe below. Chef Collective member David Wong finished the dish with a suave buttermilk crema in addition to a rollicking assortment of the usual trimmings.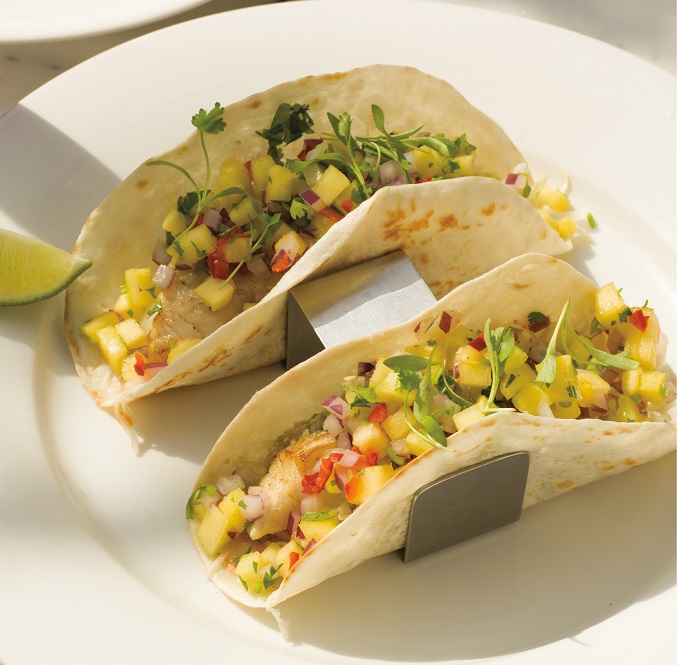 Fish Tacos
Serves 4 – 6
Ingredients:
1½ lb (680 g) Ocean Wise™ cod fillet Fish taco marinade
½ tsp (2.5 mL) fine salt
12 each 6-inch (15 cm) flour tortillas 1 tsp (5 mL) vegetable oil Buttermilk Valentina crema
2 cups (500 mL) finely shaved green cabbage
Pineapple chili salsa (recipe follows) Salsa verde
1 cup (250 mL) roughly chopped cilantro 1 lime
Valentina hot sauce (optional)
Directions:
1. Cut the cod fillets into 1- × 5-inch (2.5 × 12 cm) rectangular pieces. If the pieces are too short, you can use several small pieces per taco as opposed to one long piece. Coat in the fish taco marinade and refrigerate for 24 hours.
2. After 24 hours, remove from the marinade and season lightly with salt. Preheat a nonstick pan over medium heat.
3. Cook the cod until golden, approximately 1 to 2 minutes per side. The cod should be flaky and very tender once cooked. Transfer to a plate.
4. Wipe down the pan. Heat over medium-low heat for the flour tortillas. Brush both sides of the flour tortillas with vegetable oil and toast on the nonstick pan until pliable, approximately 15 to 20 seconds per side.
5. Spoon approximately 1 tablespoon (15 mL) of buttermilk Valentina crema down the centre of 1 flour tortilla. Top the crema with some shredded cabbage, followed by some cod, pineapple chili salsa, salsa verde and chopped cilantro. Repeat with the remaining tortillas until all the cod is used up.
***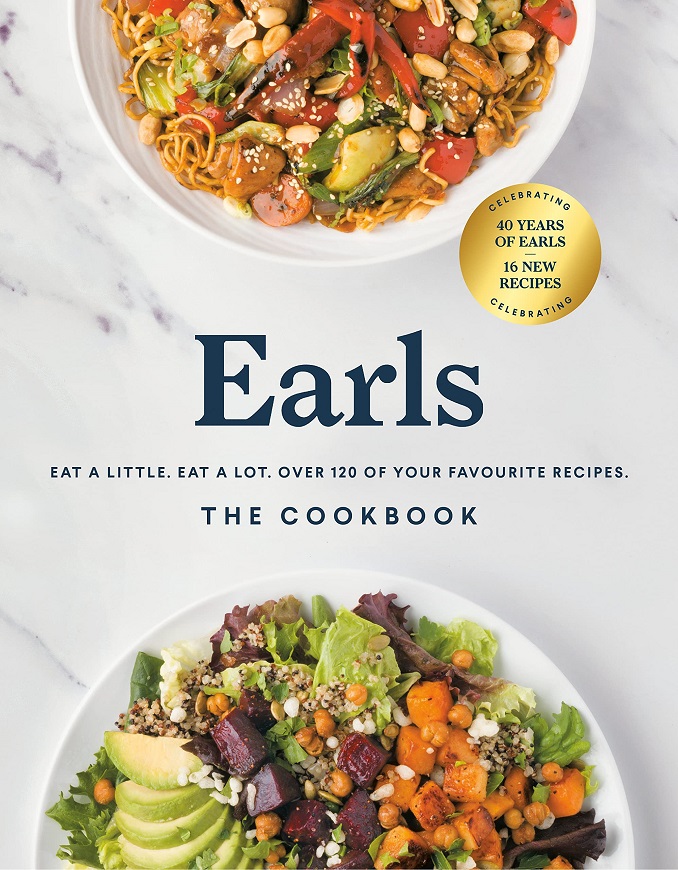 The Earls 40th Anniversary Commemorative Cookbook offers over 120 beloved Earls recipes spanning across food and beverage to keep you prepared for every holiday occasion. New to hosting, interested in picking up culinary as a hobby or simply gifting that special chef in your life? You've found the perfect gift.