Manas Bindal, Sous Chef and Co-Owner of Veg-in YYC, shared his stunning recipe for Braised Jackfruit, Cauliflower, Potato & Sweet Potato Curry! Be sure to try this delicious vegan recipe and check them out at their Calgary restaurant or on Uber-Eats/Doordash!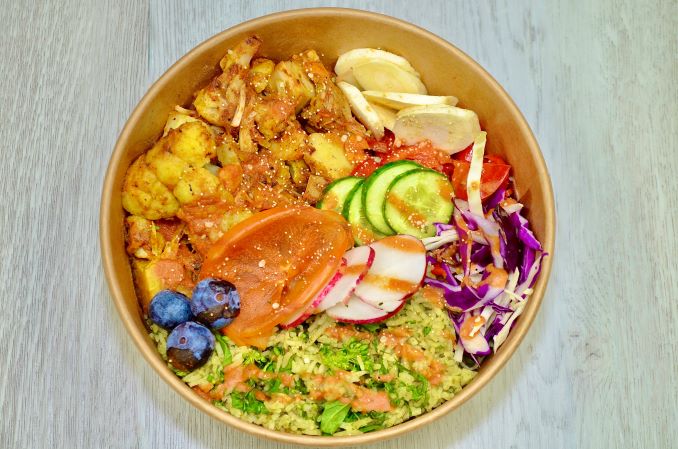 Braised Jackfruit, Cauliflower, Potato & Sweet Potato Curry
Ingredients:
200g Cauliflower florets
150g Chopped Potato
150g Chopped Sweet potato
100g Jackfruit
10g Minced Garlic
10g Minced Ginger
15g Chopped Onions
25g Chopped Bell Pepper
50g Chopped Tomato
25g Tomato Paste
Juice from 1 Lemon
1tbsp Balsamic Vinegar
Garnish w/ Fresh Cilantro Chopped – 1 Handful
Dry Seasonings:
Curry Powder – 1tsp
Turmeric -1/2 tsp
Ground Coriander – 1tsp
Ground Cumin (Toast for extra Flavour) 3/4tsp
Garlic Powder – ½ tsp
Cinnamon ¼ tsp
Ground Black Pepper – 1/2 tsp
Salt – 1 tsp
Directions:
1. Add All Dry Seasonings to 1 cup of Hot Water and Mix Thoroughly, Set Aside
2. Heat a saucepan to medium-high with 1tbsp of vegetable oil
3. Add your onions, ginger, garlic & peppers to the pan and cook until soft
4. Add balsamic vinegar to the pan along with 1sp of salt 1sp pepper
5. Cook on medium heat until the ingredients have browned and begin sticking to the pan
6. Add Chopped tomato, And Tomato Puree, and ½ cup of water or vegetable broth
7. Keep on Medium Heat and add your dry Seasoning paste
8. Add Cauliflower, Potato, Sweet Potato, Jackfruit to the pan and stir until the vegetables are evenly mixed.
9. Close Lid and cook for 25-30mins on the stove. Check your vegetables to see whether your cauliflower, potato, and sweet potato are tender and soft, not hard
10. Open Lid and stir to let some of the water to evaporate and give you a thicker gravy.
11. Transfer to a bowl and garnish with fresh cilantro, however much or little as you like.