Born-and-raised Calgarian Scott Perrin has spent most of his adult life immersed in the city's rich music community. After completing an undergraduate degree in Psychology at the University of Victoria, Scott returned back to Calgary and began playing bass in a variety of projects spanning multiple genres, which gained him valuable songwriting experience and also time touring throughout North America. Building on what he learned over that period, Scott began focusing on his songwriting efforts squarely on 'Betaboys", his love letter to the 1980's new wave and synth-pop that had enthralled him since he was a youngster. Though much of the songwriting remains his own in the finished songs, Scott assembled a Betaboys roster for recording and live show duties with some of his friends and favourite performers from the Calgary music community. The newly-minted group released their debut EP "So Shy" in May 2021, which saw success by charting on college radio across Canada and recent inclusion for their song "Who I'd Dance For" in King Snow Media's "The King Snow Movie" snowboard film, with distribution by Red Bull TV. Looking forward, Betaboys is currently recording their second EP, with a scheduled release date in early 2023.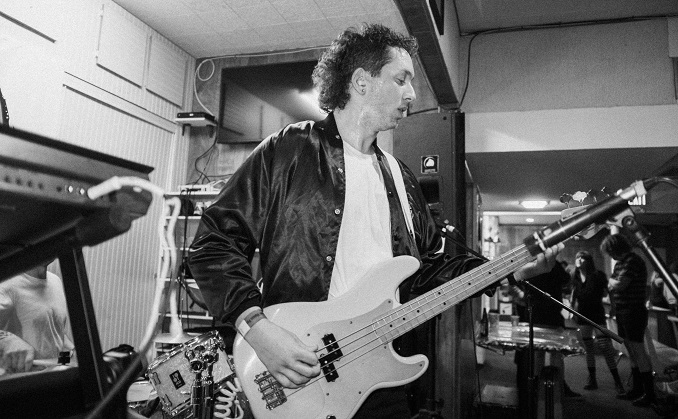 Name:
Scott Perrin (of Betaboys)
Genre:
New Wave/Synth Pop
Founded:
2016
# of Albums:
1
Latest Album:
So Shy EP (2021). We've just finished recording a new EP that will be released in early 2023.
Latest Single:
"Who I'd Dance For", which was featured in "The King Snow Movie" via Red Bull TV in November 2021.
Latest Video:
Favourite musician growing up:
Mark Hoppus from Blink 182
Favourite musician now:
Bruce Springsteen. Saw him and the E Street Band in Philly a few years ago and it was legendary.
Guilty pleasure song:
I'm pretty shameless about the songs I love, but just for fun, I'll say "Sometimes" by Britney Spears. There was a specific version on a CD compilation called "Planet Pop 2000" (major props if you remember this album) that was quite synthed-out and it rules! It's stuck with me through the years.
Live show ritual:
I love the whole "show day" ritual! Being a lifelong hockey player, I liken it to a game day. On the day of a show, I like to meditate and visualize the show. You know, imagining getting to the venue, setting up, what my spot on stage might look like, playing the set, and picturing people enjoying our show. I make sure I warm up and play through each song. While I drive to the venue, I listen to a few songs that inspire me and get the juices flowing. Nothing fancy, but it's definitely a cherished routine for me.
Favourite local musician:
Sunglaciers
EP or LP?
EP
Early bird or night owl?
Early bird! I've always been up early and wanting to get going- even after late nights out.
Road or studio?
This is a tough one, as I love both! I'll lean slightly towards the studio. It's a magical experience to bring a demo (essentially a rough copy) in and have your team turn it into a superior finished product.
Any shows or albums coming up?
1st single release party (for our upcoming EP): Saturday, November 26 at Palomino Smokehouse
Where can we follow you? 
***
Rapid Fire Calgary Qs
Favourite local restaurant:
Michael's Pizza. It's an old-school Calgary staple on 10th Avenue downtown. I've been going there since I was a kid in the '90s. It's got a real lived-in vibe with tons of vintage hockey memorabilia on display. Their pizza is unreal- I recommend the Micahel's Special.
Favourite street in your city:
Great question! I often go walking through different parts of town to get songwriting vibes, so there are a lot of important streets for me. I love going up and down 4th Street N.W. north of 16th Avenue to up to around Northmount Drive. Lots of cool little restaurants and shops. The surrounding neighbourhoods have a charming and nostalgic feel, and I enjoy channelling that into my songwriting. It's also a great street to drive down if you're heading southbound toward downtown. It's a stellar view!
Favourite park in your city:
Nose Hill Park. I try to go there at least twice a month. Usually, I go for long walks but I've also worked on my songs there- I feel a very strong and special connection to it. There are so many incredible spots to explore- it's almost like 100 different parks in one. It might be my favourite place in Calgary.
Favourite music venue in your city:
The Palomino Smokehouse
Favourite music store in your city:
Recordland