Nia Devetzis is a percussionist driven by the vivid and vast world of contemporary music, whether as a soloist or chamber musician. As a teaching artist, she is dedicated to education through performance and instruction, leading by example and questioning audience expectations by asking, what exactly is percussion?
Notable performances include solo engagements with the Calgary Philharmonic Orchestra, and Calgary Wind Symphony, as well as Calgary's contemporary music and sonic arts festival, Forms of Sound and the Stratford Summer Music Festival. As a chamber musician, she is dedicated to the support of new music in Calgary as a core member of Timepoint Ensemble and has made appearances with The Rubbing Stone Ensemble and Land's End Chamber Ensemble. Other chamber music experiences include collaborating with TorQ Percussion quartet at their annual summer seminar, and performing with So Percussion at Princeton University.
Nia's creative work expands across disciplines. She has been a collaborator for devised theatre works at the University of Calgary, including Conduct, Pierrot's Gender Reveal Party and Just like the Moon performing as musician/actor. This work continues with Mudfoot Theater on Yabber, where she has built instruments and musical puppets alongside story and musical development. Nia is an instructor at the Mount Royal Conservatory, and she is an active educator and clinician in Calgary. She completed a Master of Music in Percussion Performance with Rod Squance at the University of Calgary. In addition Nia is a member of the creative faculty at the Banff Centre for Arts and Creativity for the annual youth orchestra symposium.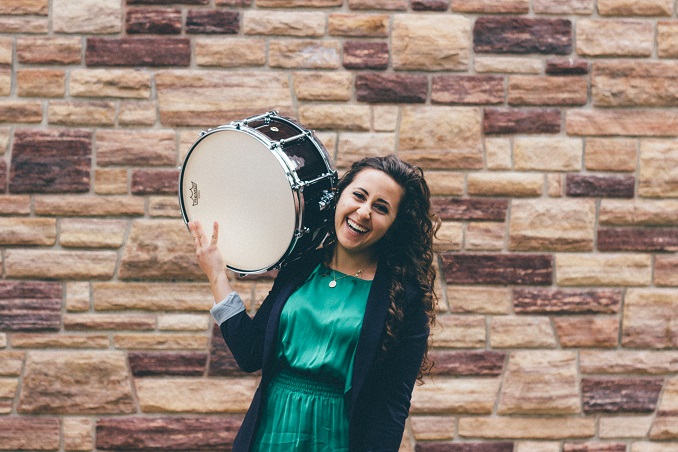 Name:
Nia Devetzis
Genre:
Contemporary Classical
Founded:
How I got started in music; I remember being so excited to join band class when I was in junior high. I loved music class in elementary school, so being able to expand my musical skills was particularly thrilling for me. My teacher at that time gave us the opportunity to choose our top three instruments, and upon seeing all the large instruments at the back, I knew I wanted to learn how to play percussion
# of Albums:
I technically appear on a few Calgary Philharmonic Orchestra Recordings, but I haven't done any major recording myself
Latest Album:
Might be some prospective recording plans in the future 😉
Latest Video:
Favourite musician growing up:
Sarah Bareilles
Favourite musician now:
I'm currently obsessed with Basia Bulat. If we're speaking classical music, it's definitely Beverly Johnston
Guilty pleasure song:
Call me Maybe
Live show ritual:
Big arm circles and paradiddles
Favourite local musician:
Darren Young
EP or LP?
EP
Early bird or night owl?
Early bird for sure!
Road or studio?
Studio! I really enjoy being at home at the end of the day! Though I'm lacking in a bit of studio experience
Any shows or albums coming up? 
Nothing in the immediate future! There are some plans brewing so keep an eye out!
Where can we follow you?
***
Rapid Fire Calgary Qs
Favourite local restaurant:
Una Pizza
Favourite street in your city:
1st ST SW heading toward 17th Ave. It is so unbelievably pretty. You get the city and suburb feel all in the same place
Favourite park in your city:
Fish Creek. So many trees! And the river
Favourite music venue in your city:
It's a toss-up between the Asylum for Art and the Eckhardt-Gramatte at the UofC. I've performed in both of those venues quite a bit, and the Eckhardt-Gramatte holds a lot of nostalgia for me since I was a student at the UofC
Favourite music store in your city:
The one where I can buy directly from the artist