Miesha Louie is a mixed-Secwépemc artist living in Treaty 7 Territory, and The Spanks are the many drummers who've stood beside her on stage. Sean Hamilton is her latest and longest partner, and together they've spent the last 5 years building and embellishing their garage-rock sound into something almost too big for two people to contain. Deeply influenced by proto-punk classics like The Runaways, MC5, Stooges, and 90s riot grrrl/grunge-like L7 and The Gits, Miesha & The Spanks conjure an energy that hits you in the face, throwing you into a world of killer riffs and sweaty gig venues. And it's in those sweaty spaces that Miesha & The Spanks thrive, fresh off the highway, out of the van, and onto the stage.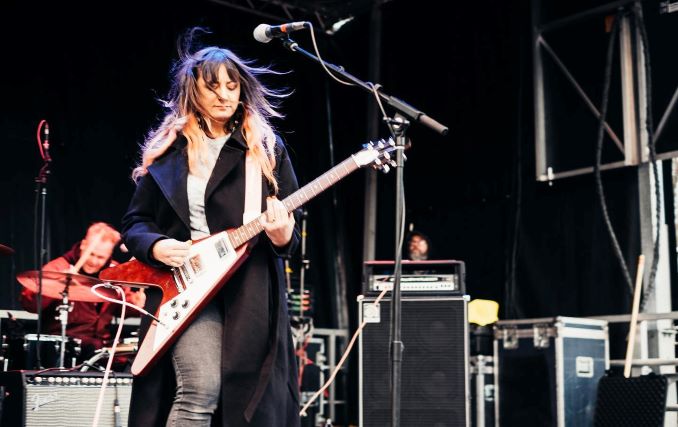 Name:
Miesha and The Spanks
Genre:
Garage Rock
Founded:
2008
# of Albums:
4 full length, too many EPs
Latest Album:
Singles EP
Latest Single:
Mixed Blood Girls
Latest Video:
Favourite musician growing up:
Salt N Pepa
Favourite musician now:
Amyl and The Sniffers
Guilty pleasure song:
War by Edwin Starr is my jam
Live show ritual:
A sweaty hug on stage at the end of the set
Favourite local musician:
Cartel Madras
EP or LP?
LP. A nice big album I can play over and over and over.
Early bird or night owl?
Early bird
Road or studio?
ROAD
Any shows or albums coming up?
Brand new cinematic music video for Mixed Blood Girls, collaborated with Indi City Studios. I am in the middle of Girls Rock Camp Calgary, and our showcase is Saturday, March 26th at the Ship & Anchor 2-6 pm featuring the camp bands and mentors too (so us!), plus we have performances at Winterruption in Edmonton (April 2 at Soho) and Big Winter Classic (April 9 at Broken City Patio).
Where can we follow you?
Instagram | Twitter | Facebook | YouTube
***
Rapid Fire Calgary Qs
Favourite local restaurant:
Peters' Drive-in
Favourite street in your city:
17th Ave. I've been coming to 17th Ave since I was a teenager visiting Calgary for punk shows, and it's always been really exciting. When I was a teen Sloth Records was in a basement a little off 17th Ave on 4th Street and now it's upstairs in a beautiful space right on 17th. The Ship & Anchor is still standing and now you can add amazing pinball at Pinbar to the 17th Ave to-do list!
Favourite park in your city:
I love Rotary Park up Centre St N because it's somewhere I can have my babies AND my dog. Also, it has a great view of the city and a lot of buds live in the neighbourhood.
Favourite music venue in your city:
Broken City is such a staple and support system to the independent music community! It did everything it could to be there for artists during on and off restrictions and is still standing, supported by the community that it's supporting.
Favourite music store in your city:
Sloth Records has been my go-to for many years. Lots of amazing local vinyl and show tickets!