Calgary Comedian Conner Christmas took a moment out of his busy schedule, of touring out of town, to speak with us about Calgary's comic scene, and his upcoming projects.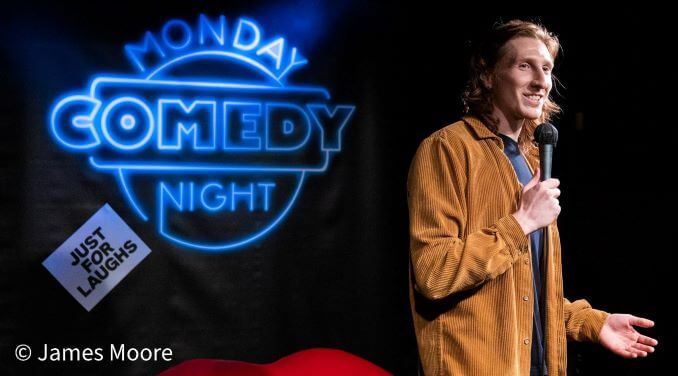 How would you describe your comedy style?
My comedy style is a mix of personal stories, observations and being a part of the queer community in Alberta. I'm usually on the "raunchy" side of things as well. Growing up religious, dirty jokes were always really fun for me.
Who are some of your influences?
John Mulaney, Kyle Kanaine, Shane Gyllis, Ali Wong, Nikki Glaser, Dave Chappelle, Robin Williams, James Acaster… The list goes on, but definitely some top influences right now.
Who was your favourite comedian growing up?
Robin Williams, for sure. He's a big reason I got into comedy and acting.
Who is your favourite comedian now?
My favourite comedians are a toss-up between James Acaster and Kyle Kinaine, for very different reasons. You'll see if you look them up.
What is your pre-show ritual?
I come from an acting background, so I like to do grounding exercises as wall sits. I also do visualization and annunciation exercises.
What is your favourite place you have performed? Why?
My favourite place to perform is anywhere a crowd is ready to laugh. But, if you need an actual location, I love to perform at Broken City on Mondays, because it's an established room (17 years) and it has such great energy.
Is there a "Calgary Style" of Comedy? What jokes work best in Calgary?
I think if there is, it would be a very pure approach to stand up. Calgary comedians are excellent joke writers and use 'extra' features or skills very often.
What is your favourite medium for listening or finding new comics/comedians?
YouTube is by far the best place to find all things comedy. Big streaming services, like Netflix, tend to produce very mainstream comedy. I want to find that fun, possibly low-budget, weird stuff.
Do you have anything to promote right now?
Right now, I'm on the road a lot, but please support your local comedy shows and clubs. Yuk Yuks, The Laugh Shop, and Comedy Cave.
Where can we follow you?
Tell us a joke about Calgary.
I don't have many (or any) jokes about Calgary, but here we go…
I like the stampede, but I prefer Folk Fest, although they're the same thing. Instead of a cowboy hat you wear a fedora, instead of cowboy boots, it's flip flops, and instead of plaid…
You grab a slightly different kind of plaid.
PAY IT FORWARD: Who is another local comic/comedian we should know about?
Dale Ward, Braden Lyster, Jordi Bott, Katie Westman, Leah Scheital