Selena Fisher has become an integral part of the Calgary performing arts community because of her dynamic and powerful vocals as well as the way she commands and captivates an audience. The American-born musical theatre and jazz singer has performed around the world and now lives in Calgary with her husband Chris Fisher (wildlife biologist and author of Birds of Alberta) and their 2 little boys.
Selena can be seen on stage as an actor, as part of a jazz duo with her pianist Augustine Yates, or with their 4 piece jazz group featuring Augustine Yates on keys, Jonathan Wielebnowski on Bass and Nate Chiang on drums. With her band, she belts out covers of beloved jazz standards and familiar tunes. In addition to performing feel-good classic jazz standards, their repertoire consists of covers of well-known current pop songs that have a classic jazz spin to them, drawing in their audience with a fresh, yet familiar and soothing sound.
After taking 5 years off from working to spend time raising her babies in 2013, Selena jumped back into performing in 2018 landing the role of Eva Peron in the Andrew Lloyd Webber Musical, "Evita" with Front Row Center Players. This role earned her a CAT Award as Best Leading Lady in a Musical in 2019. Since then Selena has performed with Theatre Calgary, Storybook Theatre, Cowtown Opera, Asylum for Art, Alvin's Jazz Club, and is represented by Fuze Entertainment Solutions for private events.
In 2020, Selena started her own Self Tape/Audition Prep studio called Best Self Studio YYC. With the amount of film and tv shooting in Calgary today her business is thriving. Through this studio, she films, coaches and reads for actors for film/tv/theatre auditions.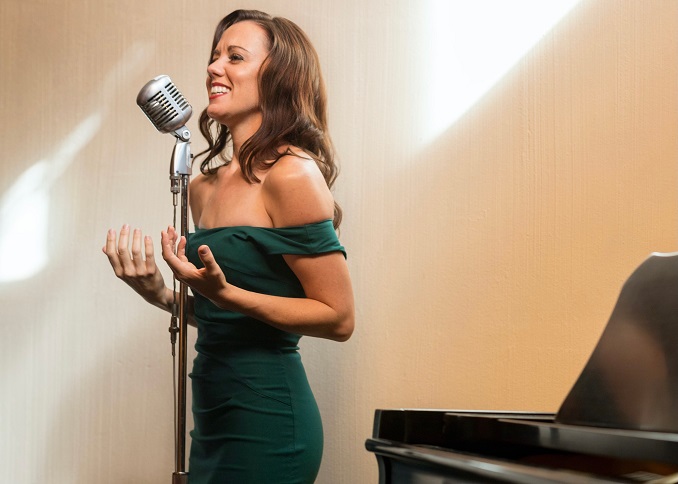 Name:
Selena Fisher
Genre:
Musical Theatre/Jazz
Founded:
I started working as a professional singer/actor when I was 20.
Latest Video:
Favourite musician growing up:
Ben Folds, Rufus Wainwright, Jonny Lang.
Favourite musician now:
Sammy Rae.
Guilty pleasure song:
I 2 I by Tevin Campbell from A Goofy Movie 🙂
Live show ritual:
Vocal Warmups, stretching and throat coat tea.
Favourite local musician:
There are so many talented, working jazz musicians in town I truly respect and learn from every day.
Early bird or night owl?
Neither?? One night of uninterrupted sleep from my kids is the dream.
Any shows or albums coming up?
Augustine Yates and I will be performing at "United We Art: An Eclectic Revue featuring the artists of Mohkinststis Calgary". TBD at Inside Out Theatre in Eau Claire Market.
Where can we follow you? 
Instagram | Best Self Studio YYC
***
Rapid Fire Calgary Qs
Favourite local restaurant:
PZA Parlour on McLeod Trail.
Favourite street in your city:
Stephen Ave of course! You can't beat taking a stroll down a pedestrian-only street with tons of restaurants and live music every day in the summer!
Favourite park in your city:
Fish Creek for nature, bike trails and Annie's Cafe for ice cream! I also love the River Walk in East Village for the biking, playground for kids and Sidewalk Citizen Bakery.
Favourite music venue in your city:
The King Eddy, Asylum for Art and Alvin's Jazz Club in Westman Village.