KP Smith (they/them) is a designer, director, creator, and singer-songwriter who has worked across western Canada. They focus on sharing and telling LGBTQ2SIA+ stories through their work while building community through representation and a growing arts scene in Calgary, AB.
KP Smith has worked on and created a multitude of projects including award-winning productions with Calgary-based clown duo The Tighty Whities, and the puppet musical Timmy, Tommy, & the Haunted Hotel with Pape & Taper.
Select design/directing credits: inVISIBLE, A Chitenge Story, Between Us (Handsome Alice Theatre); Benefit, Safe Site Sessions, Bottle Picker Monologues (Downstage Theatre); Brave Girl, Care Takers, Pink Unicorn (Lunchbox Theatre); Million Dollar Quartet (New West Theatre); Amahl & the Night Visitors (Calgary Opera); Secret Garden(Theatre Calgary: Design Mentee); The Democratic Set (Inside Out Theatre); GIANT (Ghost River Theatre).
KP Smith is currently the Artistic Associate at Vertigo Theatre and is an award-winning singer-songwriter.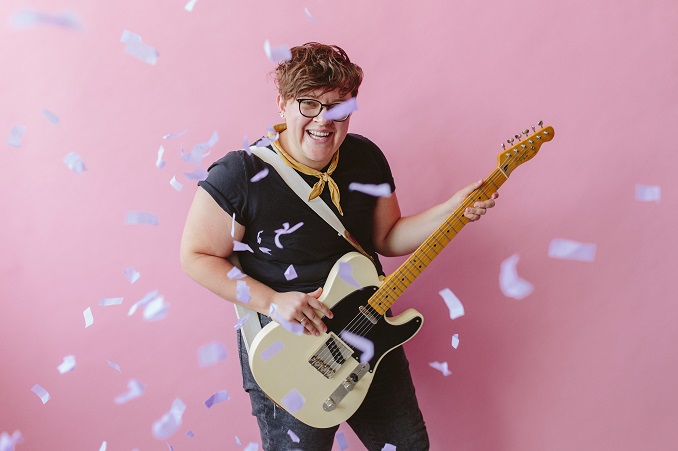 Name:
KP Smith
Genre:
Folk/Indie
Founded:
I've played music all my life but started using the name KP Smith and releasing my own music in 2016
# of Albums:
1
Latest Album:
Just the EP "She Reads Maps"!
Latest Single:
'Unpleasant'
Favourite musician growing up:
Paul Simon
Favourite musician now:
Jeremy Dutcher and Neko Case
Guilty pleasure song:
Victoria's Secret by Jax
Live show ritual:
Write the song list down in sharpie, save coffee for after the show, and put spare picks in my left pocket.
Favourite local musician:
So many! Natalie Inga, Pope Joan, Brain Bent, Tim Buckley, Paul Zacharias, and Hayden McHugh to name a few
EP or LP?
LP!
Early bird or night owl?
Night Owl
Road or studio?
Studio all the way!
Any shows or albums coming up?
Upcoming workshop presentation of my new solo show (follow me for dates); I'll be writing original music and doing sound design for The F Word at Alberta Theatre Projects in January.
Where can we follow you?
***
Rapid Fire Calgary Qs
Favourite local restaurant:
10 Foot Henry
Favourite street in your city:
Anything in Parkdale because it's an awesome community to live in.
Favourite park in your city:
Bowness Park – because you can everything there.
Favourite music venue in your city:
For small venues: Asylum for Art; For big venues: The Bella Concert Hall
Favourite music store in your city:
Recordland in Inglewood